Sunday, June 12th 2022, 8:01 am - Forecasters recommend staying alert for the risk of flooding across Alberta.
---
Rainfall warnings are in effect for the Alberta foothills, including the city of Calgary, ahead of a significant storm taking aim at the Prairies.
A low pressure system will cross the border on Monday and meander over the central Prairies for several days. This system will lead to copious amounts of rainfall in some areas, with the greatest rainfall totals likely targeting the southern Alberta foothills.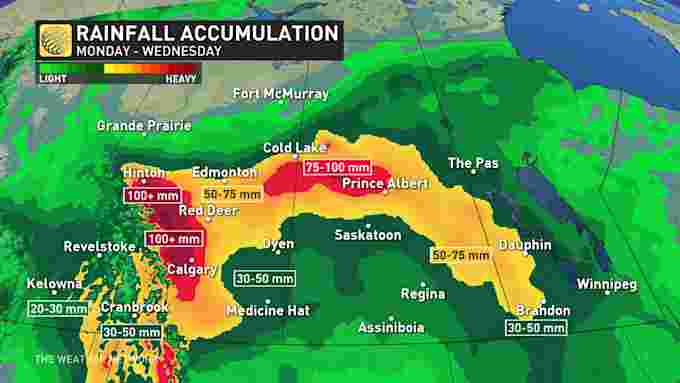 A broad area from Nordegg to Waterton is expected to see at least 50 mm of rain by Wednesday morning. Over 150 mm is possible in some regions of the foothills and the greatest rainfall amounts will be near Kananaskis, west of Calgary.
---
Visit our Complete Guide to Summer 2022 for an in-depth look at the Summer Forecast, tips to plan for it and much more!
---
Calgary is forecast to receive 100 mm of rain with this system and Edmonton could see up to 50 mm. Forecasters recommend staying alert for the risk of flooding in some areas.
"Look to your municipality and the province of Alberta (rivers.alberta.ca) for the latest information and recommendations. Heavy downpours can cause flash floods and water pooling on roads. Localized flooding in low-lying areas is possible. Watch for possible washouts near rivers, creeks and culverts," Environment Canada and Climate Change (ECCC) states in their rainfall warning for Calgary.
There is also the potential for severe thunderstorms across the Prairies on Monday. Localized flooding and strong wind gusts are the main hazards.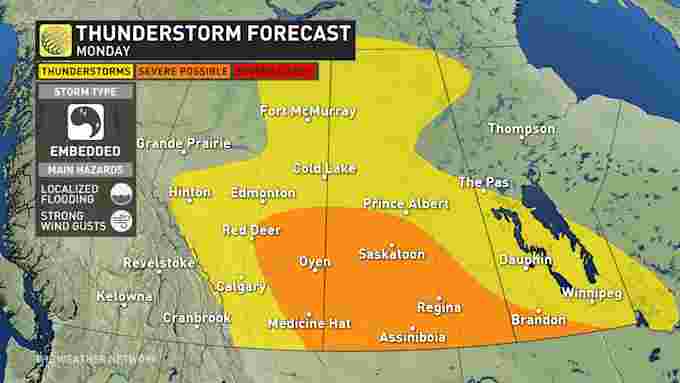 The approaching system will send temperatures falling well below seasonal for the middle of June. After a seasonable weekend, daytime highs in Calgary will fall into the mid-teens through the middle of the week.
---
SEE ALSO: Everyone needs a home emergency kit. Here's what to stock yours with
---
Cooler temperatures will allow hefty snowfall totals to fall at higher elevations, with high elevation locations above 1,200 metres at risk of seeing accumulating snow for the duration of the storm.
Stay tuned to The Weather Network for the latest updates on conditions across the Prairies.