Saturday, August 6th 2022, 1:13 pm - The first full weekend in August has started with hot and humid weather in southern Ontario and Quebec, so make sure to stay hydrated and cool. The heat could also spark thunderstorms in Central Canada, with the risk of scattered thunderstorms on Sunday.
Millions of people across southern Ontario and Quebec have been under heat warnings this weekend. An extremely hot, humid and uncomfortable air mass will stick around, continuing to feed a thunderstorm threat across Central Canada, as well. Due to the high humidity and atmospheric moisture content, storms that do develop will have the ability to produce torrential rainfall -- increasing the chance of localized flooding. The threat of storms will be localized, however. For details on the heat, humidity and thunderstorm risks for the rest of the weekend, read below.
---
MUST READ: What to take on a day trip to the sunflower fields
---
Saturday: Hot, muggy conditions set the scene for Sunday's storm risk
Good portions of southern Ontario and Quebec were covered by heat warnings Saturday. The temperatures are expected to continue in the low 30s with overnight temperatures not dropping any lower than the low- to mid-20s, offering little relief at night. Humidex values are expected to reach the low 40s. In the Greater Toronto area Sunday will feel a few degrees warmer than Saturday where the region topped out with a humidex of 40.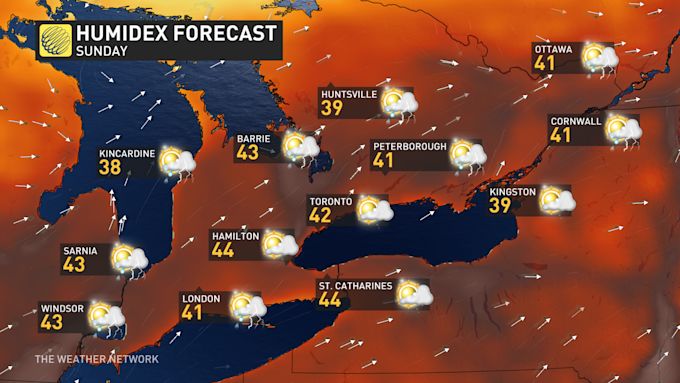 As the heat and humidity rise, so, too, does the chance of thunderstorms.
Sunday: Heat continues, higher threat for storms with heavy rain potential
On Sunday, a boundary will slowly track south through the day, bringing a better chance of storms to Central Canada.
Any thunderstorms that do initiate will have the ability to tap into ample amounts of tropical moisture in the atmosphere, producing very heavy rainfall locally as they drift eastward. There will be a risk of localized flooding. In addition, storms may also produce locally gusty winds.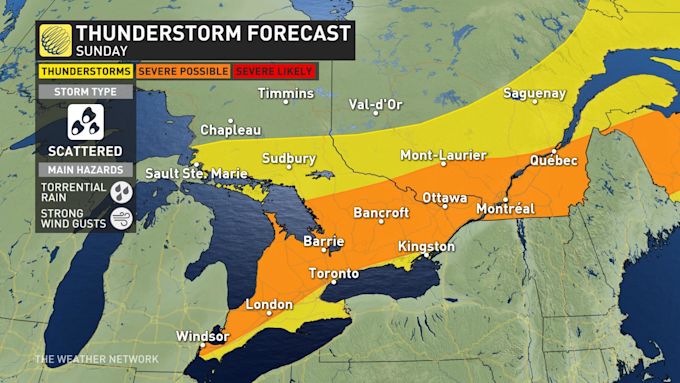 The threat of urban and flash-flooding spreads into the Eastern Townships and Montreal, and the abundance of moisture will allow for some severe storms in the regions, extending westward into southeastern Ontario, as well.
The threat of storms will be localized, however, and not everyone will see them or any rain for that matter.
MUST READ: Your mid-summer guide to lawn maintenance products
Beyond the weekend, the active weather pattern will continue into early next week. A developing low-pressure system early Monday will allow for more of a widespread rainfall and thunderstorms across southern Ontario and Quebec, but some regions will miss out on significant rainfall. By Tuesday, active weather wanes and temperatures fall substantially, compared to Monday.
As well, the extreme heat and humidity will ease by the middle and end of next week.
WATCH: How a single Ontario storm can skew your perception of summer
Stay tuned to The Weather Network for the latest forecast details for southern Ontario and Quebec.
Thumbnail courtesy of Cathy P., taken in Wilmot, Ont.