Saturday, August 13th 2022, 11:10 am - The risk of thunderstorms has coloured in most of the Prairies Saturday. There is the potential of heavy rainfall and high winds. A risk of large hail, and supercells is more prominent in Saskatchewan.
The threat of thunderstorms has covered much of the Prairies Saturday with the potential risk of storms turning severe plunging through the middle of the provinces. Heavy rainfall and high wind gusts are possible as well as hail and development of supercells in Saskatchewan. After the overhead tantrum concludes, heat will build especially in southern regions. More on what to expect Saturday and next week, below.
Potentially severe storms dominate Prairies Saturday
The cyclical summer schedule on the Prairies seems to be heat building, a thunderstorm attempting to break the heat, and then beginning again. Saturday into next week continues the course with the potential for severe storms followed by the provinces heating up.
Hot and unstable air is rising Saturday fueling thunderstorms over Alberta and Saskatchewan, edging into western Manitoba. Storms are expected to move through the afternoon and into the evening hours across the Prairie provinces.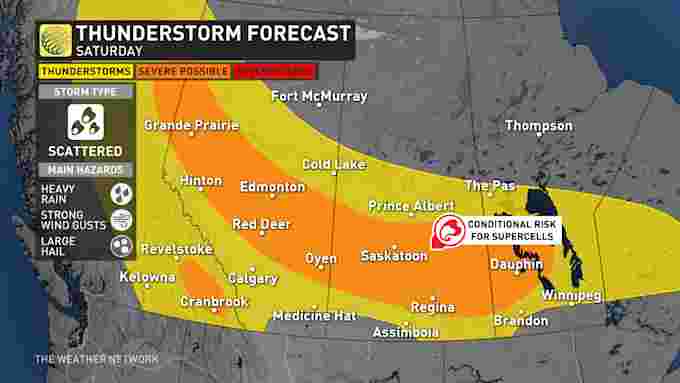 ---
READ MORE: Rainwater is now unsafe to drink due to 'forever chemicals,' study says
---
Some of the storms may turn severe with the risk of heavy rainfall and strong winds. Strong up and downdrafts could allow for the development of potentially large hail, especially in Alberta and Saskatchewan. Saskatchewan also could see thunderstorms evolve into supercells over the province.
Outside of the storm risk temperatures both the southern and northern regions of the province are experiencing high temperatures with some areas thermometers reading 5-7°C above seasonal.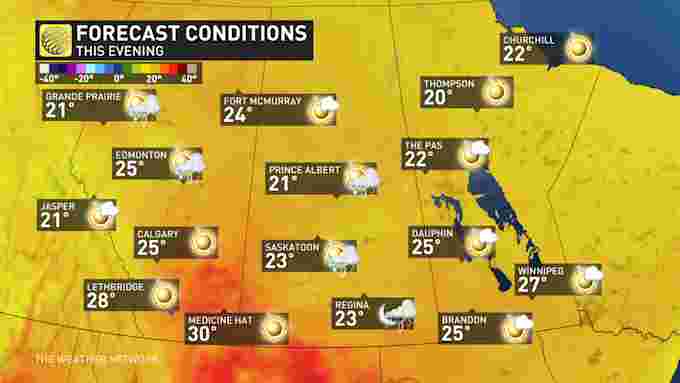 Next week: rising heat to blanket the Prairies
A high pressure ridge coming from south of the border will push itself into the southern regions of the Prairies over the next week. This will bring high heat to the provinces and is expected to last most of the week.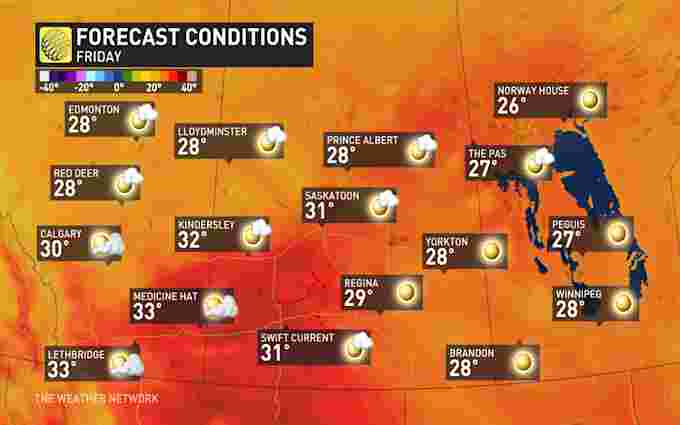 The southern Prairies can expect a long duration stretch of high temperatures in the 30s. The extent of the 30-degree daytime highs could start to approach monthly record territory for Medicine Hat as the region heads through the middle of the month.
Stay tuned to The Weather Network for the latest on the Prairies' storm threat.