Monday, September 14th 2020, 8:28 pm - Several regions in the U.S. are facing 'historic' flooding, 'extreme' life-threatening storm surge, hurricane-force winds and heavy rainfall with isolated areas at risk of seeing up to 750 mm.
Sally, a Category 2 hurricane at one point, has weakened to a Category 1, but remains a dangerous storm that threatens to bring "historic" and "extreme" flooding parts of the northern Gulf Coast through Wednesday, the National Hurricane Center (NHC) warns.
The NHC (NHC) says portions of the central Gulf Coast from Louisiana to the Florida Panhandle will face life-threatening storm surge, hurricane-force winds and heavy rainfall with isolated areas at risk of seeing more than 600 mm (24 inches).
Hurricane warnings have already been issued along the Louisiana, Mississippi and Alabama coasts, stretching to the Florida border. Tropical storm warnings and watches are in effect for parts of Louisiana, Alabama and Florida.
As of Monday evening, the NHC stated that Sally sits 215 km southeast of Biloxi, Mississippi and is moving toward the west-northwest at 8 km/h. Maximum sustained winds are near 155 km/h, with higher gusts.
"On the forecast track, the center of Sally will move near the coast of southeastern Louisiana tonight and Tuesday, and make landfall in the hurricane warning area Tuesday night or Wednesday," the NHC says.
The storm surge is expected to be significant and dangerous, with 2.1 (7 feet) to 3.5 metres (11 feet) forecast in parts of Mississippi, 1.5 metres (5 feet) 2.43 metres (8 feet) from Ocean Springs, Miss. to the Alabama border.
Outer bands of Sally are expected to produce additional rainfall of 25 to 75 mm across the Florida peninsula Monday. This rainfall may produce flash and urban flooding and prolong high flows and ongoing minor flooding on rivers across central areas.
Sally is expected to be a slow-moving system as it approaches land, producing 200 to 400 mm of rainfall, with isolated amounts of 600 mm, over portions of the central Gulf Coast -- from the western Florida Panhandle to far southeast Louisiana through the middle of the week. Life-threatening flash flooding is possible. In addition, this rainfall will likely lead to widespread minor to isolated major flooding on area rivers.
The storm is forecast to move farther inland early Wednesday and track into the southeastern states with rainfall of 150 to 300 mm possible across portions of inland southeast Mississippi and Alabama. Significant flash and urban flooding is likely, as well as widespread minor to moderate flooding on some rivers.
Further heavy rain is then anticipated across portions of eastern Tennessee, northern Georgia and western Carolinas Thursday into Friday. Flash, urban, and minor river flooding is possible across this region.
As well, Sally may producde a tornado or two Monday afternoon through Tuesday over coastal areas of the Florida Panhandle, Mississippi, Alabama, and extreme southeastern Louisiana.
PAULETTE STRENGHTENS, TEDDY, VICKI FORMS
The tropical activity also has two other named storms, Paulette and Teddy. Paulette is a Catgegory 2 hurricane impacting Bermuda, Tropical Storm Teddy is gathering steam and could become a hurricane this week and Tropical Storm Vicki came to life Monday morning.
Hurricane Paulette is currently 260 km north-northeast of Bermuda, packing maximum sustained winds near 165 km/h, with higher gusts. Additional strengthening is likely through Tuesday night as Paulette accelerates northeastward to east-northeastward.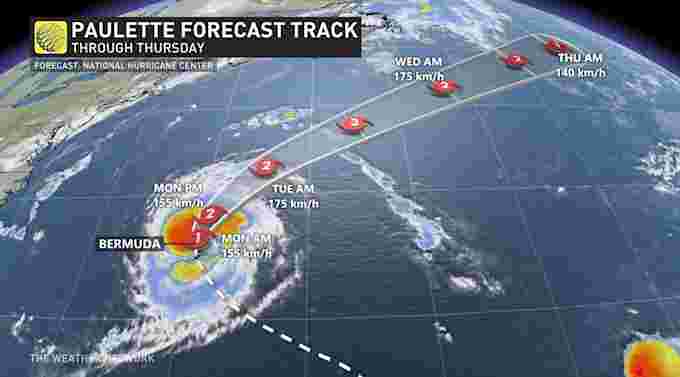 "Paulette is moving toward the north-northeast near 15 mph (24 km/h). A turn toward the northeast is expected later tonight followed by a turn toward the east-northeast and an increase in forward speed Tuesday afternonn through Thursday," the NHC says.
Paulette made a rare landfall in Bermuda on Monday and knocked down trees and power lines across the island. Less than 10 hurricanes have made landfall on the island, according to NHC records that date back to the 1850s. There are currently no reports of injuries or deaths, as reported by Reuters.
Tropical Storm Teddy is 1,880 km east of the Lesser Antilles. Its maximum sustained winds have increased to near 85 km/h, with even higher gusts. Additional strengthening is anticipated and Teddy is forecast to become a hurricane on Tuesday and could reach major hurricane strength on Thursday.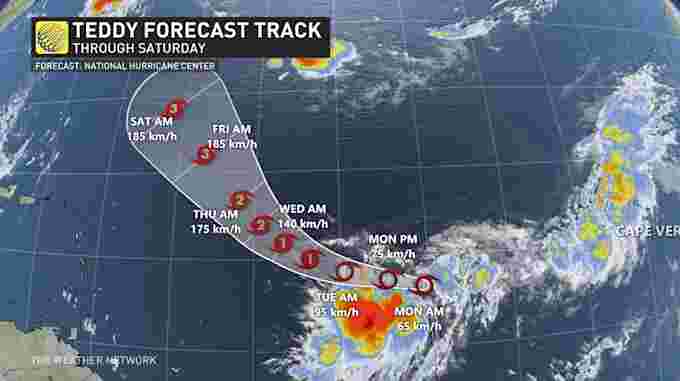 "Teddy is moving toward the west near 14 mph (22 km/h). A west-northwestward motion at a slower forward speed is expected tonight through Tuesday night, followed by a northwestward motion Wednesday and Thursday," the NHC says.
Tropical Depression 21 has strengthened into Tropical Storm Vicki, currently situated 690 km west-northwest of the Cabo Verde Islands. It has maximum sustained winds near 75 km/h, with higher gusts. Weakening is expected to begin by Tuesday night and Vicky is forecast to degenerate to a remnant low on Thursday.
CANADIAN IMPACTS FROM HURRICANE PAULETTE
The Canadian Hurricane Centre issued a tropical cyclone information statement for Avalon Peninsula Southeast, Newfoundland on Monday.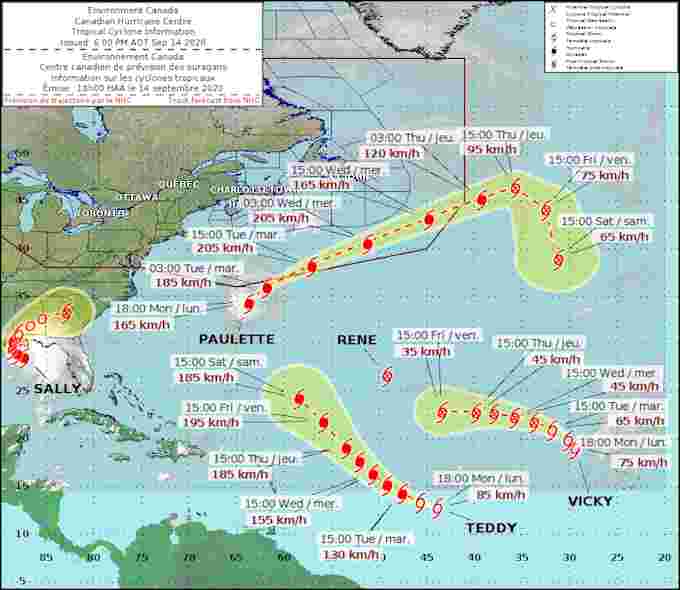 "Hurricane Paulette is expected to track northeastward across the southern edge of the Canadian response zone as a major Category 3 hurricane. However, it will be far enough offshore that no impacts will be experienced on land other than ocean swells up to 2 metres along southern facing coastlines of Nova Scotia and Newfoundland Tuesday night and Wednesday," the statement says.
Some gale force winds are possible offshore Canadian marine waters on Tuesday afternoon and evening, but most of Atlantic Canada will be not be impacted by Paulette.
OTHER ATLANTIC DISTURBANCES
Elsewhere in the Atlantic, forecasters are also keeping a close eye on two other disturbances that may develp in the near future.
A tropical wave near the west coast of Africa is producing disorganized shower and thunderstorm activity. Environmental conditions appear to be conducive for slow development of the system this week. The chances of development over the next five days is 50 per cent.
On the other side of the Atlantic, disorganized showers and thunderstorms over the western and southwestern Gulf of Mexico are associated with a weak area of low pressure. Development of this system is not expected due to strong upper-level winds while it moves slowly southwestward and then southward over the western Gulf of Mexico during the next few days. The chances of development over the next five days is 10 per cent.
WHY DOES ACTIVITY PICK UP IN SEPTEMBER?
We typically see more frequent tropical systems, with greater lifespans and greater intensity, in September due to a few factors.
By this time of year, we have encountered peak summer heating, and the oceans are typically warmer than early months in the season. Warmer waters fuel tropical systems, allowing excessive rising motion over the water, resulting in strong thunderstorms that can become organized into tropical systems.
Another factor that comes into play is that we typically have less wind shear in the pattern this time of year. The Jet Stream is weaker in the summer months and wind shear fades through June and July, becoming almost non-existent in August and September. This is not a good thing, as wind shear can help weaken tropical systems.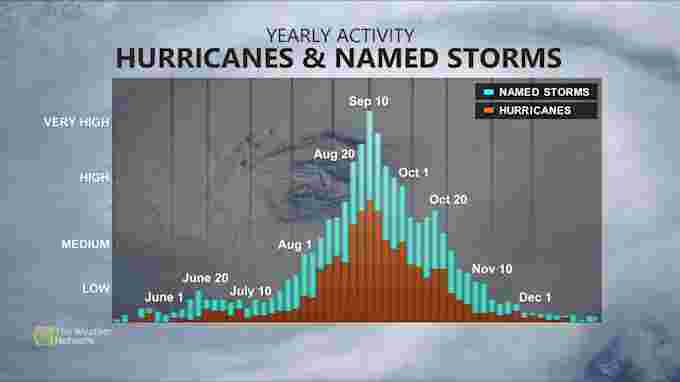 When forecasters warn of an "above average" season, they are talking purely in terms of expected named storms, and none of these predictions typically make any claims to the expected severity of the storms. Indeed, so far the 2020 season has only produced one major hurricane -- that is, Category 3 or higher -- in the form of Hurricane Laura, which reached Category 4 prior to impacting the U.S. Gulf Coast with extreme winds and major storm surge last month.