Tuesday, May 4th 2021, 11:45 am - It won't be until at least mid-May before any signs of consistent warmth across southern Ontario.
The first half of May doesn't show any signs of improvement in terms of the unsettled and cool conditions across southern Ontario, with more rain spreading through the region into Wednesday and a cold end of the week that will leave things feeling more typical of early April rather than early May. Widespread frost and freeze conditions are likely, with even the threat for some flakes as we head into Mother's Day weekend. More on this gloomy set-up and when to expect somewhat of a turnaround, below.
MUST SEE: After a strong start in April, spring sputters into May across Canada
TUESDAY THROUGH WEDNESDAY: LINGERING RAIN SHOWERS, FLIP FLOPPING TEMPERATURES
Southern Ontario will see some on-and-off rain showers Tuesday, tapering off for the overnight hours as the low-pressure system continues to make its way into eastern sections of the province. As it does, it will tap into some moisture and bring heavier rain into the east and southern Quebec for Wednesday.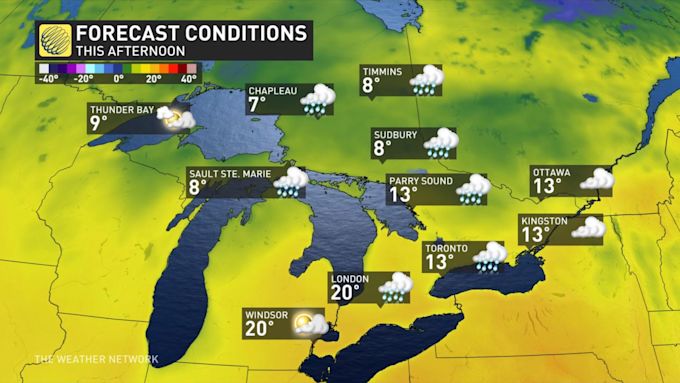 Temperatures will hover closer to the seasonal mark for Tuesday in the south, but daytime highs will be noticeably warmer in southwestern sections, further inland from the influence of the lakes.
As the rain begins to gradually taper on Wednesday, we will see another temperature drop, thanks to a gusty northwest wind. This will keep daytime highs in the low double digits or even upper single digits in some areas. Eastern areas will be slightly warmer as the low continues to pass through.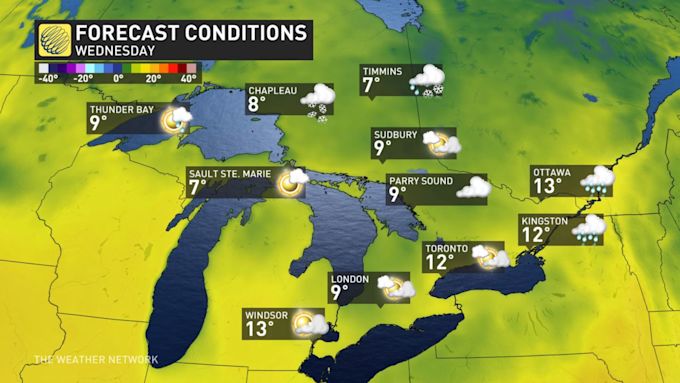 Accumulative rainfall totals for the first half of this week will be heaviest in parts of eastern and northeastern Ontario, where these regions could see 20-30 mm.
Between 10-20 mm is anticipated for the Ottawa area, with much of southern Ontario seeing just 5-10 mm in all.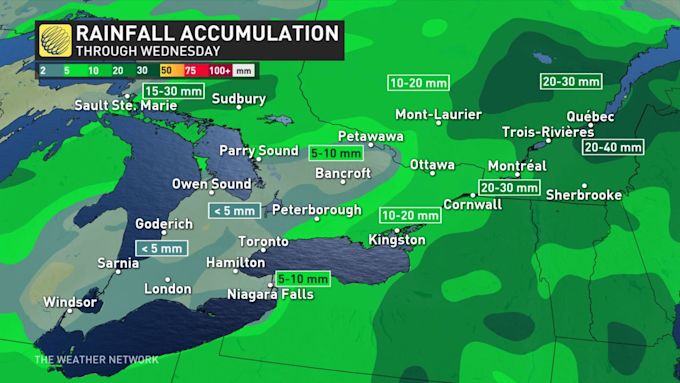 LOOK AHEAD: LACK OF ANY CONSISTENT WARMTH FOR FIRST HALF OF MAY
A rather chilly pattern is anticipated for the end of the week, with temperatures continuing to be well below seasonal on Thursday and Friday, much more typical of early April rather than early May. There will be the risk of showers and even some snowflakes for parts of the region.
Frost and freeze conditions are likely for areas away from the Great Lakes.
"We will closely monitor the risk for a freeze in the Niagara region, where the orchards are already in blossom. But for this week it appears that clouds or wind will prevent a hard freeze in this region. Parts of this region could see some flakes late week," says Dr. Doug Gillham, a meteorologist at The Weather Network.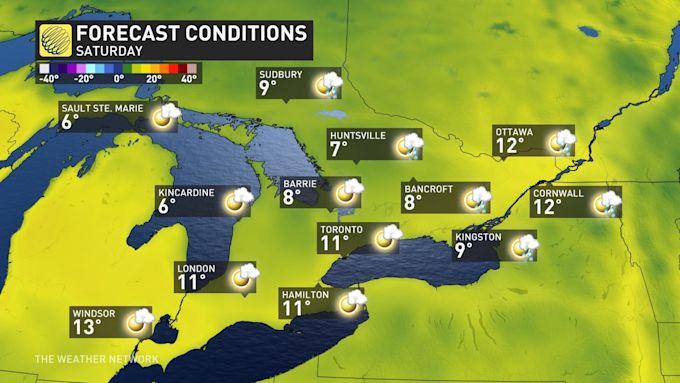 At this point it looks like the weekend will be fair and cool, but forecasters are keeping a close eye on a system tracking south of the border. There is still uncertainty in the forecast track, which is the key to the southern Ontario Mother's Day forecast.
It is possible that the track will be far enough north to bring showers to the region, but a track further to the south will allow our region to stay dry.
Cooler than seasonal temperatures will continue to dominate next week, but the pattern should relax somewhat, so temperatures should trend closer to seasonal later in the week.
Be sure to check back for updates on the cooler and unsettled start to May across Ontario.