Wednesday, February 17th 2021, 2:12 pm - An astronaut recently captured a rare sighting from space.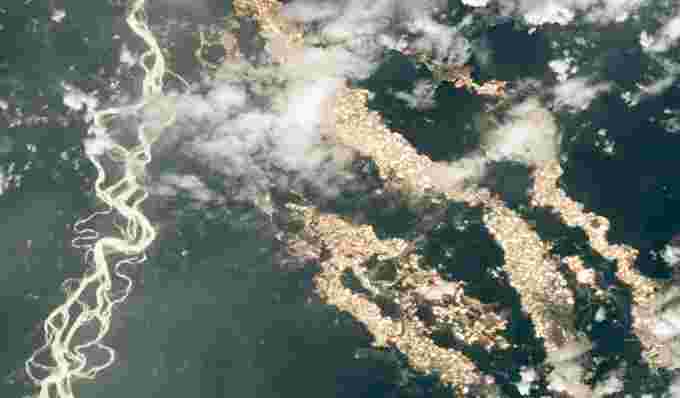 Photo courtesy: NASA/ISS.
On Christmas Eve, an astronaut aboard the International Space Station snapped an eye-catching image while flying over eastern Peru.
In the photo, 'rivers' of gold are seen sparkling with reflected sunlight.
The rivers are gold prospecting pits and opportunities to see them in this manner are rare, given they're usually obstructed by cloud cover or aren't catching the sun's light when the ISS passes by.
"The river and the pits cut through the otherwise unbroken Amazon rainforest in Peru's Madre de Dios state," NASA says in a statement.
"In this very wet climate, the prospecting pits appear as hundreds of tightly packed water-filled basins. Likely dug by garimperos (independent miners), each pit is surrounded by de-vegetated areas of muddy soil. These deforested tracts follow the courses of ancient rivers that deposited sediments, including gold. For scale, the western tract at image center is 15 kilometers long."
The image is taken over Madre de Dios state, home to one of the world's largest independent gold mining industries. While local mining employs tens of thousands of people, it is the primary cause of deforestation in the region.
Extraction procedures have negative environmental impacts because miners mix sediment with boiled mercury to separate gold from minerals, resulting in up to 55 tonnes of mercury ending up in local waterways each year.
The unregulated nature of the mining makes it particularly harmful, Live Science suggests. Because mercury ends up in local rivers, locals who regularly eat fish from the area are more than three times more likely to suffer from mercury poisoning when compared to people who do not, a 2012 study found.