Thursday, April 15th 2021, 7:23 pm - The storm's moisture will be concentrated in eastern Ontario and Quebec's upper St. Lawrence region, leaving many to wait longer for those replenishing spring rains.
Spring showers look to continue for Ontario and Quebec into Friday, but still confined largely to eastern parts of the former and western parts of the latter. In the days beyond, more unsettled weather makes an appearance here and there, and the spring warmth that has dominated so far will be in retreat. For a closer look, see below.
THURSDAY NIGHT: SOAKING RAINS END IN QUEBEC, LINGER INTO THE MORNING FOR ONTARIO
The rains began later in the day Thursday, and much of eastern Ontario and southern Quebec will see them continue overnight.
The system's setup will actually see the heaviest rains in the upper St. Lawrence around Montreal, but will actually taper off there overnight, before they do in eastern Ontario. People could still see some lingering showers here and there in Quebec through the morning, though somewhat more substantial in
FRIDAY AND BEYOND: DRIER FOR THE WEEKEND, BUT COOLER TEMPERATURES LOOM
The rain lasts through much of Friday morning for eastern Ontario, ending through the day amid somewhat cooler temperatures.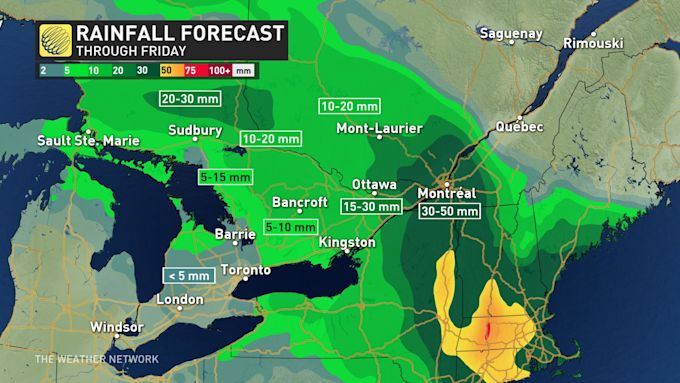 In all, the worst-hit areas look to pick up some 20-50 mm of rain, not unwelcome for a part of the country that's seen below-average spring precipitation so far this season.
Ahead, the weekend sees a mix of sun and cloud, with near-seasonal temperatures, though with the chance of a passing shower both days, highest on Sunday.
The next week starts out near-seasonal, but then spring suffers a setback, with below-seasonal temperatures dominating the rest of the week, with a couple of rounds of showers mid and late-week – and in fact, the chance of a rain/snow mix for higher terrain well north of the GTA.
"This chilly pattern will continue into the final week of April," says Dr. Doug Gillham, a meteorologist at The Weather Network. "We're watching the potential for a recurving typhoon in the western Pacific which could help to lock in the pattern through the end of April."
Check back as we continue to monitor this system.