Wednesday, May 25th 2022, 8:33 pm - An unstable airmass will create several opportunities for heavy rain and thunderstorms across southern Ontario through the end of the week.
The arrival of more thunderstorms is unwelcome news for hard-hit areas still reeling from the derecho that ripped through southern portions of Ontario and Quebec this past weekend. Cleanup efforts were aided by favourable weather this week, but Thursday and Friday will see a storm risk creep back into the region. More on the timing and details of the late-week storm threat, below.
---
DON'T MISS: EF2 tornado confirmed in Ontario after destructive long-weekend storm
---
THURSDAY AND FRIDAY: SCATTERED STORMS BUBBLE IN THE HUMIDITY
An unsettled pattern draped over the Great Lakes will bring a risk for thunderstorms to southern and eastern Ontario for our day on both Thursday and Friday.
Plenty of atmospheric moisture pumping northward from the Gulf of Mexico will provide ample fuel for thunderstorms to bubble across the region.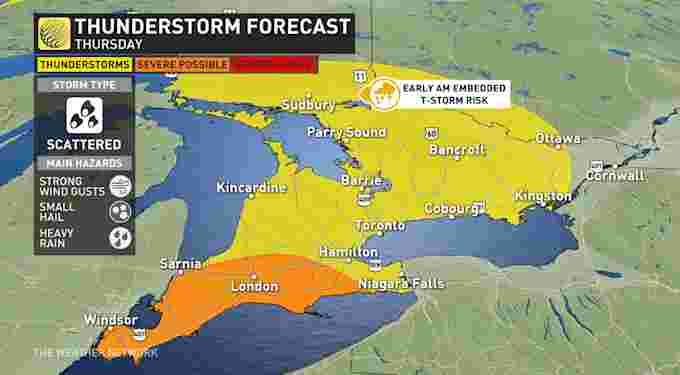 Thursday's thunderstorm risk will span most of the southern half of Ontario, with early-morning thunderstorms possible across northern cottage country toward the Nickel Belt.
The heat of the day will see a more widespread risk for scattered thunderstorms, with some potentially reaching severe limits in the southwest. Folks around Windsor, Sarnia, and London could see strong wind gusts, heavy rainfall, and small hail from the feistier storms that pop up on Thursday. Keep an eye out for warnings if you're in the area.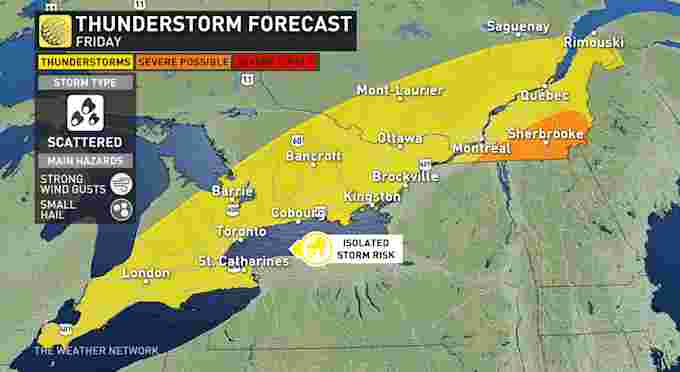 Friday will see a cold front pushing into southern Ontario, bringing with it a risk for isolated thunderstorms along the 401 corridor and portions of cottage country. Some of the storms could reach severe limits across Quebec's Eastern Townships, where strong wind gusts and small hail are possible.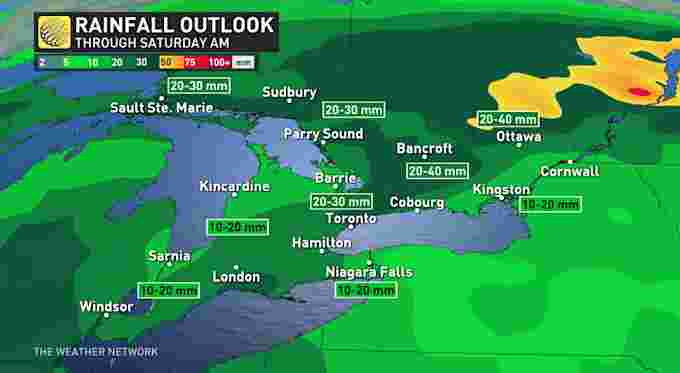 All told, you could wake up to 10-20 mm of rain in the backyard gauge by the time we reach Saturday morning. Heavier totals are possible north into cottage country, with heavier totals still pushing into interior Quebec.
THIS WEEKEND AND BEYOND: HEAT BUILDS TO END THE MONTH
Temperatures will drop a bit behind the cold front, with temperatures in the low 20s common across southern Ontario by Saturday. However, it's going to be a short-lived cooldown.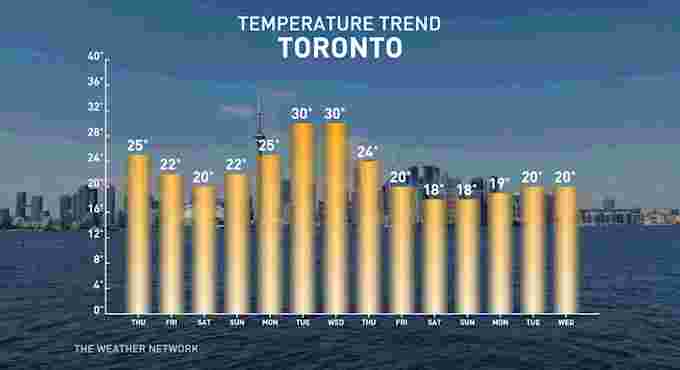 We're watching the likelihood for a ridge of high pressure to build across the Great Lakes this weekend. This pattern will bring above-seasonal temperatures to southern Ontario to end the month of May. Daytime highs will push the 30-degree mark for many areas by Tuesday and Wednesday.
Savour the warmth while it lasts, though, because temperatures will moderate as we inch toward the first weekend of June.
Stay tuned to The Weather Network for all the latest on conditions across Ontario.