Tuesday, September 27th 2022, 10:18 am - The weather came to Atlantic Canada to rain and eat storm chips and it's all out of storm chips.
Many Atlantic Canadians are still in the dark after Fiona and the skies remain gray as a cold front passes by the week after the post-tropical storm.
It appears the weather is making every effort to put a damper on recovery efforts across the Atlantic provinces. Monday began with thunderstorms with lightning and heavy rainfalls across much of Nova Scotia, PEI, and New Brunswick. Tuesday continues the rain trend and now includes Newfoundland.
Utility workers, those working to clean up debris, and people delivering meals may be forced to take a break during the afternoon on Tuesday. Thunderstorms with strong wind gusts and heavy rain are forecast to set up shop above some of the most impacted areas from Fiona.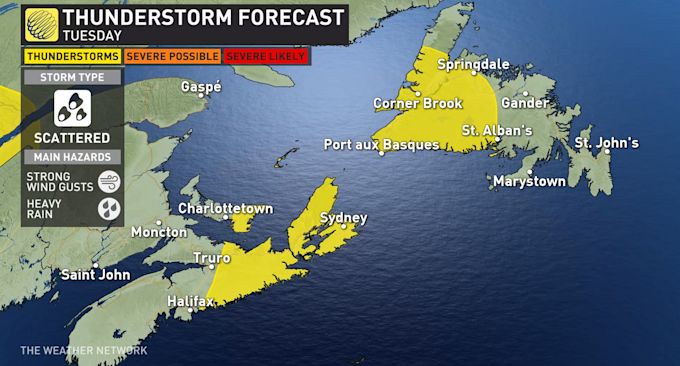 The rain that began Tuesday morning will pick up during the day and into the evening. Pockets of heavy rainfall will move across the province as well. Rain and cloudy skies are expected to continue through to Thursday across the Atlantic provinces. Burgeo and St John's Newfoundland could collect the most out of everyone with up to 70 mm of rain in the next three days.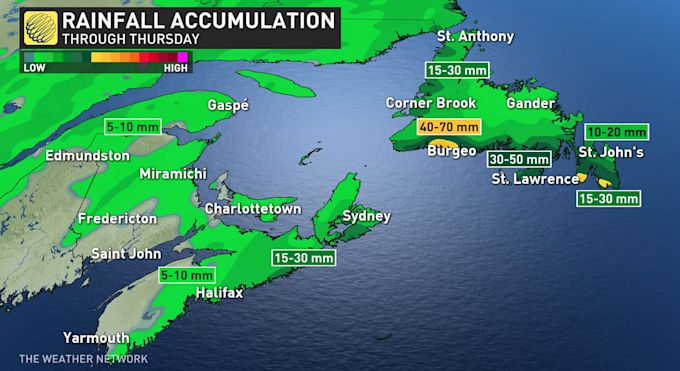 After the rain some clearer fall weather should be back in the forecast for Atlantic Canada with a much clearer weekend ahead than the last.
WATCH MORE: How hundreds of wild horses fared as Fiona rocked Sable Island