Monday, January 17th 2022, 1:11 pm - Importer says he is rationing his supply to supermarkets with orders not filled.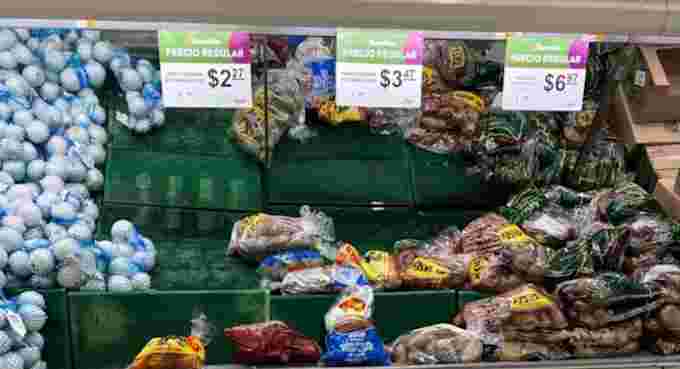 Mark Antunez says some grocery store shelves are now empty where P.E.I. potatoes usually would be. (CBC/Mark Antunez)
Potato importers in Puerto Rico say they are not able to fill their orders to supermarkets on the Caribbean island because they can't get enough supply to fill the void created by the export ban on P.E.I. potatoes.
More than 80 per cent of Puerto Rico's potatoes would usually come from Prince Edward Island.
"We are in a bad, bad situation right now," said Mark Antunez, president of Antunez & Son Produce, who has been importing from P.E.I. since 1988.
"We are the ones who supply the stores. There is about five or six big companies in Puerto Rico who supply the market, and there are no potatoes in the market."
Antunez said his potato cooler is now filled with other vegetables, as he searches for more potatoes.
"For example, normally I bought three or four containers a week from Prince Edward Island. Last week we ordered three loads and they guarantee just one," Antunez said.
"That's what I got in inventory, less what we already supplied our customers, and they do not have supply in the stores either."
Antunez said he had been receiving potatoes from New Brunswick, but they are not able to fill his request for three containers, sending him just one.
"We started being supplied from New Brunswick because in the United States, there is not plenty of potato to supply the States, plus the island of Puerto Rico," Antunez said.
"But the New Brunswick company, probably they have their regular customers, plus on top of that add more customers like the U.S., plus Puerto Rico. It's not easy for them."
RELATED: CANADIAN POTATO FARMER STRUGGLE WITH DROUGHT (SEPT 2020)