Monday, June 3rd 2019, 8:00 pm - Not somewhere you hear about a lot of tornadoes, but how rare was it?
It seems June 2 was a day for unusual tornadoes across Canada. While one unexpected twister tore a path through the National Capital Region, another looks to have gone north. Way north, in fact -- all the way to the Northwest Territories.
Video from Fort Smith, about 300 km south of Yellowknife and right along Alberta's northern border, shows what appears to be a tornado stirring up debris as it swirled through the town on Sunday afternoon around 4 p.m. MDT.
Summer revealed! Visit our Complete Guide to Summer 2019 for an in-depth look at the Summer Forecast, tips to plan for it and much more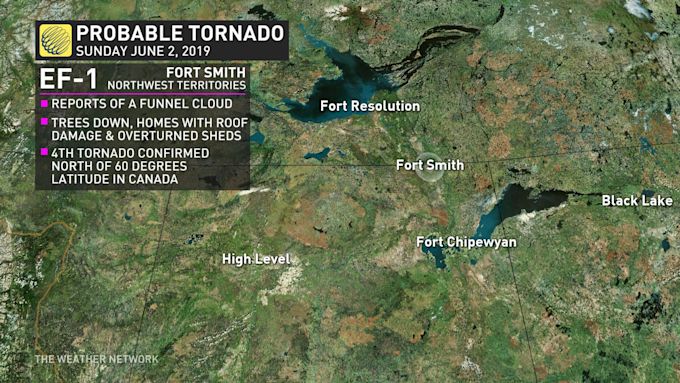 That footage, along with images of damage including downed trees and damaged roofs and buildings, prompted Environment Canada to issue a statement giving the probable tornado a preliminary rating of EF-1 -- the same strength as the storm that was ripping through the Ottawa area at about the same time.
If confirmed, the tornado will join a very exclusive group. To date, only three tornadoes have been confirmed north of 60 degrees latitude in Canada.
WATCH BELOW: FLYING DEBRIS AND SCENES OF DAMAGE FROM FORT SMITH
RELATED: How storm chasers play a key role in severe weather safety
"We're pretty lucky," Fort Smith's acting mayor Chris Westwell told Cabin Radio. "It was a fairly major event that happened in the middle of a residential area, and I'm currently standing in the town hall parking lot looking at a piece of roof from two blocks away."
Westfall added that one area resident sought treatment at the town's health centre in the wake of the storm.
WATCH BELOW: SUSPICIOUS STORM, SEEN ON SATELLITE
A RARE STORM?
Environment Canada officials have appealed to area residents who might have footage of the storm, or of the damage it caused, to assist with their investigation -- a component that will be particularly important with this storm, given its location. Many tornadoes in Canada are diagnosed using radar data; the closest radar in this case is located near Grande Prairie, almost 700 km away.
While tornadoes can occur in any part of Canada, the data on northern tornadoes is so sparse, the region doesn't even get an entry on the average annual tornado listings.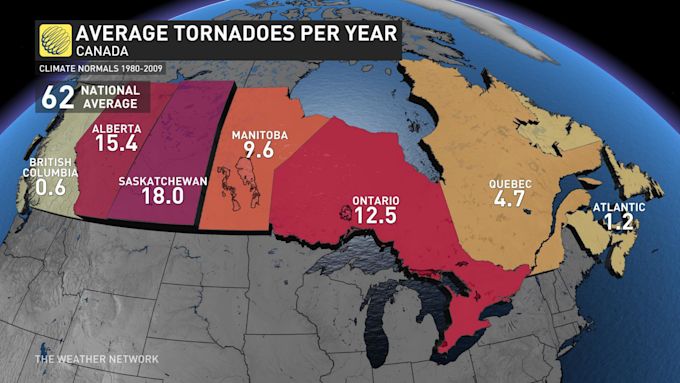 Neighbouring Alaska recorded only 2 tornadoes between 1950 and 2006, both rated F0 (on the scale that predates the EF scale we use now).
A researcher from the Northern Tornadoes Project, a joint effort between Western University and Environment Canada, is also on the way to Fort Smith to get a first-hand look at the damage. That information will be used to decide, one way or another, whether the storm was tornadic in nature or another type of wind event.
When seen on a map, it's easy to tell Canada's established 'Tornado Alleys' mimic the layout of our population centres.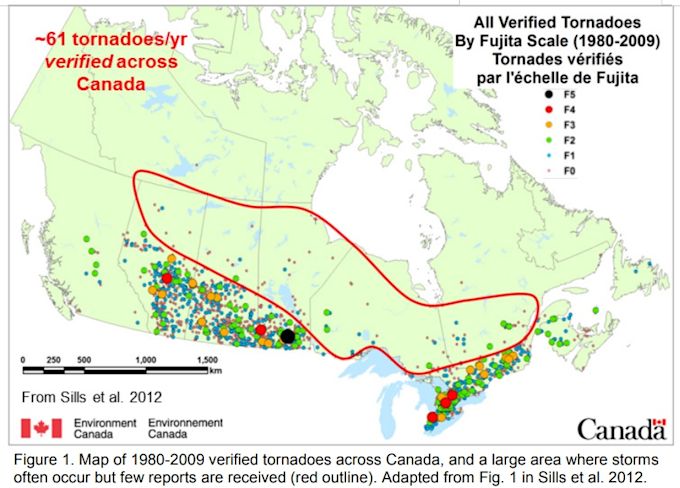 That's one of the challenges facing groups like those working on the Northern Tornadoes Project; do tornadoes really just form where we can see them, or have we only been counting the ones we can see? While the Fort Smith storm stands to be only the fourth confirmed tornado north of 60, it may be part of a much bigger family after all.
WATCH BELOW: MASSIVE TORNADOES SWEEP ACROSS SEVERAL STATES