Wednesday, September 9th 2020, 10:40 am - Everything you should know about the importance of location data and privacy for The Weather Network app.
The weather can change drastically from season to season, day to day, even minute to minute, depending on where you are in the world. But as weather events continue to become more extreme, the technology behind The Weather Network's app continues to evolve, making it easier to get precise, up-to-the-minute weather information wherever you are.
The key to delivering the most effective warnings about weather requires targeting an exact location. That's why sharing your precise location allows us to keep you safe by providing you with relevant and localized weather alerts, accurate forecasts, new weather products, and improved app performance. Right now, we can deliver accurate forecasts up to a 1 km radius around your location, and you can receive notifications about severe weather conditions without opening the app.
LATEST UPDATES WITH APPLE'S iOS 14
Location is a hot topic when it comes to privacy, and Apple's iOS 14 has a feature that gives the consumer better control over whether they reveal their precise location or an approximate location.
By using the approximate (or non-precise) location setting in iOS, it will show a person "somewhere" in a circle — not necessarily in the center — and that general location is recomputed a few times each hour. However, this setting doesn't allow for up-to-the-minute and accurate weather alerts from our app for the exact location that you are in at that specific moment.
The image below shows our grid (representing 1 kilometre grid squares) in which we are able to pinpoint precipitation in your area. The rain icons in the image indicate spots where it is raining and, as you can see, a few grid cells over, it's not raining (indicated by the sun icons).
WHY LOCATION MATTERS FOR WEATHER ALERTS
Canada's wild weather in all seasons means precise location is critical for an accurate forecast. Thunderstorms are often localized, with one neighbourhood flooded while other parts of the same city are dry. Precise location allows for accurate timing of rainfall hitting your location based on radar storm tracking. In winter, a few kilometres often means the difference between rain and snow. Not using precise location means getting a forecast from over the water, on a mountain or a distant field that doesn't represent your weather.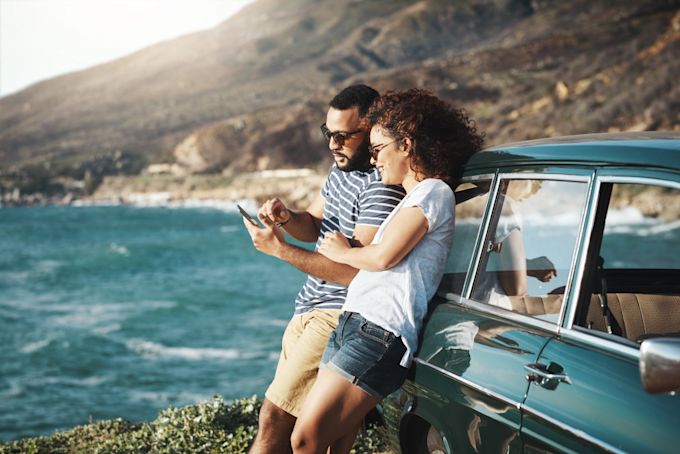 Image via Getty.
As an example of how precise location data plays out in real time, during the afternoon and evening of June 10th, severe thunderstorms rolled across southern Ontario spawning tornadoes and causing widespread damage and power outages. In the days leading up to the event, we were able to forecast that there was a risk of thunderstorms and the potential for tornadoes. However, even the most cutting edge technology can only tell the general area where a tornado is likely to occur ahead of time. As the event was unfolding, having your precise location enabled allowed us to pass along vital and potentially lifesaving relevant weather data and alerts to inform you of a tornado or possible tornado in your location. Seven tornadoes were confirmed that day.
Sharing a precise location also allows us to provide awesome new widgets that deliver up-to-date weather based on the user's location (if enabled) on the user's home screen. Beyond that, location data also allows ad targeting to be much more relevant to our users. Keep in mind that Pelmorex offers all of its services — forecasting, content, apps, etc — for free, and advertising is part of our strategy for keeping it that way.
HOW DO YOU ENABLE PRECISE LOCATION?
To turn Precise Location on first go to your iPhone settings and select The Weather Network app. From there select 'Location' and then toggle on "Precise Location."
WHAT ABOUT PRIVACY?
We are committed to protecting our users' privacy and to continue to be transparent about how we collect and use non-personally identifiable and aggregated information.
Pelmorex TWN and MM applications are "Privacy by Design" certified, which is the internationally-recognized gold standard of personal user data privacy pioneered by Dr. Anne Cavoukian, the former Ontario Information and Privacy Commissioner.
"Location data that we collect from our users is anonymous, collected in a bucket and analyzed in aggregate to identify trends in consumer behaviour," says Celeste Normington, head of data and technology platforms at Pelmorex Corp., the parent company of The Weather Network. "We don't link the location data to a user's email address, name, phone number or any other identifying information."
The Weather Network app widget options on iOS.
IF YOU DON'T KNOW ME, WHY DO I GET PERSONALIZED ADS?
If a user opts-in to share their location data to receive precise weather information and safety alerts for the location in which they are accessing our services, the location data is anonymous with no personal information collected. This anonymous aggregated location data can be used for targeted advertising or marketing analytics, e.g. for identifying aggregate user segments going to ski hills to target ski-related advertising. No advertising or analytics is 1:1 at the individual level or uses any personal information.
Pelmorex offers its services for free and, as such, advertisements are part of this free service for our applications. Our mobile app users can limit personalised ads by disabling location sharing within the iOS Settings app and optionally, have an ad-free experience via an annual in-app subscription. On our websites, users can always control the personalised advertising experience by disabling browser cookies.
IT IS UP TO YOU
The decision is always up to you — we are committed to protecting and respecting your privacy, but knowing where you are will allow us to keep you safe and informed, and providing you with your weather when it really matters!