Thursday, January 16th 2020, 7:50 pm - Record lows were set across the Prairies this week, including in Calgary, as Arctic air keeps wind chills at dangerous levels
The unrelenting deep freeze in the Prairies has set new record lows across many areas, mostly in Alberta and Saskatchewan, as the Arctic air has sent temperatures plummeting well into the -40s for several locales. The bitterly cold temperatures will linger through this weekend before a significant warmup begins Monday. We have the details on who set new record lows, when to expect an end to the deep freeze, as well as some lingering snow Friday into Saturday, below.
---
WEATHER HIGHLIGHTS
Dangerously cold air grips the Prairies
Light snow in the eastern Prairies through early Friday, heavier in Manitoba later in the day into Saturday
There is relief in sight, but not until next week
Stay up-to-date on the ALERTS in your area
---
EXTREME COLD WILL CONTINUE INTO WEEKEND, SETS NEW RECORDS
Extreme cold warnings have dropped in Saskatchewan and Manitoba, but Alberta is still in for dangerous cold, though slightly moderated.
"Wind chill values will be extreme once again Friday night over most of the province as skies clear," Environment Canada warns, adding residents should be prepared for extreme nighttime wind chill values in the -45 into the weekend for some areas.
"Watch for cold-related symptoms: Shortness of breath, chest pain, muscle pain and weakness, numbness and colour change in fingers and toes. If it's too cold for you to stay outside, it's too cold for your pet to stay outside," Environment Canada warns. "Outdoor workers should take regularly scheduled breaks to warm up."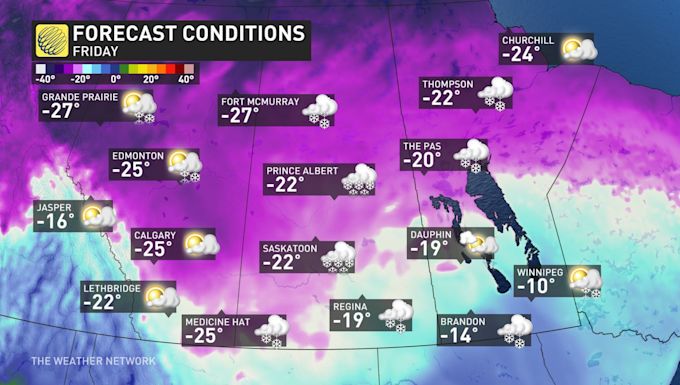 While temperatures Friday afternoon will be warmer than the harshest overnight cold, temperatures aren't expected to climb out of the -20s for many spots, including Edmonton, Calgary, Saskatoon, and Prince Albert. With the wind chill, those temperatures will feel closer to the upper -30s, even during the afternoon.
The harsh temperatures set new record lows throughout Alberta and Saskatchewan on Wednesday, where many saw temperatures dive into the -40s during the overnight period. The City of Calgary hit -33.2°C, which broke the previous record of -31.1°C that was set in 2005. Temperatures at Edmonton International Airport Climate hit the -40s, reaching -42.2°C and surpassing the old record of -35.9°C from 2005.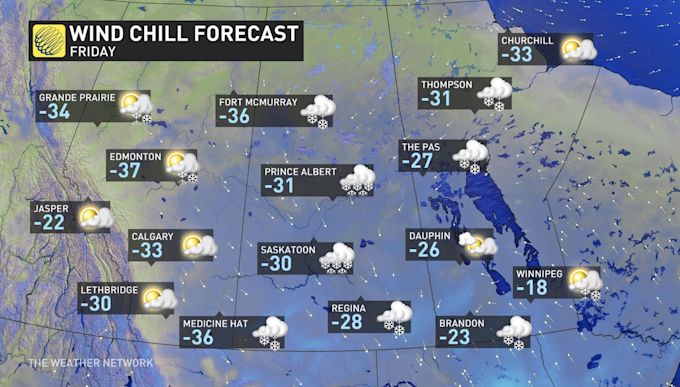 The intense cold is a result of a cross-polar flow -- a looping in the jet stream that's allowed polar air, and much of the chill that usually hangs out in Siberia, to flood down into Western Canada. With the deep freezes comes the risk for frostbite, so it is recommended to limit your time outdoors to avoid exposure and symptoms from the cold air.
FRIDAY: LIGHT SNOW FOR THE WEST, HEAVY FOR THE EAST
Along with the cold temperatures, some lingering snow is expected through Friday, courtesy of a weak clipper moving across the Prairies. Amounts will remain on the low end, with widespread pockets of 2-5 cm for most, while parts of the northern Prairies could get 5-10 cm through Friday.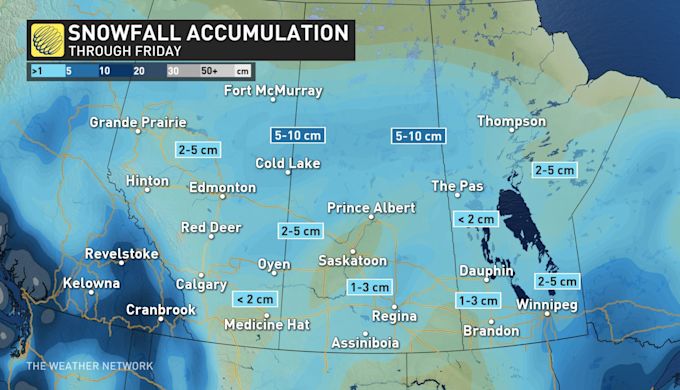 Later Friday, a more potent storm sets up in Manitoba, with parts of the south and southwest set for 10-15 cm of snow, with even heavier amounts in neighbouring northwestern Ontario.
"Snow will begin over southeastern Manitoba on Friday afternoon and intensify through the evening hours," a snowfall warning in the southwest of Manitoba reads. "Heavy snow will fall through the night, then gradually ease through the day on Saturday."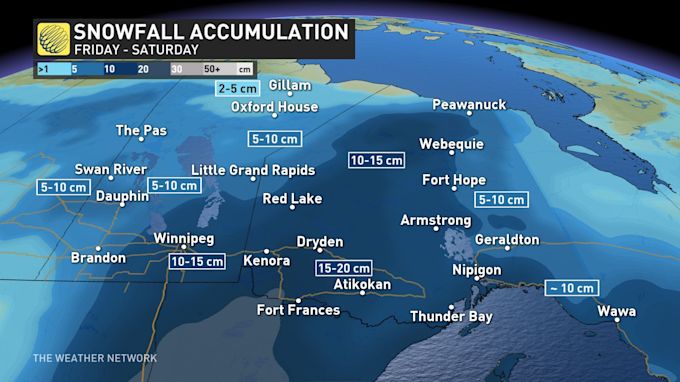 NEXT WEEK: WARMUP WILL FINALLY SNAP DEEP FREEZE
Those in the Prairies will have one more weekend of extremely cold temperatures to contend with before warmer air finally brings an end to the dangerous and bitter cold that has been plaguing the region for the past week.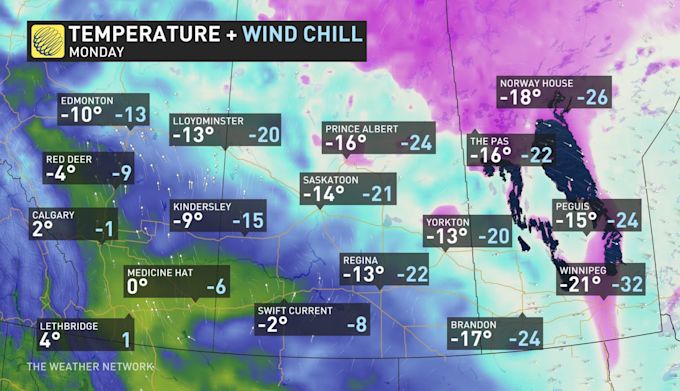 The start of next week will bring well-above seasonal temperatures that will feel quite mild compared to this week and there will be a near 30-degree temperature difference for some over a seven-day period.
"It will feel like early spring compared to this week! This milder weather will spread east into Ontario and Quebec by the end of the week," says The Weather Network meteorologist Dr. Doug Gillham.
Stay tuned to The Weather Network for the latest forecast updates.
WATCH BELOW: WEATHER NETWORK REPORTER GOES ABSOLUTELY EPIC FOR THIS ONE ON THE FROZEN PRAIRIES