Wednesday, September 28th 2022, 10:45 am - Some streets in Charlottetown to be closed for workers Wednesday
Maritime Electric is close to restoring electricity to one third of its customers following post-tropical storm Fiona's strike on P.E.I. over the weekend, but no closer to providing an estimate of when the work would be done.
Fiona hit P.E.I. early Saturday morning, leaving widespread destruction and power outages. As of Wednesday morning, about 57,000 Maritime Electric customers were still in the dark — with power restored to only about 26,000 customers on day five of the outage.
With crews about to return to work Wednesday morning, spokesperson Kim Griffin said things are particularly bad in the eastern part of the province.
"We do not have all the essential services on. That's certainly something that our crews are focusing on," said Griffin.
MUST SEE: P.E.I.'s iconic Teacup Rock is gone after post-tropical storm Fiona
"They worked until about midnight last night, many of them, before they timed out, and expect to be on the road maybe 6:30, 7, this morning."
Inspections Tuesday found more broken poles than expected, and the count is now 475.
The rain yesterday slowed work but the weather forecast is more favourable today. Streets will be closed in some parts of Charlottetown Wednesday in order to allow crews the space to work.
Maritime Electric still can't give any estimates on when power will be fully restored, but Griffin is hoping to provide a real update on this Thursday or Friday.
WATCH: How does Fiona's storm surge in Canada compare to Hurricane Ian?
Red Cross help
The Canadian Red Cross is urging Islanders who need assistance in the aftermath of the storm to register.
Bill Lawlor, provincial director for P.E.I. and New Brunswick, said even in a closely-knit province like P.E.I. there are people with health and housing challenges who are isolated.
"We tend to think that's not the case. You know, everybody knows everybody, it's a nice, friendly atmosphere, friendly province," said Lawlor.
Finding those people who need help can be a challenge. The Red Cross is working with provincial officials and doing wellness checks on those the province is aware of. Even as those people are contacted, it can be difficult to determine their needs, Lawlor said.
"You find that someone who says they're fine, [but] they haven't eaten for a day. They don't know where they're going to get their next meal," he said.
Islanders who need assistance, even if they are just feeling isolated and would like wellness checks, can register with the Red Cross online or by calling 1-800-863-6582
P.E.I. Ground Search and Rescue is also travelling across the province, knocking on doors to check if people are OK.
Schools closed until Monday
All English and French public schools will remain closed until at least Monday, Oct. 3, Education Minister Natalie Jameson said during a news briefing Tuesday.
Six schools on P.E.I. have received significant damage. The schools are École Évangéline, Queen Charlotte Intermediate, Cardigan Consolidated, East Wiltshire Intermediate, West Royalty Elementary and Westwood Primary.
Students may need to move temporarily to other schools, and some may move to online learning.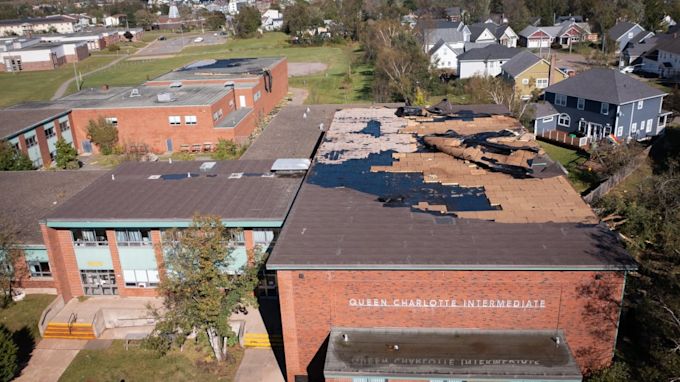 Various shots of Fiona damage (Shane Hennessey/CBC)
Pat and the Elephant running again
Pat and the Elephant, a transportation service for Islanders with mobility issues, returned to full service on Monday, but co-manager Halbert Pratt said there has been difficulty reaching some clients.
"There's so much trees and wires and stuff down you can't seem to get from Point A to Point B in a straight line anymore," said Pratt.
He said communication continues to be a problem as well.
This article was originally published for CBC News.