Monday, March 21st 2022, 12:00 pm - Plan ahead: Wednesday's Texas low is set to bring an extended period of freezing rain and blustery winds. Power outages a high potential in southern Ontario.
Ontario will be in the crosshairs of a powerful system that will demonstrate why spring is such a transitional season. It will bring wintry impacts that include heavy snow, freezing rain and rain, depending on locale, as well as strong winds that could elevate the chance of power outages. After a mild start to spring, temperatures will be knocked down back to Earth ahead of the low's arrival.More on the impacts of this dangerous mid-week storm that may also bring severe weather stateside, below.
---
Visit our Complete Guide to Spring 2022 for an in-depth look at the Spring Forecast, tips to plan for it and much more!
---
NORTHWESTERN ONTARIO: SPRING STORM MAY DUMP MORE THAN A MONTH'S WORTH OF SNOW
Before the mid-week system reaches the south this week, a trough on the eastern Prairies will bring a healthy dose of snowfall for northwestern Ontario Monday overnight and persisting into Wednesday when the system stalls. Snowfall warnings and special weather statements in place.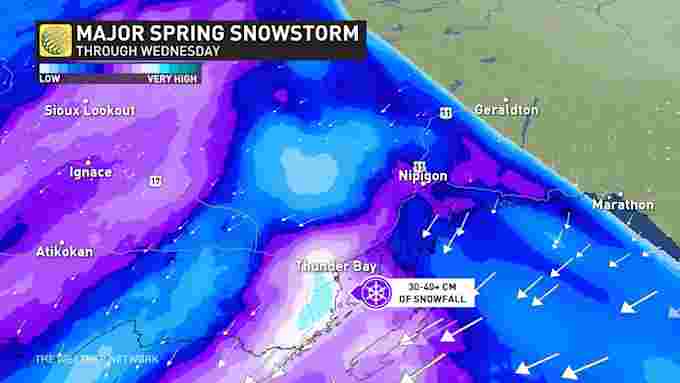 "Be prepared to adjust your driving with changing road conditions. Rapidly accumulating snow could make travel difficult over some locations. Visibility may be suddenly reduced at times in heavy snow," Environment and Climate Change Canada (ECCC) says in the snowfall warning.
Widespread 15-20+ cm is expected, with Thunder Bay potentially getting up to 30-40 cm. The hefty amounts can be attributed to enhancement with the easterly flow and a stalled trough. Keep in mind: Thunder Bay averages about 20-30 cm of snowfall for March.
WEDNESDAY: MID-WEEK SYSTEM WILL PACK A WINTRY PUNCH
For the south, a Texas low will bring a messy mix of disruptive weather to southern Ontario by Wednesday morning, starting with rain and then the risk for ice accretion and wintry precipitation.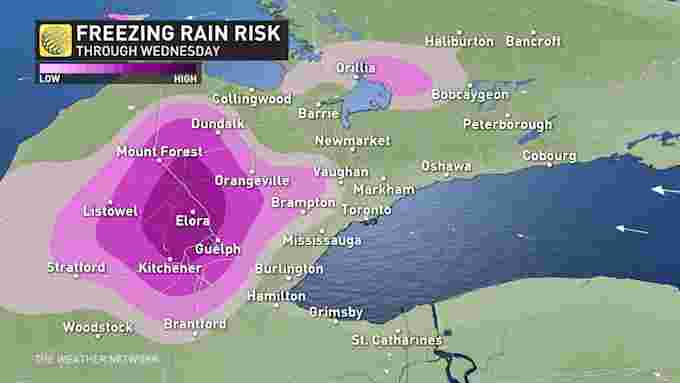 This system will be tapping into rich Gulf moisture, also setting the stage for significant early-season severe storms for the Gulf Coast states.
"But closer to home that moisture will be clashing with cold air tucked in place over Eastern Canada, helping spring to live up to its reputation for unruly weather," says Michael Carter, a meteorologist at The Weather Network.
A raw easterly wind will develop ahead of the system, with gusts up to 70 km/h helping to lock temperatures near the freezing mark as the moisture with the storm spreads into the region.
Areas that hold on to temperatures below zero will see a risk for significant ice accretion, likely leading to slick roads and the risk for power outages -- especially when coupled with gusty winds.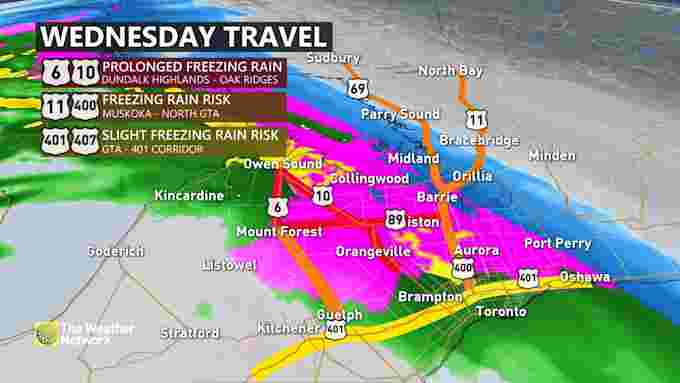 This will be a terrain-driven event, with the bull's-eye of the freezing rain risk centred on area stretching from the Dundalk Highlands to Kitchener and Guelph.
"Elevation will play a major role in precipitation type," Carter says. "With the Niagara Escarpment and other elevated areas most likely to see a risk for ice. Lower elevation areas near the shore of Lake Ontario will see mostly cold rain, coupled with a cutting easterly wind and temperatures only barely in positive territory."
Rainfall will pick up Wednesday afternoon, peaking in the evening and overnight for the south including the Greater Toronto Area (GTA). Amounts of 10-20 mm are expected for cottage country and the GTA, with 20-30 mm for southwestern sections.
For areas farther north, into cottage country and the Ottawa Valley, there will be a mix of wintry precipitation types, including snow and ice pellets, changing to freezing rain and rain as the moisture surges north.
LOCALIZED FLOODING CAPTURED IN PARTS ON ONTARIO, WITH MORE RAIN ON THE WAY
This system is also brewing trouble in the southern United States and has all the conditions that could result in profound tornadic development. The U.S. Storm Prediction Center (SPC) issued a moderate convective outlook for Tuesday, which is the second highest risk on the scale. An outlook of this severity has not been issued three days out since April 2020.
"A substantial severe weather event – including potential for significant tornadoes – remains evident over the Lower Mississippi Valley/central Gulf Coast region [on] Tuesday," the SPC stated in their forecast discussion.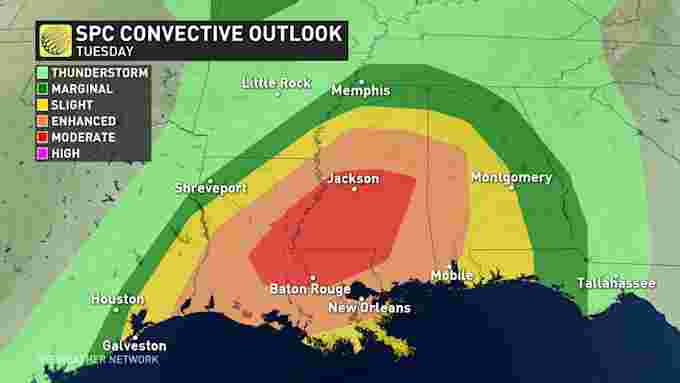 LOOK AHEAD: TEMPERATURES BRIEFLY REBOUND BEFORE COLDER WEEKEND WEATHER
A few rain showers could linger into Thursday, as temperatures soar back into the double digits across much of southern Ontario.
By Friday, mostly cloudy conditions will prevail, with a shot of colder weather expected to arrive during the weekend.
Be sure to check back for the latest updates on the changing conditions across Ontario.
---
Subscribe to 'This Day in Weather History': Apple Podcasts | Amazon Alexa | Google Assistant | Spotify | Google Podcasts | iHeartRadio | Overcast