Wednesday, March 24th 2021, 9:00 am - As one system exits the north of the province, forecasters shift their eyes to another that looks to bring heavy rain and strong winds to the south, beginning late Thursday.
Though we're a few days into spring, the season's transitory nature is on full display, with Wednesday featuring another balmy day, if sometimes cloudy with scattered showers, while the north grapples with heavier rain and snow, lasting into Thursday morning for some areas. More impactful for the south will be a new system that forecasters say features dozens of millimetres of rain, along with very strong wind gusts. For what we know, see below.
---
WEATHER HIGHLIGHTS:
Rain, snow ends for the north and Nickel Belt through Thursday morning
New system arrives late Thursday afternoon, continues to Friday afternoon
Heavy rain in the 30-50 mm range for all of southern Ontario
Widespread 60-90 km/h winds for all of southern Ontario, with 100 km/h gusts possible for Niagara Region, southwestern Ontario and Picton County.
---
THURSDAY-FRIDAY: POTENT SPRING STORM BRINGS HEAVY RAINS, STRONG WINDS
Spring will be feeling more like winter redux for northern Ontario and the Nickel Belt, with the effects of a system moving out of the region. Some snow and possibly freezing rain will be lingering slightly for the region, but the bulk of the system's effects will be in the rearview mirror.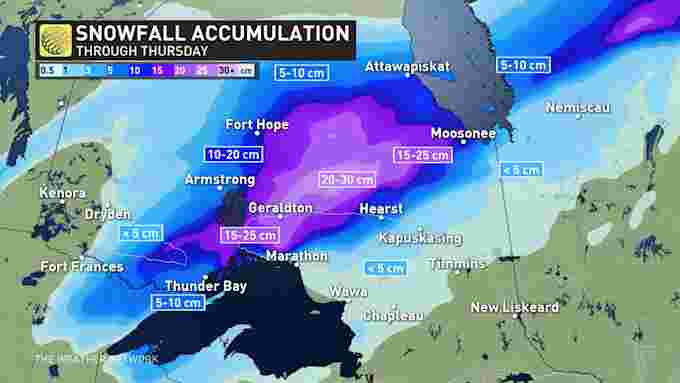 MUST SEE: Welcome to spring, Canada! Your next three months of weather, here
It's the south's turn for messy weather, though temperatures are still well enough above seasonal that the incoming system will be an all-rain event – and quite a deluge, with a general 30-50 mm across the entire south, a boon for farmers and hopeful gardeners.
The first drops look set to fall late Thursday in the evening hours, spreading to cover the entire south into Friday.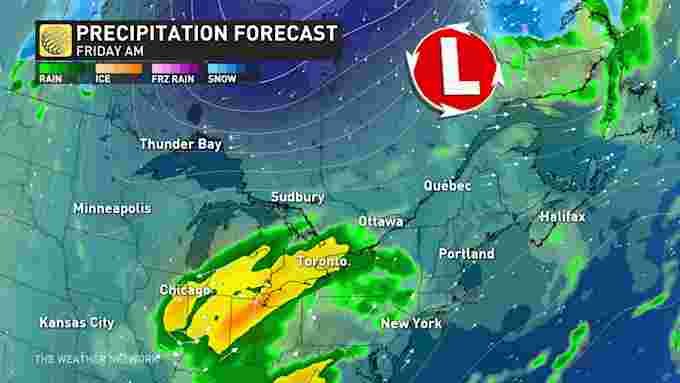 More concerning to forecasters will be the winds, becoming breezy Thursday evening, picking up through Friday morning, then staying strong throughout much of Friday before diminishing through Friday evening as the system departs.
It will be blustery for all of southern Ontario, with a general 60-90 km/h likely, but people in the Niagara Region, southwestern Ontario, and Picton County ought to brace themselves: those areas are in line for gusts possibly reaching the 70-100 km/h, potentially damaging to outside structures.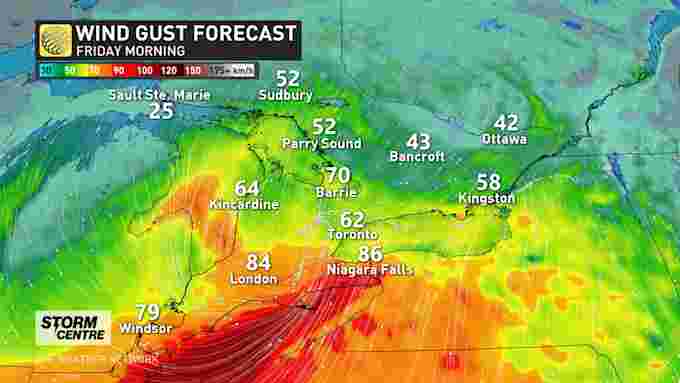 TEMPERATURES SOAR 10 DEGREES ABOVE SEASONAL
The upside is that Thursday may offer the warmest temperatures in this extended taste of mild and above seasonal weather, with many locations nearing or reaching the 20-degree mark away from Lake Ontario.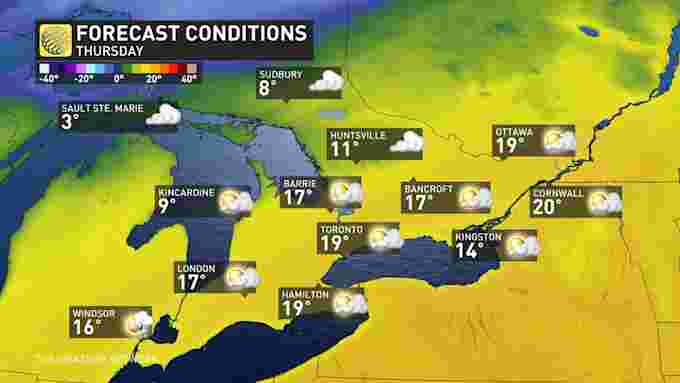 By the weekend, much of the province will be back to an even playing field as cooler, near seasonal temperatures are expected. While next week may start off even slightly below seasonal, it still looks like the first half of April will tip to the milder side.
Stay tuned to The Weather Network for the latest forecast updates.