Tuesday, April 19th 2022, 7:45 am - Mother Nature still has a few wintry tricks up her sleeves, shocking many southern Ontario residents on Monday with accumulating spring snowfall.
While people in southern Ontario were foretold about Monday's incoming snow, what may have been surprising was just how quickly it fell.
Snow rapidly began accumulating in southern Ontario by Monday evening, with 4-5 cm reported in some areas in and surrounding the Greater Toronto Area (GTA). London had already seen 8 cm. There were also reports of thundersnow in the GTA. The snow rapidly led to slick surfaces and tricky driving.
Through Tuesday, higher-elevation areas including the Dundalk Highlands and parts of cottage country may see more significant accumulations of 5-10 cm pile up. Localized areas in the latter may pick up 10+cm.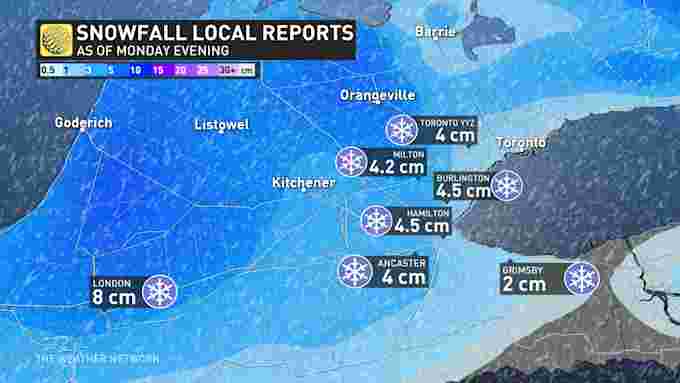 As a result of the slippery roads, at least one car skirting off the roads in the Niagara region, with Ontario Provincial Police (OPP) reporting the incident on Twitter.
Though conditions will improve throughout the day on Tuesday, things will still be feeling far from spring-like. A blustery northwest wind will develop in behind the departing system, with gusts peaking between 40-60 km/h, and up to 70 km/h for the shores of Lake Huron. This will keep wind chills near to below zero throughout the day.
Bouts of flurries will also accompany the winds for some, and while these won't bring any significant accumuations, they will serve as a reminder of winter's unwillingness to depart for good just yet.
Below is just a handful of visuals that have surfaced on social media as a result of the late-April, messy snowfall. The snow had a polarizing effect: Some loved it, while others had some choice words for the wintry weather.
Thumbnail image courtesy: OPP Highway Safety Division/Twitter