Tuesday, November 19th 2019, 9:00 pm - Temperatures and conditions improve with eyes on the next system that delivers rain and snow later this week
Climbing temperatures take centre stage for the second half of the week in southern Ontario as more seasonal -- and civil -- temperatures return to the region. This brief thaw comes ahead of a Colorado low that will bring unsettled weather back to the province, in the form of rain and snow, by late this week. We break down who stands to see the heaviest snow, and where freezing rain will be a threat, and how long these mild temperatures last, below.
Visit our Complete Guide to Winter 2019/2020 for an in depth look at the Winter Forecast, tips to plan for it and a sneak peek at the spring season next year
---
WEATHER HIGHLIGHTS:
Daytime highs steadily climb through Thursday
Colorado low moves into the Great Lakes Thursday with widespread rain to the south and heavy snow to the north
Wintry mix with freezing rain possible along transition line
Stay up-to-date on the ALERTS in your area
---
WATCH BELOW: TIMING OF COLORADO LOW
CLIMBING BACK TO SEASONAL THROUGH WEDNESDAY
The warming temperatures, along with fair skies, will be the story for the next few days across most of Ontario. Although daytime highs remain below seasonal (6°C) through Wednesday, it's undoubtedly feeling much milder than the deep freeze that had parts of the region matching the High Arctic at times last week.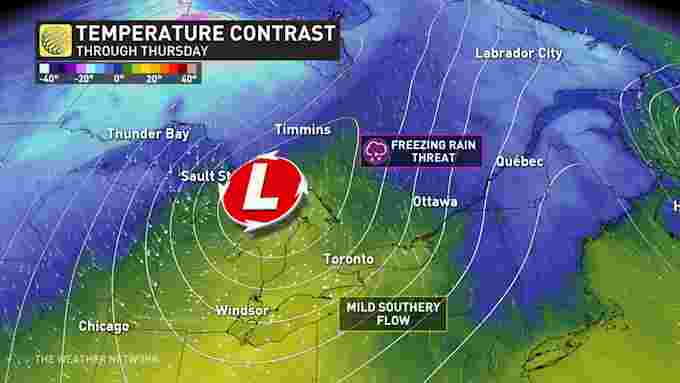 Temperatures will jump back to near seasonal in southern Ontario by Thursday, as a Colorado low ushers in a southerly flow and brings widespread rain to the region through Friday.
"Temperatures will continue to rise Thursday night, reaching near double digits during the night, but then dropping again by Friday morning," says Weather Network meteorologist Dr. Doug Gillham.
MUST READ: Toronto, Ottawa chalk up record cold streaks for start of November
COLORADO LOW TO BRING RAIN TO THE SOUTH, SNOW TO THE NORTH THURSDAY
The track of the low over Lake Superior will draw the rain and snow line well north of Georgian Bay and the Nickel Belt on Thursday.
This isn't looking to be a soaker of a system for the south, with a widespread 5 mm expected, along with some gusty southerly winds up to 70 km/h along the shores of Lake Huron and Lake Erie.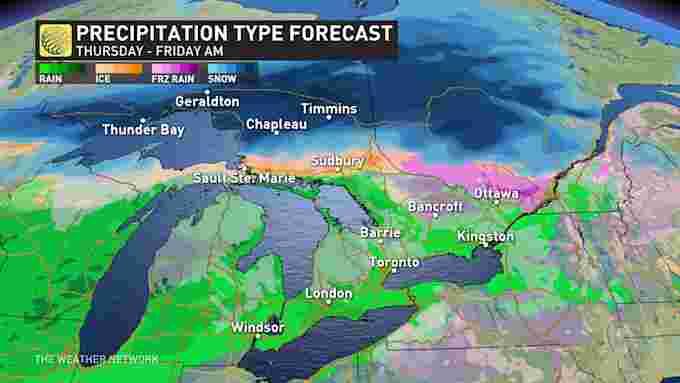 North of the warm front, heavy snow is expected.
"Significant snow is likely later Thursday night east of Lake Superior, along the Trans-Canada Highway and across the Nickel Belt, with 5-15 cm currently expected and near 20 cm of snow possible to the north, including Timmins," says Gillham.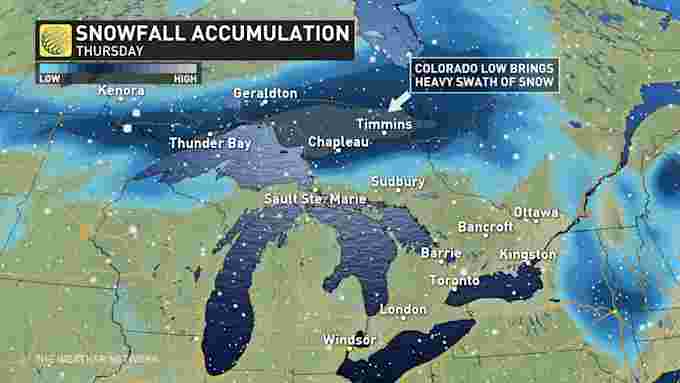 Along the transition zone between warm and cold is where we'll have to watch for freezing rain and ice pellets, mainly through the Nickel Belt through Thursday night and Friday morning.
TYPICAL NOVEMBER PATTERN WILL RETURN
After this brief November "thaw" across southern Ontario this week, the final week of the month looks to bring more typical November conditions with changeable and unsettled weather possible at times. Temperatures will be near or below seasonal most days.
WATCH BELOW: WINTER 2019/2020 REVEALED