Monday, July 4th 2022, 10:11 am - Four incredible weather stories are impacting every corner of the country. Records, role reversals and historic consistency.
--
Four incredible weather stories are taking place in each corner of Canada this week.
---
MUST SEE: Canada's July forecast: Summer sizzle or does the heat fizzle?
---
REGRESSING TO SPRING:
British Columbia is having a relapse to spring as a month's worth of rain could fall within this first week of July. This paired with a record summer snowpack could bring flooding concerns to the forefront in the coming weeks.
PROLONGED ARCTIC HEAT:
Just one year removed from the 2021 B.C. heat dome, which set a new temperature record for the country, July 2022 looks to be sending the heat to the Arctic Circle. Inuvik won't see the sun set until July 20th and will be basking in the high heat for the coming days. Norman Wells, a town located in the Sahtu Region of the Northwest Territories, is the only spot in Canada experiencing five consecutive days of 30°C this week.
---
RELATED: Arctic Circle snags some of Canada's hottest weather to start July
---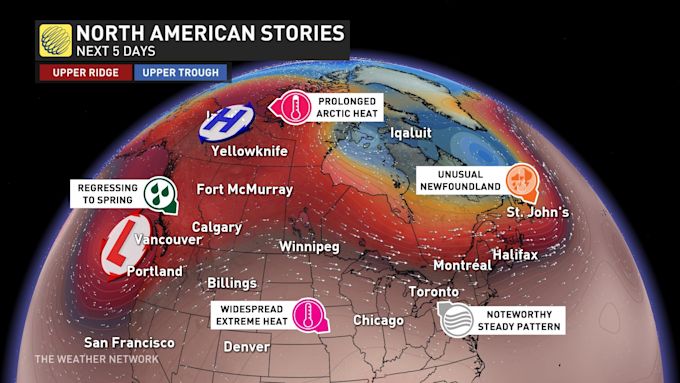 UNUSUAL NEWFOUNDLAND:
In Newfoundland, the city of St. John's is continuing to build on their stretch of 20°C days which started in June. This stretch should reach 15 days before coming to an end on Wednesday. The island will also be the spot to be to start the week for the strongest thunderstorm potential in the country.
NOTEWORTHY STEADY PATTERN:
The Great Lakes on the other hand are caught in the middle of all the weather stories and will be stuck there for a while, enjoying incredibly consistent weather. Daily temperatures may not vary by more than 3°C for the next two weeks, which would be the first time on record for summer in Toronto.
Watch the video above for more details on the records, role reversals and historic consistency taking shape.