Wednesday, March 17th 2021, 7:00 pm - Spring is on the doorstep, set to arrive in southern Ontario this weekend with pleasant conditions, but winter will bring brief periods of messy weather to parts of the region before then.
Ontario is in the middle of an extended stretch of unusually quiet weather, part of a broader pattern that's actually impacting several parts of the country.
The week has so far featured some minor, yet wintry episodes, with patchy freezing drizzle overnight Tuesday, and a chance at scattered freezing rain Wednesday night.
Beyond those, however, a longer period of dry weather and above seasonal conditions return by Friday and linger well into next week.
---
Visit our Complete Guide to Spring 2021 for an in-depth look at the Spring Forecast, tips to plan for it and much more!
---
THROUGH THURSDAY: SOME WINTRY IMPACT AHEAD OF SPRING'S OFFICIAL ARRIVAL
Beyond some patchy morning freezing drizzle and overnight freezing rain risk for some areas of southern Ontario, the one significant system forecasters have been watching this week is another major stateside storm – a Texas low – that now looks to track well south of the border Thursday after bringing multiple tornadoes to the South.
The northern edge of this system should bring some rain to the northern shores of Lake Erie and possibly the Niagara region on Thursday, but overall, it looks like we will avoid any major impacts.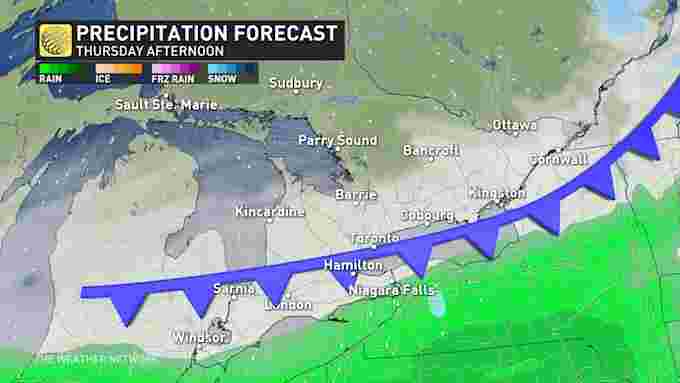 MUST SEE: This region in Canada might not see any adverse weather in March
A period of rain is also possible across the Golden Horseshoe Thursday morning, though not nearly enough to ruin any outdoor plans throughout the day.
FRIDAY: SUNSHINE RETURNS, WARMING TEMPERATURES THROUGH THE WEEKEND
Sunshine then returns for Friday, with an extended period of dry weather and a warming trend lasting through the weekend and into early next week, the official start of spring.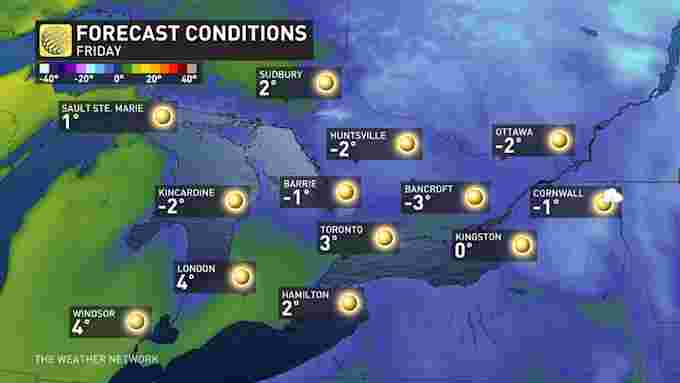 Temperatures will be more typical of mid-April on Sunday, though it will be several degrees cooler near the shoreline of Lake Ontario. Those April-like daytime highs will continue to soar for much of the foreseeable future as well.
"The temperature outlook for March 24 through to the 31 shows a 90 percent chance of seeing above normal temperatures for that time period," says Weather Network meteorologist Tyler Hamilton.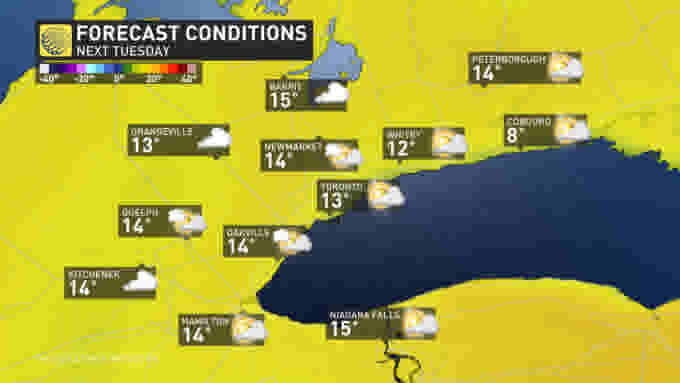 Stay tuned to The Weather Network for the latest forecast updates.