Thursday, July 7th 2022, 4:41 am - June was an unusually dry month in Toronto. Could things get any better over the next couple of weeks?
--
Toronto's sprinklers and watering hoses have been working overtime as a dry June pattern continues to pain residents. Grass looks more like straw these days, leaving Torontonians wondering – where has all the rain gone?
---
MUST READ: Take a load off with these 6 hammock recommendations
---
June was an abnormally dry month for the city of Toronto, reaching only 56.5 percent of normal rainfall for the month. Because of this, residents have been noticing their once green and lucious grass has turned yellow with a straw-like texture.
If you're looking for the rain, just travel north and east of Toronto. Saguenay experienced its wettest June on record with rainfall accumulations that could be measured in centimeters (239 mm). But even closer to Toronto, the city of Montreal approached almost 200 percent of their monthly normal with 169.4 mm of rain, blowing Toronto's mere 40.4 mm out of the water – pun intended.
Both Montreal and Toronto average around the same amount of rainfall in June (87 mm and 71.5 mm, respectively), so why such a big difference this time around?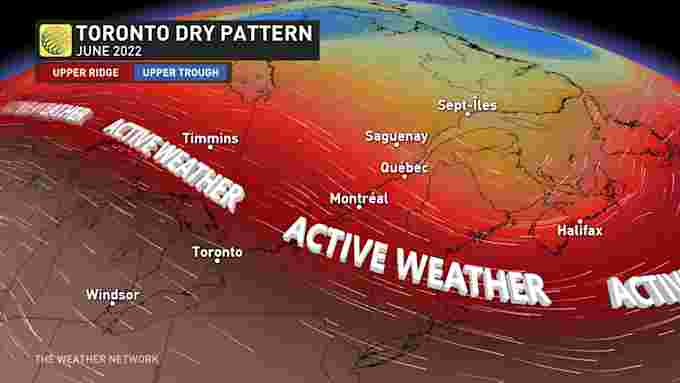 Remember, rainy and active weather travels along boundaries, often where warm and cold air meet. However in June, a potent U.S. heat dome sat comfortably in the east, occasionally nosing its ridge into Canada.
MUST SEE: How to make the most out of Ontario's berry season
The result was stable, summer-like heat in Windsor and Toronto, but also a northward deflection of the active weather boundary. The ridge often pushed the rainy and stormy weather north, into eastern Ontario and southern Quebec, leaving southern Ontario high and dry.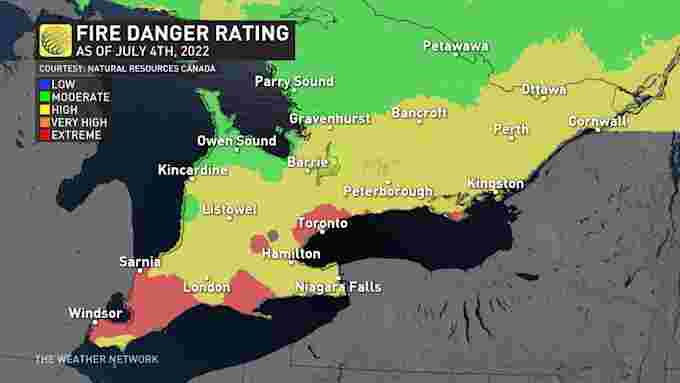 Sprinklers and watering hoses have been working overtime to combat the dry conditions in Toronto through June, though better news is around the corner. July's pattern may bring more chances for rainfall in comparison to its June counterpart.
With the U.S. heat dome shifting west, active weather may have more opportunities to sink south into southern Ontario. July anticipates brief summer-like heat being disturbed by frequent cold fronts, resulting in comfortable conditions for most of the month.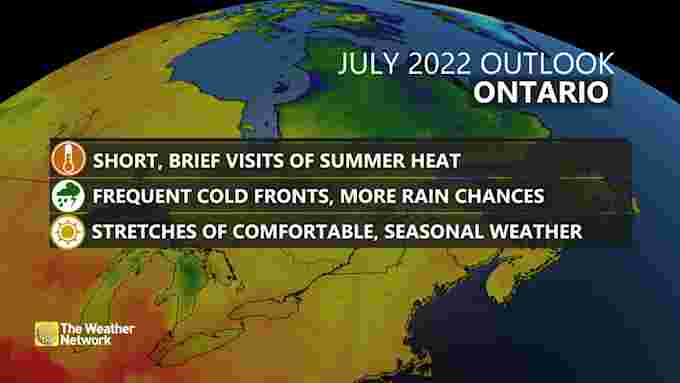 If you are planning on taking advantage of the sunny and dry days around the city, be aware the fire danger rating is extreme. Please check your local restrictions for fire burning ahead of time.
WATCH: HOW TO PROPERLY PUT OUT A CAMPFIRE
--