Friday, March 15th 2019, 5:41 pm - Officials are watching other areas where ground is depressed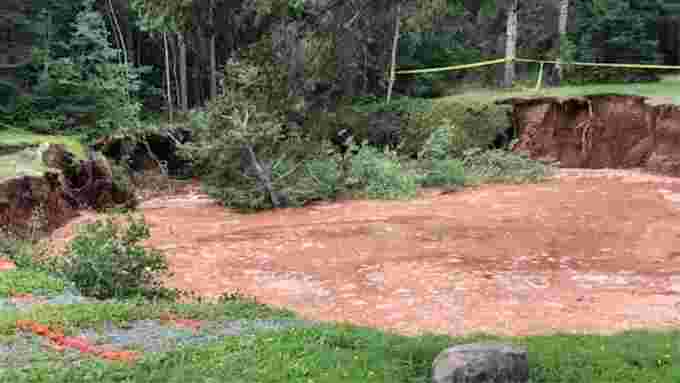 Image: The sinkhole in Oxford, N.S., started small, but grew to swallow trees, picnic benches and part of a parking lot. (Preston Mulligan/CBC)
Oxford is seeking federal funding to get to the bottom of its sinkhole woes.
A sinkhole opened up in Oxford in the summer of 2018, and quickly expanded to swallow trees, picnic tables and part of a parking lot.
Local officials are hoping the funding could help determine how much more the sinkhole is likely to grow and whether the problem will expand beyond the Oxford sinkhole itself.
RELATED: Sinkhole creating 'devastating loss' in East Coast town
Mike Johnson, the regional emergency management co-ordinator for Cumberland County, said the sinkhole has been frozen for much of the winter. Change is expected as temperatures warm up.
But when it comes to how much things could change, Johnson doesn't know.
"And until we have the geophysical, geotechnical work that needs to be done, showing us what's going on underneath, we won't know how much activity we're going to receive."
WATCH BELOW: SINKHOLE A GROWING CONCERN IN OXFORD (AUGUST 2018)