Thursday, November 7th 2019, 8:00 am - Much of southern Ontario started Thursday with a wintry mix, but the heavier amounts loom for later in the day due to lake-effect snow.
Even for the fully prepared, the first measurable snowfall of the season was still a big shock to the system across southern Ontario. The first flakes were already flying amid quickly falling temperatures on Wednesday, with a wet snow lingering into the early hours on Thursday. Another and much stronger blast will target the traditional snowbelt areas later in the day, with dangerous lake-effect snow lingering all the way through to the weekend. A close look at the timing of this late week snowfall, plus a look at why November's shaping up to be a tumultuous month, below.
Time to prepare for the season ahead! The Weather Network's Winter Forecast launches Monday, November 18.
---
WEATHER HIGHLIGHTS
Wet snow continues for parts of the southwest and GTA Thursday morning, into the late morning and early afternoon for the east
Lake-effect snow squalls fire up by Thursday afternoon, heavy amounts for the usual snowbelts.
Colder-than-average temperatures dominate first weeks of November
Stay up-to-date on the ALERTS in your area
---
SNOW STARTS ACCUMULATING THURSDAY MORNING, BUT 'ROADS NOT TOO BAD'
Wednesday was markedly chilly for many -- especially in comparison to the milder start to the week -- and by the afternoon, the first snowflakes of a new system had begun to fall. That snow picked up in intensity through the pre-dawn hours on Thursday, with some difficult travel spots already being reported before 6 a.m.
"Wet snow will continue through the morning commute and then diminish from north to south across our region by mid-day," says Weather Network meteorologist Dr. Doug Gillham. Falling temperatures throughout the morning however, may also cause some roads to ice up and become slippery.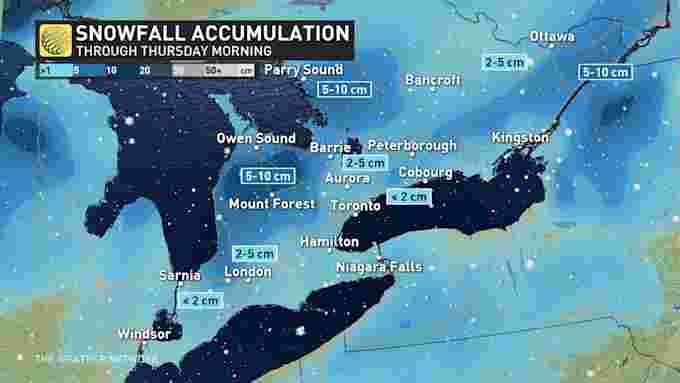 While most of the region will see 1-3 cm of snow, locally higher amounts are possible north of the 401 and above the escarpment where totals could approach 5 cm.
MUST READ: Rounds of cold air promise a snowy, tumultuous month
WATCH BELOW: SERIOUS THREAT WITH SNOW-SQUALLS LATER THURSDAY
Beyond this first round on Thursday morning is an even more powerful blast of snow, falling hardest on those who already would have seen the highest accumulations from Wednesday night's system.
Winds blowing over still relatively warm Georgian Bay and Lake Huron will precipitate lake-effect snow, blowing well inland of those areas. Individual squalls will be brief, but potent, likely impacting the Thursday evening commute home. Presently, it looks like the heaviest bands could deliver as much as 20-40 cm of snow for some areas, with squalls lingering even into Saturday morning.
"We've had dustings of snow, but this by far, is posing a serious threat if you're travelling in the region," says meteorologist Tyler Hamilton. "Even though things go seemingly calm through the early afternoon on Thursday, what's lurking over the shores of Lake Huron starts to drift towards Grand Bend, Strathroy and London late Thursday evening."
The locally heavy snow combined with strong winds are expected to result in reduced visibilities and difficult travel, especially along stretches of Highway 401 and 402 in the London area, where localized totals will exceed 30 cm by Friday afternoon.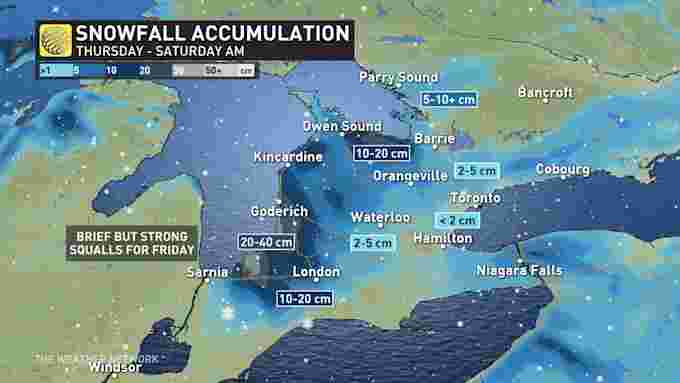 MUST READ: Typhoon Halong hampers any dream of a notable November warm-up
TEMPERATURES STRUGGLE TO REACH FREEZING THROUGH SATURDAY
Daytime highs look to climb above freezing on Friday -- barely -- though wind chill values will feel several degrees below.
"Narrow bands of lake-effect snow will also continue southeast of Lake Huron and Georgian Bay and could extend into parts of the GTA at times with heavier flurries," Gillham says.
After a brief warm-up and scattered rain showers on Sunday, another cold front will send temperatures back below seasonal with a gusty wind adding a significant wind chill into next week.
"These temperatures are more typical of mid to late December," says Gillham, adding that a system tracking south of the Great Lakes on Monday has the potential to bring a widespread snow across the region.
"There's the potential for significant snow totals, especially across southern parts of our region."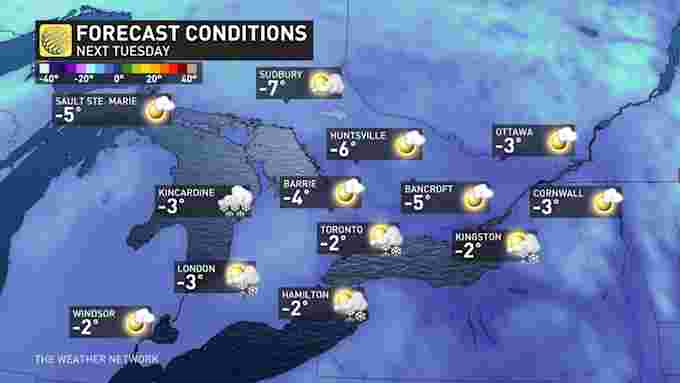 Although the cold pattern looks to relax at times during late November, overall the chilly pattern is set to dominate right through the end of the month.