Friday, September 30th 2022, 8:28 am - The outer fringes of Hurricane Ian will throw a wrench in Ontario's weekend forecast.
If you were looking forward to a warm and sunny weekend only to find disappointment in the forecast, blame it on Ian.
Hurricane Ian was a powerhouse of a storm as it slammed into Florida as a high-end Category 4 on Wednesday afternoon. Crews throughout the region are still surveying the widespread damage wrought by the storm's extreme winds, flooding rains, and tremendous storm surge.
DON'T MISS: PHOTOS: Towns devastated as destructive Hurricane Ian hits Florida
After weakening over the Florida Peninsula, the storm regained hurricane strength as it aims for the Carolinas on Friday. As the storm draws closer to its final landfall, the far outer fringes of the storm will start to blow over southern Ontario.
Hurricanes generate a tremendous outflow of air in the upper levels of the atmosphere. All the air sucked away from the surface at the centre of the storm gets transported to the top of the atmosphere and vents out like a vehicle's exhaust.
We can easily see this outflow through the vast spokes of cirrus clouds that spiral away from the storm. This outflow can stretch for thousands of kilometres—and Ian's outflow is robust enough to reach the skies of southern Ontario this weekend.
A couple of days ago, your forecast may have shown sunny skies and warm temperatures. Ian's track threw a wrench in the prospects of a pleasant weekend. Thanks to that impending deck of upper-level clouds, things are looking a little more fall-like for the first weekend of October.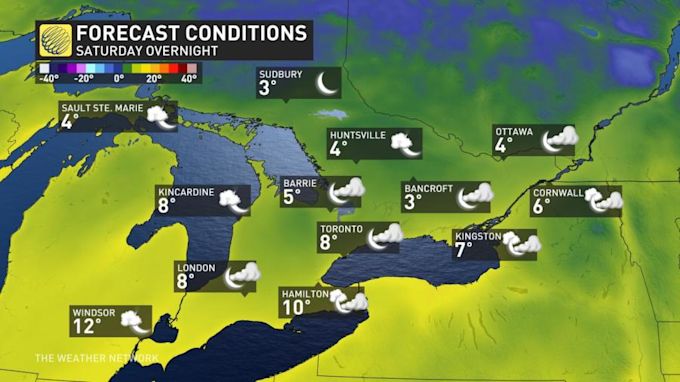 Southern Ontario can expect daytime high temperatures in the mid to high teens on Saturday as a result of Ian's pesky clouds. Conditions will remain on the cooler side of seasonal across the region heading into next week, with generally calm conditions expected for the first half of the week.
A strong cold front will approach southern Ontario by the middle of the week, bringing the potential for showers as gusty winds push cooler air across the area.
Stay tuned to The Weather Network for all the latest on conditions across southern Ontario.