Sunday, January 5th 2020, 9:30 am - Cooler temperatures and bursts of snow for the first weekend of 2020.
The rounds of snow will continue on Sunday for southern Ontario and flurries are threatening to complicate travel. Bands of lake-effect snow could bring up to 15 cm for some, while light snow will be widespread across the rest of the region. Beyond, another system is on the horizon, though the winter chill will have a hard time locking in for the next little while. Details and timing, below.
Visit our Complete Guide to Winter 2019/2020 for an in-depth look at the Winter Forecast, tips to plan for it and a sneak peek at the spring season next year
---
WEATHER HIGHLIGHTS:
Lake-effect snow streamers for typical snowbelts on Sunday
Second system brings second round of snow Sunday evening/overnight
Stay up-to-date on the ALERTS in your area
---
SUNDAY MORNING: LAKE-EFFECT SQUALLS
Bands of lake-effect snow have prompted snow squall warnings for some areas near the shores of Lake Huron for Sunday morning. Northwest winds gusting up to 50 km/h may stir up blowing snow at times, reducing visibility and making for difficult travel across the region.
Accumulations where snow bands linger the longest may reach 15 cm when combined with the swiftly moving clipper system expected late Sunday afternoon and evening; more on that below.
WATCH BELOW: SNOWFALL TIMING
SUNDAY AFTERNOON THROUGH EARLY MONDAY: QUICK SHOT OF SNOW FROM CLIPPER SYSTEM
The next round of snow comes courtesy of a fast-moving system cutting through Ontario later on Sunday. Snowfall totals from this clipper will be modest for most, with a widespread 5 cm expected from London to Ottawa. Combined with continuing lake-effect bands, however, some spots stand to see much more shovel-worthy amounts by Monday morning.
Much of the__ Huron-Perth__ region, the southern shores of Georgian Bay, and the Kawartha Highlands are likely to pick up higher overall totals with up to 10 cm expected, and the potential for pockets of up to 15 cm.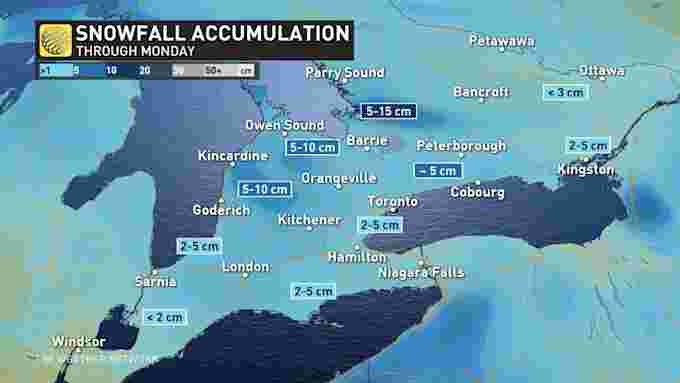 Flurries are likely to linger through the Monday morning commute around the GTA, particularly in the east end, with light snow persisting for eastern Ontario and east of Georgian Bay into the afternoon.
LOOK AHEAD: MORE WINTRY WEATHER NEXT WEEK?
The next system forecasters are watching takes aim on southern Ontario for Tuesday, though models are still having a hard time resolving the details. "We're watching a potential system for southern Ontario and southern Quebec later Tuesday and Tuesday night," says Weather Network meteorologist Dr. Doug Gillham. "At this point, several centimetres of snow are expected for southern Ontario, but not a major storm."
While temperatures will drop on the weekend, Gillham doesn't expect we'll see consistent cold weather in our region at least through until mid-January. "A very a mild pattern will return to the eastern U.S., and that mild weather will also surge back into southern Ontario and southern Quebec," says Gillham.
While that doesn't necessarily mean smooth sailing when it comes to wintry weather, rain boots may be more useful than snow shovels through the middle of the month. "This pattern will likely be an active one, weather-wise, for our region," says Gillham. "The storm track may be far enough south at times to give us wintry weather, but this pattern favours systems that bring a variety of precipitation types, with the potential for more rain."