Wednesday, May 1st 2019, 8:09 pm - While flood-hit communities will get a break from the rain Thursday, it will be very brief
While areas hit hard by flooding will get a brief break from the rain during the day Thursday, more rain is expected to move in by evening.
A Texas low will continue to make its way through the province overnight hours. Precipitation will track south and end by morning, but a cold front will move in Thursday evening.
There is also the risk for isolated thunderstorms Wednesday evening across the eastern shores of Lake Erie to Niagara Peninsula and across the northeast shores of Lake Ontario from near Oshawa to Brockville.
Some areas in centreal Ontario could see freezing rain and ice pellets.
Rainfall warnings remain in place for Muskoka region, which has been hit hard by the flooding and some of its communities remain under states of emergencies. A state of emergency also remains in effect for Ottawa.
The latest forecast details can be found below.
Visit our Complete Guide to Spring 2019 for an in depth look at the Spring Forecast, tips to plan for it and much more
---
WEATHER HIGHLIGHTS
Texas low bringing rain overnight Wednesday, clearing Thursday morning
Rain, thunderstorm and freezing rain risks for province
More rain for Thursday evening
Warm up expected for the weekend, particularly in GTA and southwest
Latest watches and warnings HERE
---
RAINFALL WARNINGS FOR FLOOD-PRONE AREAS
Rainfall warnings remain for parts of central Ontario east of Georgian Bay, including Bracebridge and Huntsville, along with other areas currently experiencing severe flooding.
Some areas, including Ottawa, could receive as much as 30 mm of rain by Friday night.
"The ground, already near saturation, has little ability to absorb further rainfall," warns Environment Canada.
There are also freezing rain warnings to the east and north of the flood-stricken communities.
Freezing rain and ice pellets are expected Wednesday evening through overnight for areas near Sudbury and North Bay, extending to Algonquin and Haliburton, across to Pembroke and in communities north Gatineau Hills to Mont Tremblant.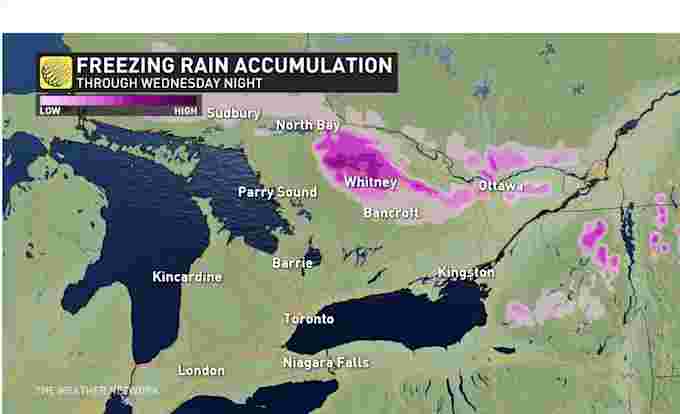 For areas in northwestern Ontario, an upper trough will bring rain before changing to snow. Accumulation will be light, however, as 2-5 cm is expected through Thursday afternoon and rainfall amounts will total 5 mm for Kenora-Dryden-Lake of the Woods.
MORE RAIN THURSDAY NIGHT AND FRIDAY
Finally there will be some warmer temperatures ahead on the weekend, but not before another round of rain makes its way through later on Thursday.
"We will have a large range in temperatures across our region by Thursday as the warm weather with daytime highs into the upper teens and possibly lower 20s will spread into the outskirts of the Golden Horseshoe," says Weather Network meteorologist Dr. Doug Gillham.
SEE ALSO: Shoreline hazard warning as Lake Ontario water rises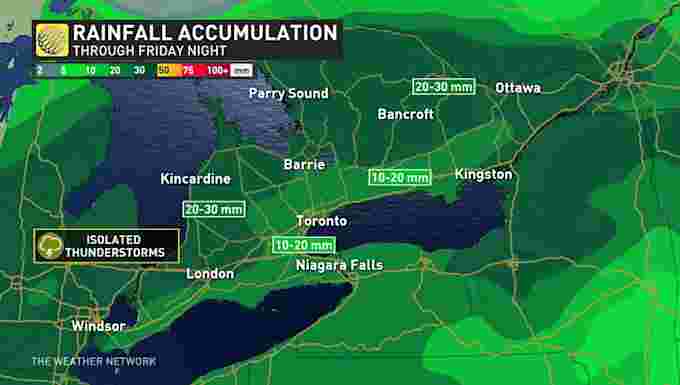 By Thursday evening, a cold front will trek through the region and bring additional rain and possible thunderstorms.
Precipitation will begin in southwestern Ontario in the evening and will reach the GTA in the overnight hours.
Cottage country communities impacted by the flooding can also expect more rain Thursday night through Friday afternoon, while Ottawa will see rain all day Friday.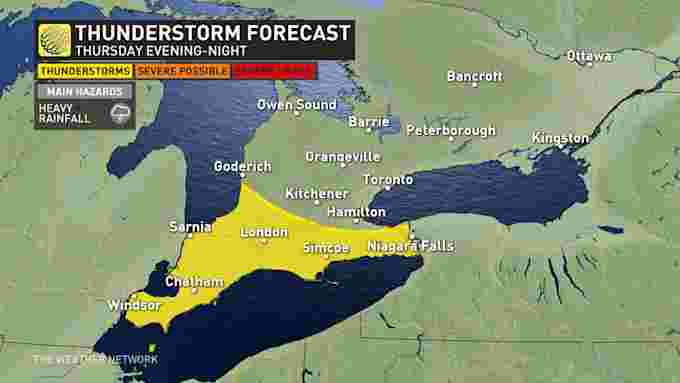 Dry and warmer weather will return for the weekend.
"Dry weather is expected for the weekend, with Sunday looking like a gorgeous spring day with sunshine, warmer weather, and highs in the mid to upper teens, which is near seasonal for early May," adds Gillham.
DON'T MISS: More flooding, rapid sea level rise in Canada. The Weather Network and Canada's leading experts on climate bring you 2xFaster.
COOL, UNSETTLED PATTERN PERSISTS THROUGH FIRST HALF OF MAY
Spring 2019 has been taking a while to settle in for many regions, and the early part of May may have many Ontarians wondering if warm weather will ever arrive in earnest.
"After a few days of fair and warmer weather, cooler weather will return to our region early next week and it looks colder than normal temperatures will dominate the rest of the week and next weekend," says Gillham.
That battle between warm and cold will also keep the region in the crosshairs for active weather, as the storm track remains firmly in position over the area. "We will have an active pattern with a couple of periods of rain and thunderstorms during the second week of May," Gillham adds.
Unfortunately, warm-weather-worshipers may also find the month lacking as cooler than seasonal temperatures are expected to dominate through the middle of May.
FROM THE MET DESK: WHAT'S BEHIND THESE WEIRD CLOUDS?