Friday, December 27th 2019, 7:10 pm - Saturday will be dry, but a substantial stateside system will bring heavy rain, freezing rain and snow Sunday
While the weekend will start off dry, conditions will rapidly change by Sunday morning -- due to a stateside low tracking into the region, bringing heavy rain, freezing rain and snow. Temperatures will continue to drop for most of the south on the weekend Details and timing, below.
---
WEATHER HIGHLIGHTS:
Fair conditions continue Saturday before low-pressure system brings heavy rain, freezing rain and snow on Sunday
Mild weather expected to dominate the final days of December
Stay up-to-date on the ALERTS in your area
---
WEEKEND: TEMPERATURES DROP SATURDAY, STRONG LOW MOVES IN SUNDAY
Temperatures will take a bit of a dive in the south Saturday, remaining in the single digits, but are still above seasonal for this time of the year. Areas in the southwest could see a bump back up to near or at double digits on Sunday.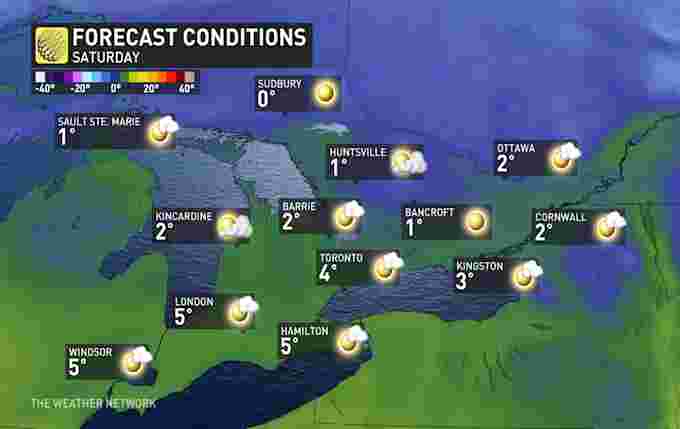 The next chance of rain and snow will come courtesy of a potent low-pressure system on Sunday. It will begin impacting Ontario on Sunday morning with heavy snow in the north, ice pellets and freezing rain east of Georgian Bay and Lake Superior, and rain in the south.
During the early hours of Sunday, snow will lift into northwestern Ontario, while widespread rain will impact the south.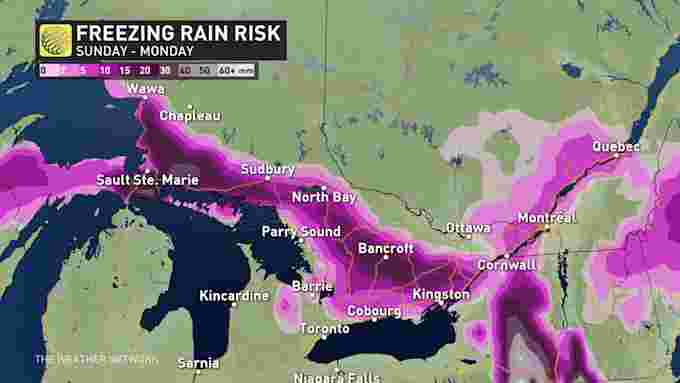 Weather Network meteorologist Matt Grinter says bands of freezing rain and mixed precipitation will set up along the north and east coast of Lake Superior early Sunday and will then extend into parts of cottage country.
"The freezing rain will eventually reach the Ottawa Valley area through the afternoon and evening hours, and some areas through central and eastern Ontario will be looking at 24 hours of freezing rain," explains Grinter.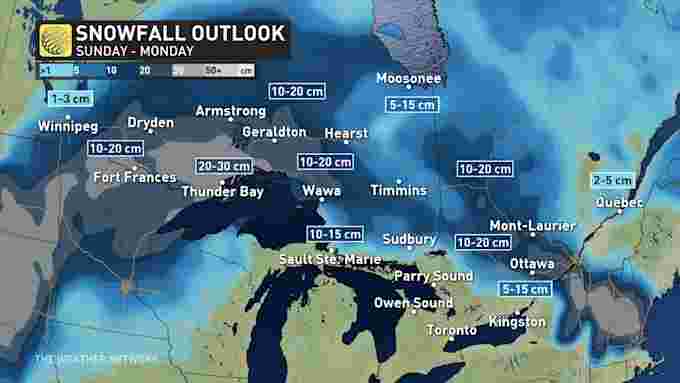 Further south, rain will be heavy for the Golden Horseshoe and southwestern Ontario with the chance for 15 to 30 mm. Effects of the low will continue into Monday.
Stay tuned to The Weather Network for the latest forecast updates.
MILD WEATHER ENDS 2019
Mild weather is expected to dominate the final days of December, but with still a day or two near seasonal if colder air drains back in from Quebec.
Come January, more wintry conditions will gradually begin to seep into the region -- especially in comparison to late December -- but it may take a while before locking into a consistently cold pattern.
"Arctic air will build across northwestern Canada, and eventually we expect that will be unleashed across central Canada, but in the meantime mild weather will spread back into the region at times," said Weather Network meterologist Dr. Doug Gillham.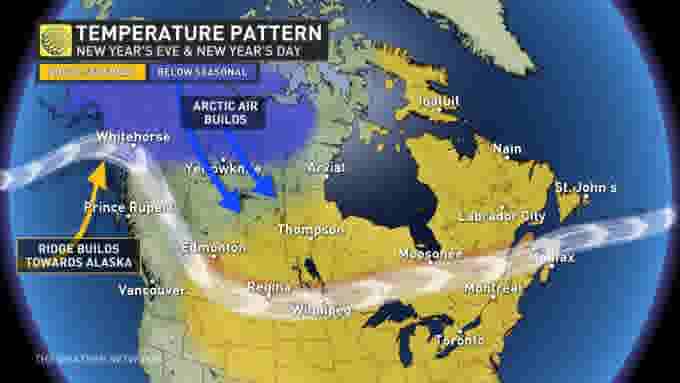 WINTER HAS ARRIVED, BUT THE SNOW HAS DISAPPEARED. SEE THE STARTLING COMPARISONS: