Friday, May 29th 2020, 8:00 pm - After a few rumbles of thunder, the passing cold front will put an end to a week of warmth and humidity, with daytime highs not likely to reach the 20-degree mark this weekend.
After a sticky week more suited to summer, complete with summer-like thunderstorms, the weekend will have a completely different feel to it, with daytime highs in the upper teens. For a closer look, see below.
---
WEATHER HIGHLIGHTS:
Cooler weekend, with daytime highs in the upper teens, Sunday the coolest day
Some lingering showers Saturday, but short-lived.
Temperatures recover mid-next week
Keep on top of active weather ALERTS here.
---
WEEKEND: TEMPERATURES TUMBLE DOWN INTO THE TEENS
There'll be precious little of the past week's sweltering humidity, as the province dives from above seasonal to below-seasonal, though this may be the chill's last hurrah.
Some of the departing system's showers will linger a bit Saturday, though any showers that do pop up will be short-lived, and people across the region can expect a mix of sun and cloud, with daytime highs in the upper teens.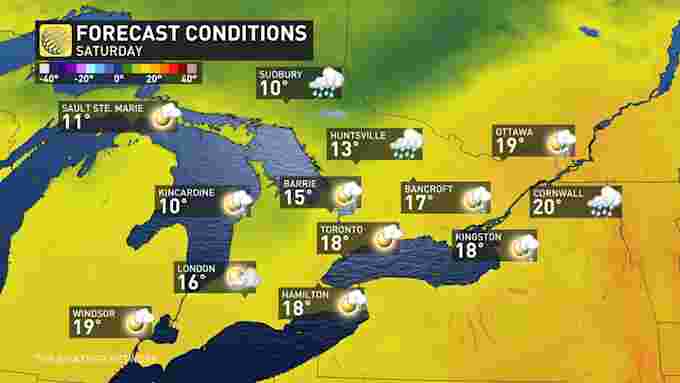 Sunday looks to be even cooler, with highs struggling to reach the mid-teens. For parts of the north, and the Dundalk Highland, there may even be some late-season frost Sunday morning.
BEYOND: COOL MONDAY, TEMPERATURES BEGIN TO CLIMB MIDWEEK
Monday looks to be another cool day across the region, but by mid-week, southern Ontario will be the transition zone between hot and humid weather to the southwest, and much cooler weather to the northeast.
"The overall pattern is favourable for the development of a few mesoscale convective systems (an organized complex of thunderstorms). It is still early to have confidence in the exact track of such systems," Weather Network meteorologist Dr. Doug Gillham says. "At this point it looks like an MCS or two will bring widespread rain and thunderstorms to a large part of Ontario and into western and southern Quebec during Tuesday."
Additional showers and thunderstorms are possible Wednesday and Thursday, with the possibility of hot and humid weather returning next weekend and especially as we head into the second week of June.
Check back as we continue to monitor the forecast.