Tuesday, September 24th 2019, 8:25 pm - Signal points to more unusual heat in southern Ontario for the start of October.
Mild temperatures and low humidity made for a beautiful first full day of fall across Ontario on Tuesday, but summer has its sights set on a comeback. A quick surge of heat and humidity are in store for Wednesday, but the real roller coaster pulls out of the station this weekend, as "extreme heat" makes a play for the start of October. We take a look at the active and changeable pattern ahead, below.
Visit our Complete Guide to Fall 2019 for an in-depth look at the Fall Forecast, tips to plan for it and a sneak peek at the winter ahead
---
WEATHER HIGHLIGHTS:
Brief surge of heat, humidity for Wednesday
Fine line between summer heat and cooler fall temperatures for the weekend
Impressive temperature contrast across southwestern and eastern Ontario by Monday
Stay aware of ALERTS in your area
---
Gorgeous early fall weather reigned for most of the province on Tuesday, but you may need to keep your air conditioner at the ready. Daytime highs will climb into the mid-to-upper 20s once again on Wednesday, while southwest winds will also push humidity back into the Lower Great Lakes region. Humidex values approaching 30 are expected from the GTA to Windsor.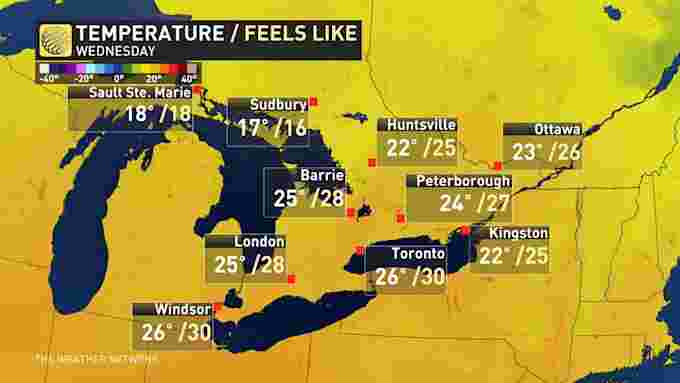 Strong winds from the southwest may give Wednesday afternoon a 'hair dryer' feel at times, with warm winds gusting as high as 70 km/h through the afternoon.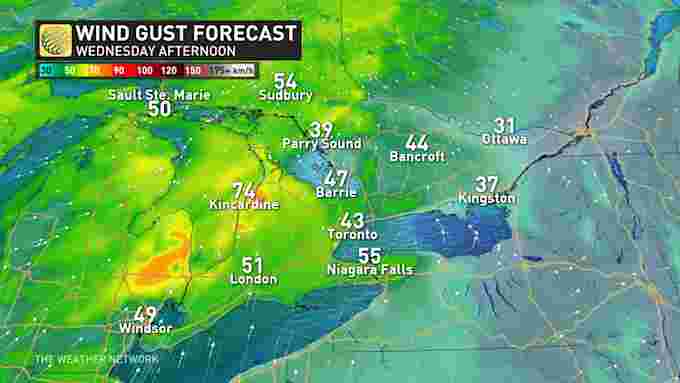 Fall will quickly demonstrate its changeable nature, however, as another cold front cuts through on Wednesday night.
"During the late afternoon and evening, a band of showers and possibly a thunderstorm will track across the Golden Horseshoe," says Weather Network meteorologist Dr. Doug Gillham.
Rain showers could linger into early Thursday, but most of the day is expected to be dry with temperatures a bit cooler once again, although still sitting slightly above seasonal.
A FINE LINE BETWEEN SUMMER AND AUTUMN
As we head into the first full weekend of fall, that late summer warmth hangs on, with daytime highs hovering in the low-to-mid 20s for Saturday. But it's the latter half of the weekend that has caught forecasters' attention.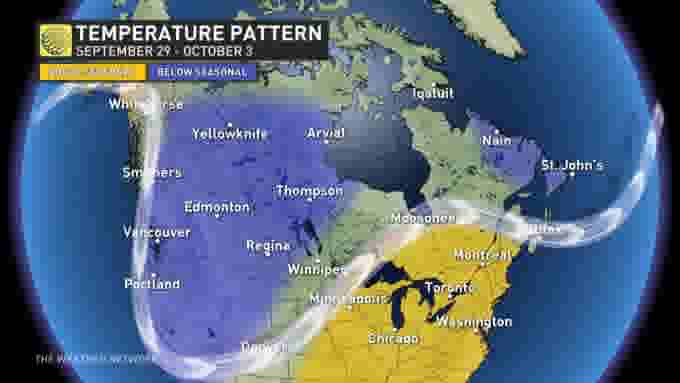 "Hot weather just south of the border could reach southwestern Ontario on Sunday, but it's more likely the heat will hold off until Monday," Gillham says. Gillham also expects an impressive temperature contrast across the region on Monday as the warm front slowly advances north.
"Parts of southwestern Ontario could reach into the lower 30s with a humidex approaching 40, while eastern Ontario and southern Quebec remain in the teens."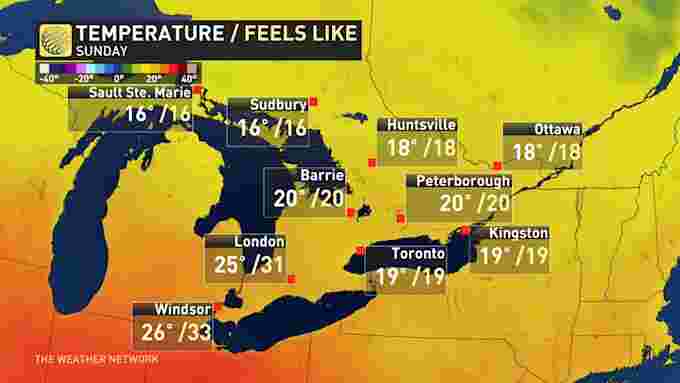 More widespread warm and humid air is expected to spread across the region through next Wednesday with the potential for a few spots to even reach the 30°C mark.
The warmest October day ever recorded at Toronto's Pearson International Airport was back on October 8, 2007, when temperatures soared to 31.6°C.
"Much cooler weather is expected late next week and weekend, however, with near seasonal temperatures and daytime highs in the mid to upper teens," Gillham adds.
WATCH BELOW: FOCUS ON ONTARIO'S FALL FORECAST