Thursday, June 30th 2022, 7:49 am - The heat will build across Central Canada heading into Canada Day. A dynamic system will bring a strong to severe thunderstorm risk through Friday.
--
A potent system will push through on Friday and heighten the chance for thunderstorms in the most heavily populated stretch of the country on one of the busiest days of the year for outdoor activities.
Widespread thunderstorms are possible across all of southern and eastern Ontario and the southern half of Quebec. The timing of the thunderstorms is less than ideal for cookouts and fireworks displays.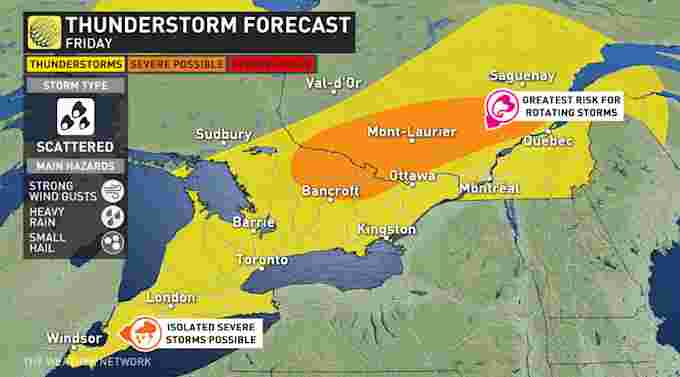 Folks across the region can expect a chance for thunderstorms starting in the morning and lasting through the evening. Southern areas will have to be on the lookout for thunderstorms arriving just in time for dinner and fireworks on Friday evening.
DON'T MISS: 6 long weekend must-haves for parks, picnics and camping
Friday's storms could produce strong wind gusts, heavy rainfall, and small hail. Some of the thunderstorms across eastern Ontario could be on the stronger side.
The cold front responsible for sparking the risk for thunderstorms will also lead to a wide range in temperatures across Ontario and Quebec. Friday's highs will come in around the low- to mid-20s toward cottage country and into northern Ontario.
Warm and steamy conditions will build ahead of the front with daytime highs climbing into the upper 20s to around 30°C from the Greater Toronto Area north through Montreal. Highs should break into the lower 30s in southwestern Ontario.
LOOKING AHEAD: BEAUTIFUL WEEKEND BEFORE THE HEAT BUILDS BACK
Saturday is shaping up to be a gorgeous day behind the cold front. Abundant sunshine, lower humidity, and warm temperatures will make for a fantastic day to spend a little time outdoors—a treat for anyone whose plans are upended by Friday's storms.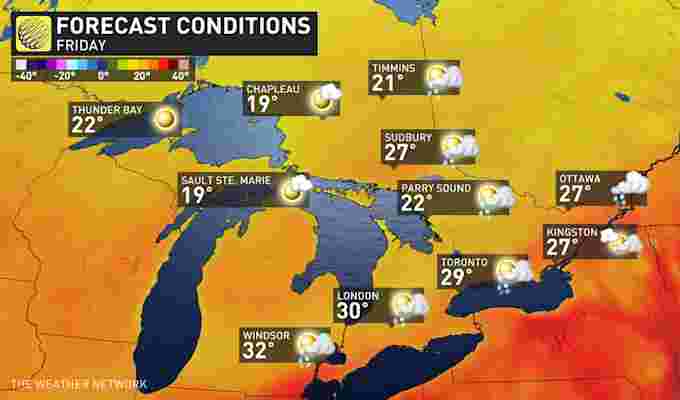 Sunday will see more sunshine across the region. Clouds will start to filter into cottage country, eventually spreading toward eastern Ontario and southern Quebec through the day on Sunday.
The first full week of July will see a sharp temperature divide set up across the region, with cooler weather to the north and warmer, muggier conditions locked in over the south. The boundary between these two air masses could serve as an active storm track for thunderstorms to roll through the area.
WATCH: KEEP WATER SAFETY IN MIND AS YOU COOL OFF THIS SUMMER
--
Stay tuned to The Weather Network for the latest on the storm risk in Ontario and Quebec.