Sunday, February 2nd 2020, 1:10 pm - Light, wet snow and milder temperatures will mark Groundhog Day in southern Ontario
There will be a repeat performance of Saturday's weather for southern Ontario to wrap up the weekend, as a second weak clipper tracks through the region. Expect more light, wet snow through the day before it eases off through the evening hours. Temperatures will be on the milder side again and will continue into Monday, but an incoming cold front will bring an end to the warmth by the evening, along with the next round of wet weather. There could be multiple systems next week as an active pattern may take hold through the first half of February. We have timing and details on Sunday's snow and when the next system will move in, below.
---
WEATHER HIGHLIGHTS
Second clipper moves across the region Sunday, bringing light, wet snow
Near-record warmth to start next week, but will be brief as more wintry weather returns by mid-week
Active pattern likely through first half of February
Stay up-to-date on the ALERTS in your area
---
SUNDAY: ANOTHER SHOT OF LIGHT SNOW, MILD TEMPERATURES
It will be a similar setup for Sunday with the passage of another weak clipper, which will bring a second round of light, wet snow that will linger through the day. Lakeshore areas could see a rain/snow mix because temperatures will be closer to the freezing mark.
Generally, additional snowfall totals will be in the 1-3 cm range closer to the lakes and 2-5 cm further inland. There will be pockets of 5-10 cm over higher elevations across Grey Bruce. The snow will taper off through the evening hours as the system makes its way out of the province.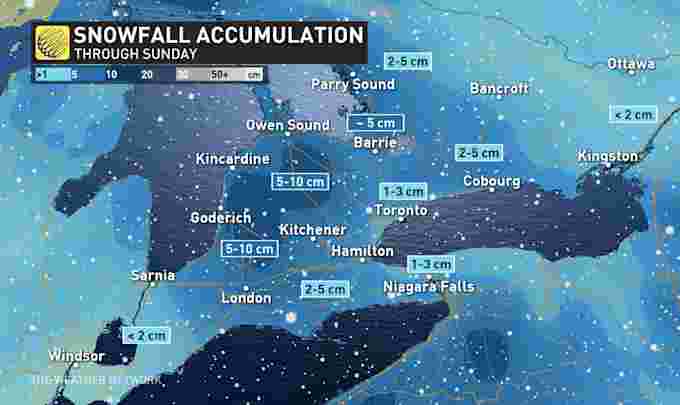 Temperatures will again be milder Sunday, with most places seeing daytime highs rise above the freezing mark. Windsor could reach close to double digits.
GREAT LAKE WATER LEVELS PAINT A GRIM PICTURE FOR 2020-FLOOD RISK:
MONDAY AND BEYOND: MULTIPLE SYSTEMS POSSIBLE THROUGH THE WEEK
The milder pattern will continue in southern Ontario Monday, as temperatures will hit the mid-single digits in the GTA and southwest -- well above seasonal for this time of year. However, the warmth will end there as a cold front moves in late Monday and will send temperatures tumbling by the evening.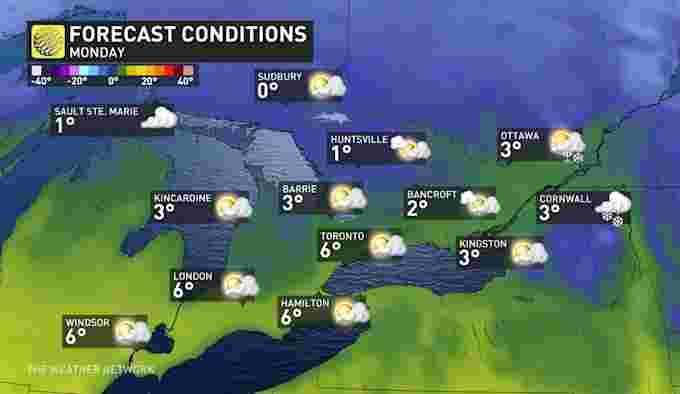 With the next system, expect periods of light mixed precipitation (snow, ice and rain) for Tuesday and Wednesday. A more potent system is forecasted to move in later Thursday and into Friday, bringing another threat for snow, ice and rain to our region.
NO COLD IN SIGHT, BUT ACTIVE PATTERN LIKELY THROUGH FIRST HALF OF FEBRUARY
There's no "true" cold weather in sight, however, but an active pattern is likely as we head into and through the second week of February. Temperatures will be changeable, but will average out to be near or slightly above seasonal.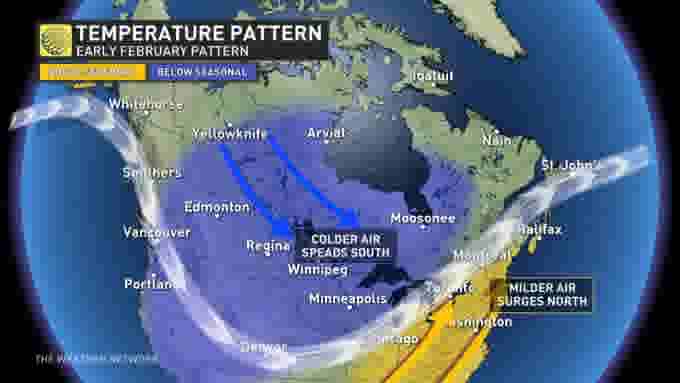 Check back as we continue to monitor Ontario's active weather.
WHY ONTARIO SAW A WET AND MILD JANUARY PATTERN