Tuesday, February 4th 2020, 7:00 am - Blast of early spring weather spreads across southern Ontario to start the week, but a sharp return to winter threatens significant snow.
The week began with some spring-like warmth across southern Ontario, but the return to wintry weather comes quickly with some pesky freezing drizzle through early Tuesday. The more significant impact will come from a system threatening the region by later on Wednesday, however, with widespread snow on the menu for many. The active storm track and rounds of wintry conditions will have the potential to complicate travel for those in the impacted areas. More details and timing, below.
---
WEATHER HIGHLIGHTS
Brief shot of freezing drizzle for early Tuesday
Chance for significant snow Wednesday-Thursday
Active pattern persists into mid-February, though with near or above seasonal temperatures
Stay up-to-date on the ALERTS in your area
---
TUESDAY: MESSY MORNING HOURS
A very weak disturbance will bring some pesky scattered freezing drizzle into southern Ontario Tuesday morning, especially for southwestern Ontario, Niagara, and the western GTA.
This mixed precipitation will track through parts of the GTA, including Mississauga, Hamilton, Guelph, Waterloo and Grand Bend during the pre-dawn hours of Tuesday morning, but is not expected to significantly impact travel during the morning commute.
High temperatures will rise above freezing once again through Tuesday afternoon.
WEDNESDAY/THURSDAY: ACTIVE STORM WITH MESSY THURSDAY SYSTEM
A temperature boundary south of the Great Lakes separating cold air from warm will help to power an active storm track across the region through the middle of this week. Forecasters are watching a system set to spin up along that boundary, one that threatens to bring widespread snow to southern Ontario.
"It is too early to have confidence in snow totals for specific locations, but much of our region should see at least 5 to 10 cm of snow," says Weather Network meteorologist Dr. Doug Gillham. "And the hardest-hit areas that stay as all snow should reach 10 to 15+ cm."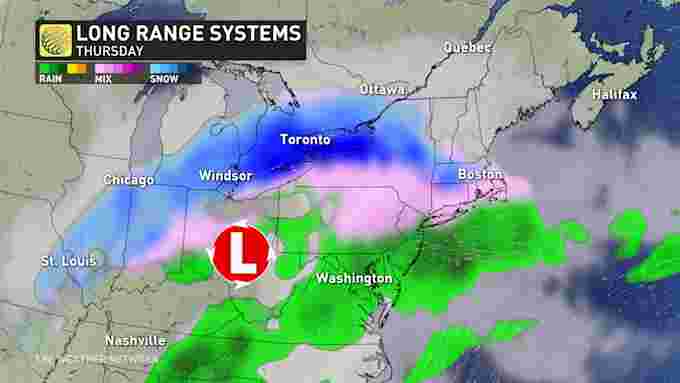 A period of freezing rain is also possible along the southern edge of the region, depending on how far north the system moves. The spots most likely to see an icy mix are right along the northern side of Lake Erie, as well as across the Niagara Peninsula through the day on Thursday.
Light snow may linger into Friday morning as a second system tracks well south of the region.
Be sure to check back frequently as we closely watch this developing system.
LOOK AHEAD: CHANGEABLE TEMPERATURES, BUT WITH ACTIVE PATTERN INTO MID-FEBRUARY
Quiet conditions are expected as we head into the weekend, but the second week of February looks to offer more wintry weather.
"The second week of February looks similar to this week, an active pattern with changeable temperatures, but averaging out to near or slightly above seasonal," Gillham adds.