Wednesday, December 18th 2019, 8:30 am - Widespread warnings are in effect for intense snow squalls and dangerous travel through Thursday.
Expect dangerous travel conditions and near zero visibility at times as the lake-effect snow machine grinds into gear and threatens significant totals through Thursday morning. Snow squall warnings and winter weather travel advisories are in effect for the typical snow belt regions, but quick bursts of snow may also impact areas across the Greater Toronto Area throughout the day Wednesday. More on the timing of the snow, plus a look at the quickly falling temperatures and some of the coldest air of the season so far, below.
Visit our Complete Guide to Winter 2019/2020 for an in depth look at the Winter Forecast, tips to plan for it and a sneak peek at the spring season next year
---
WEATHER HIGHLIGHTS:
Heavy lake-effect snow Wednesday with bursts of snow across the GTA as well
Very difficult travel conditions expected on major highways. Check highway conditions
Cold northwest winds, minus double-digit wind chills Wednesday
Stay up-to-date on the ALERTS in your area
---
WEDNESDAY -- TEMPERATURES PLUNGE, DANGEROUS LAKE-EFFECT SNOW INTENSIFIES
Wednesday marks the third day of lake-effect snow for southern Ontario with some hefty snowfall totals in the cards for parts of the region. Lake-effect bands off of Lake Huron and Georgian Bay are targeting Huron-Perth, Barrie, and parts of southwestern Ontario with as much as 30 cm of snow through Thursday morning.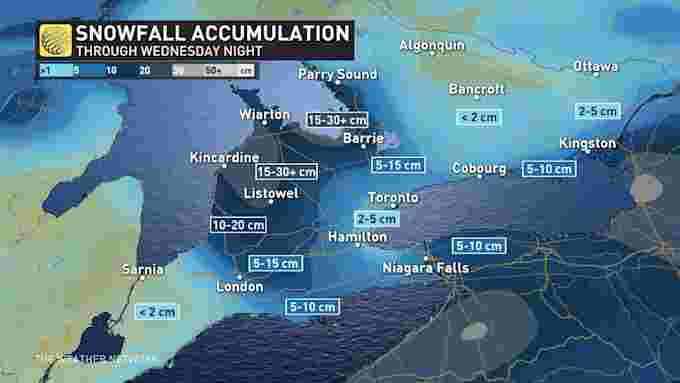 Drifting bands will make for treacherous travel through the day Wednesday as conditions rapidly change on area roads. Whiteout conditions are expected due to strong winds -- gusting higher than 70 km/h at times -- and lasting into Thursday morning.
ON LOCATION: PRIME CONDITIONS SET UP FOR DANGEROUS SQUALLS ON WEDNESDAY
"Visibility will be suddenly reduced to near zero at times in heavy snow and blowing snow," warns Environment Canada in snow squall warnings issued for the region. "Travel is expected to be hazardous due to reduced visibility in some locations. Road closures are possible."
Drivers are being urged to consider to postponing non-essential travel until conditions improve.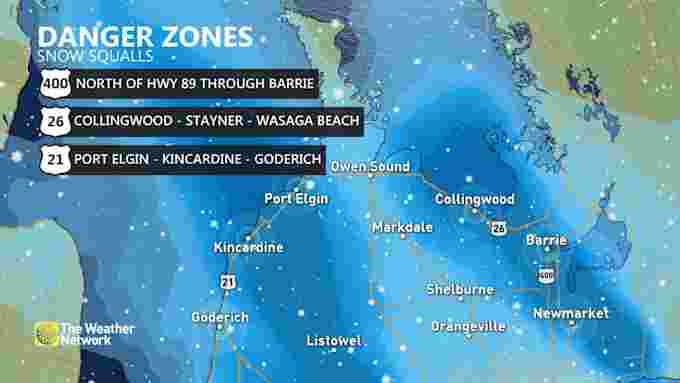 Streamers will also stretch into the GTA, Niagara, and toward London through the day, making for significant impacts to some of the country's busiest roads. Most of the GTA will see a dusting to 2 cm of snow, but higher totals up to 10 cm are likely for northern and eastern parts of the GTA -- including Newmarket, Oshawa, and Whitby -- where bands from Georgian Bay persist.
Travel on the west end of the region -- through Kitchener, Hamilton, and Woodstock -- will also be treacherous at times.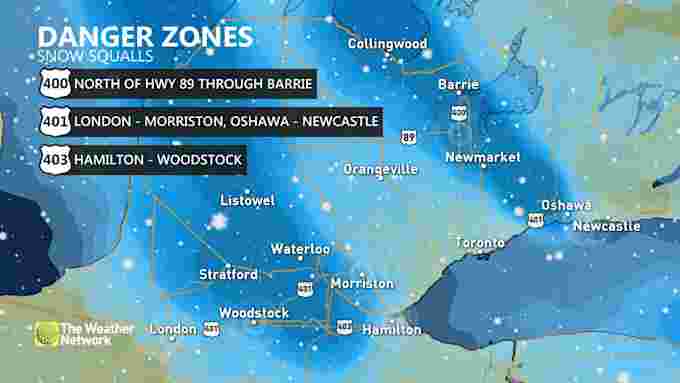 COLDEST WIND CHILLS OF THE SEASON SO FAR
Those strong winds will also make for some of the coldest wind chill values southern Ontario has seen so far this season. Weather Network meteorologist Tyler Hamilton says "wicked wind chills" will build into Wednesday, leaving much of southern Ontario feeling like -10 to -20 by the afternoon.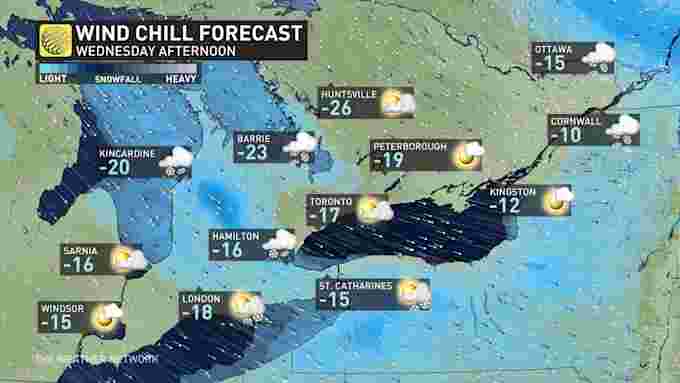 Dangerous wind chills are possible Wednesday night and early Thursday, as bitter cold and light winds make it feel close to -25 around Toronto and -30 for other parts of southern Ontario.
The City of Toronto issued its second extreme cold weather alert of the season due to the temperature plunge, which is set to remain in effect until further notice. According to officials, these alerts are issued when the forecast suggests temperatures of -15°C or colder, or when the wind chill is forecast to reach -20 or colder. The alerts also activate local services that focus on getting and keeping vulnerable residents indoors.
LOOK AHEAD: FRIGID TEMPERATURES EASE BEFORE CHRISTMAS
The bitter cold continues into Thursday, but the worst of the chill will ease as we head into the last weekend before Christmas.
"Much milder weather is also expected for early next week with temperatures rising well above freezing for Monday and Christmas Eve," says Weather Network meteorologist Dr. Doug Gillham.
While that milder air might provide a welcome break for those already tired of the cold, Gillham also warns above seasonal temperatures early next week will put a white Christmas in jeopardy for southern Ontario, outside of the snow belt areas.
"However, it looks like the weather will be ideal for any pre-Christmas travel with dry and mild conditions," Gillham adds.
AVOIDING A PILEUP RESTS ON REMEMBERING THESE DRIVING TIPS: