Friday, October 30th 2020, 5:00 am - This astounding storm would claim the lives of 13 people, including the six-member crew of the fishing vessel Andrea Gail.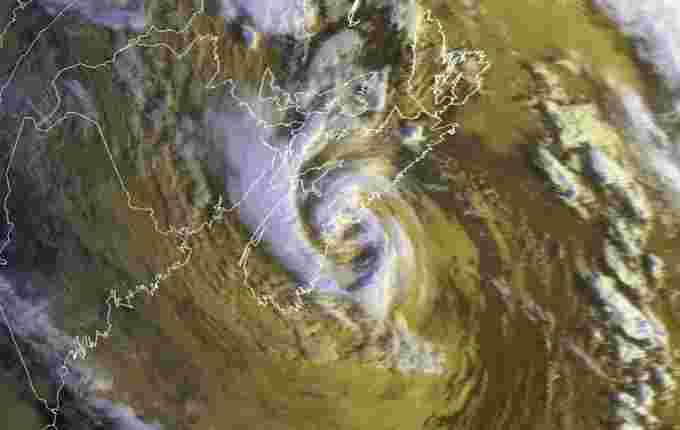 The infamous 'Perfect Storm' approaches Nova Scotia in this satellite photo. Credit: NOAA / Satellite and Information Service
Subscribe: Apple Podcasts | Amazon Alexa | Google Assistant | Spotify | Google Podcasts | iHeartRadio | Overcast
This astonishing storm, known to history and popular culture as the "Perfect Storm," was fuelled by an unfortunate convergence of several factors, all adding up to an immensely powerful phenomenon that claimed several lives and brought enormous waves to the New England and Atlantic Canadian coasts.
Its origins were near Bermuda, when Hurricane Grace formed on October 27th and moved toward the U.S. coast, encountering a strong low-pressure system moving southward from Canada. The combination of the two resulted in waves of 12-25 metres — with unconfirmed reports of more than 30 metres in some areas. The result was extensive coastal flooding in some areas of New England, with damage reported also as far away as Jamaica and Newfoundland.
The monster continued to race for the next few days, coming ashore on November 2nd along the coast of Nova Scotia and then transitioning once again to a hurricane as it moved northeast over the Gulf Stream, though it was not given a name.
Amid its passage through the Atlantic, it claimed the lives of 13 people, including the six crew members aboard the fishing vessel Andrea Gail, who were caught in the storm while fishing for swordfish near Newfoundland. The ship's last contact was on October 28th, and when it did not return to port on November 1st as scheduled, rescue teams were dispatched, to no avail. None of the missing six fishermen were seen again, and the sinking and search of the Andrea Gail was later the subject of a best-selling book and a Hollywood film.
Also among those missing and presumed dead was a crewman aboard an Air National Guard helicopter that was forced to ditch after storm conditions kept it from refuelling. The other four crew members were rescued safely.
"This Day In Weather History" is a daily podcast by The Weather Network that features unique and informative stories from host Chris Mei.