Thursday, November 19th 2020, 5:30 am - The road conditions were so bad that 1,500 vehicles were stranded overnight.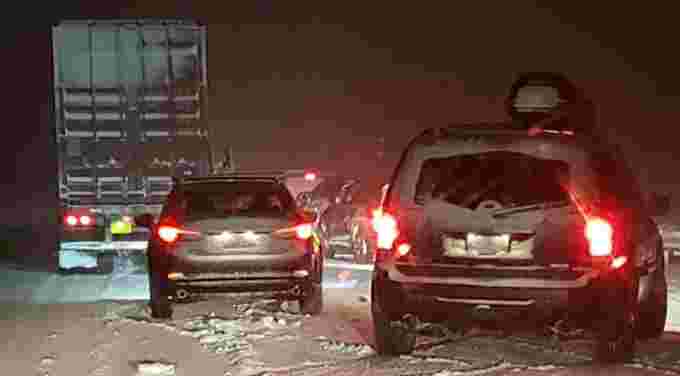 Courtesy: Al Varney/Facebook
Subscribe: Apple Podcasts | Amazon Alexa | Google Assistant | Spotify | Google Podcasts | iHeartRadio | Overcast
On November 19th, 2008, Nova Scotia had its first snowfall of the season. The province was not prepared for the snowy, wet, windy conditions. This storm left 1,500 cars and trucks stranded overnight on the Trans-Canada Highway near the Cobequid Pass.
The Cobequid Pass is in northern Nova Scotia, so the region is used to extreme weather conditions. However, they were not ready for this storm. And by "they" we mean "their cars." Many vehicles hadn't swapped to winter tires yet, which is one reason why the incident was so extensive.
The storm started in the late afternoon. The streets were slippery and visibility was deteriorating.
It all started with a few trucks that crashed into each other. The accident led to more accidents which ultimately led to a blockage in the highway.
The worsening weather conditions and the increased traffic bottleneck prevented plows and emergency vehicles from getting through.
People were stranded on the Trans-Canada for up to 16 hours. A lot went down during that time. To hear more about the subsequent incidents that occurred due to the blockage, listen to today's episode of "This Day In Weather History".
This Day In Weather History is a daily podcast by The Weather Network that features unique and informative stories from host Chris Mei.