Tuesday, September 29th 2020, 3:23 pm - A sustainable construction company founded in Nova Scotia is reusing millions of discarded plastic bottles to build homes, decks, sheds and other structures.
Nova Scotia is no stranger to gale-force winds, intense storms and even the occasional hurricane. Newly constructed homes in this province must be able to withstand harsh conditions, and the sustainable buildings constructed by JD Composites are proving that they can stand formidable against these harsh local conditions.
The company, which was founded in the Sainte-Marie's Bay area by Joel German and David Saulnier, builds homes, decks, sheds and other structures using their patented technology made from recycled plastic bottles. Their structural insulated panels (SIPs) consist of Armacell ArmaForm, which is 100 per cent made of recycled plastic bottles that are sourced from an Armacell facility in Brampton, Ontario.
Armacell's polyethylene terephthalate (PET) technology creates foam products from recycled plastic bottles by crushing them into flakes that then undergo inhouse granulation and extrusion foaming processes. In addition to being used in JC Composites' SIPs, Armacell ArmaForm is used in 100,000 wind turbine blades, the CRH3A high-speed train in Western China, and in five gilded domes of the Russian Orthodox Cathedral in Paris, France.
Between 15,000 to 45,000 plastic bottles are used to create small sheds and decks, while homes can use 500,000 to 750,000. The variety of uses is impressive, but naturally many wonder how material made of recycled plastic bottles compares to conventional materials.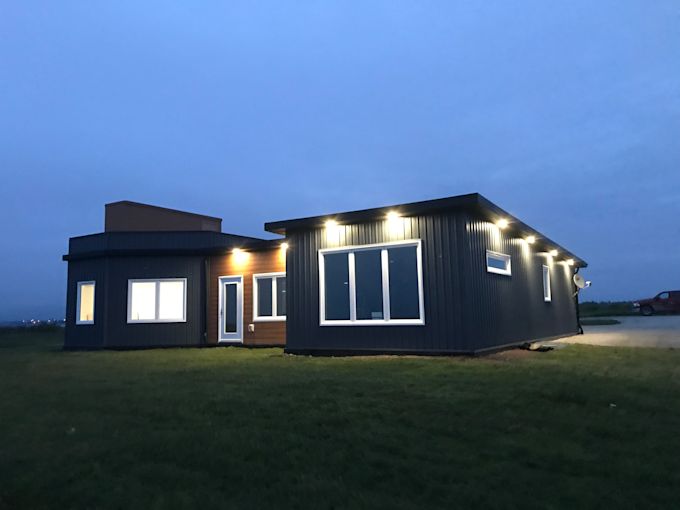 JD Composites used over 600,000 plastic bottles to build this Eco-House in Nova Scotia with their patented panels. Credit: JD Composites
JC Composites states that typical Canadian homes use insulation with an R-20 rating, but this value is often reduced to R-13 because wooden studs create a thermal break in the insulation. The PET plastic in SIPs do not have any thermal breaks, which result in a continuous R-30 value, making it twice as efficient as conventional insulation materials. JC Composites explains that this results in substantial long-term energy savings and a smaller carbon footprint.
SEE ALSO: Canadian company creates concrete from carbon dioxide in the air
The SIPs have also undergone rigorous testing to determine what climates they can withstand. Independent testing by Element Materials Technologies in Mississauga, Ontario successfully exposed an 8-foot by 8-foot SIP to 525 km/h sustained winds, which is twice the strength of a Category 5 hurricane. The fastest sustained wind speed ever recorded was 342 km/h from Hurricane Patricia in 2015.
Both the cost and performance of these innovative structures compared to conventional materials are also attractive features of SIPs. The panels are impermeable, meaning that it cannot rot or absorb moisture, which makes it zero-maintenance. While the cost of the panels is currently the same as those used in conventional construction, the company expects costs to decrease as it expands.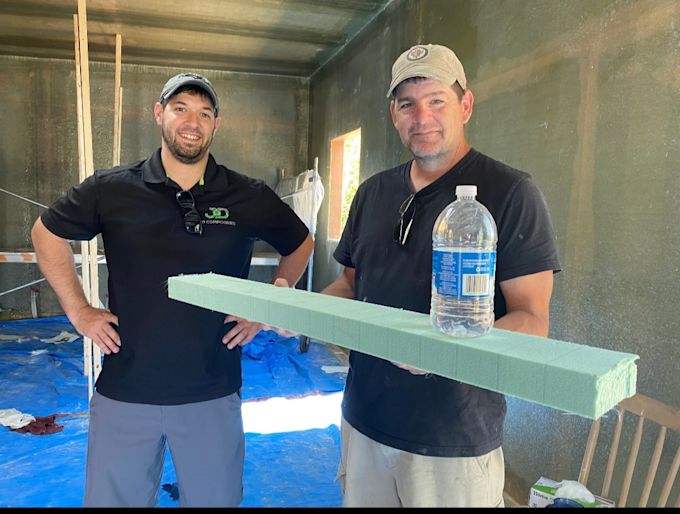 Joel German and David Saulnier, founders of JD Composites. Credit: JD Composites
When asked what the company's inspiration was, Saulnier highlighted the role that businesses can play in making sustainable solutions an option. "I thought JD Composites going forward should take a responsible approach and do our part in the global problem in plastic waste, and use it to make structurally sound building materials," Saulnier explained.
To date, over two million plastic bottles have been used in their projects in less than a two-year period and during their first year of business, an impressive 38 projects were constructed. Their first major project was a house overlooking Sainte-Marie's Bay in Nova Scotia and Saulnier says that these types of homes can be constructed in any type of climate.
"That's the beauty of composites. They can be used anywhere, in any climate. Fully compatible [with] extremes on both sides of the temperature chart. I would be fully comfortable building a house in Iqaluit, Nunavut as I would in Death Valley, California."