Friday, December 18th 2020, 2:10 pm - Birds are good for the soul, according to science.
There's ample evidence that being in nature is good for your mental health and now a new, German-based study suggests that may have something to do with birds.
The paper, which looked at the link between biodiversity and happiness on a Europe-wide scale, found that more bird species in a person's vicinity can increase life satisfaction as much as a higher income.
The findings were derived from a 2012 Europe-based life satisfaction survey, in which 26,000 adults from 26 countries participated.
RELATED: 5 backyard birds you can find in Canada
VIDEO: HAVE YOU EVER SEEN AN OWL DO THIS?
BEYOND BIRDS
Previous studies have confirmed that bird-watching can reduce anxiety and depression, but the link between bird diversity and happiness may go beyond the birds themselves.
In a statement, the study's authors point out that birds are strong indicators of overall biological diversity. They can also act as indicators of a healthy ecosystem.
"A particularly high number of bird species can be found in areas with a high proportion of near-natural and diverse landscapes that hold numerous greenspaces and bodies of water," the authors say.
The researchers found that fourteen additional bird species in an area raises life satisfaction levels as much as an extra 124 Euros per month, based on an average income of 1,237 Euros per month in Europe.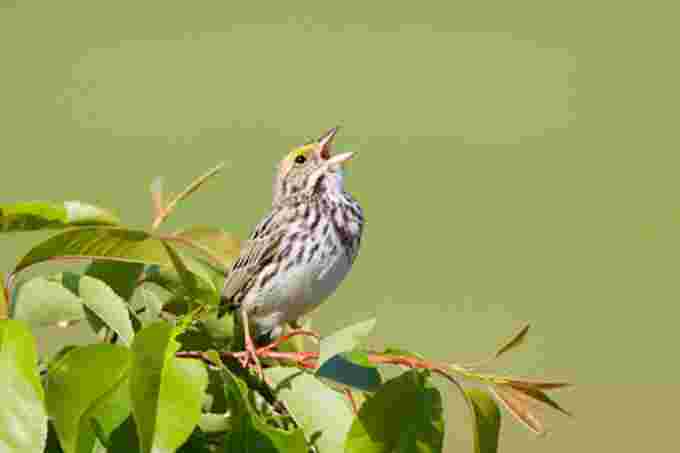 File photo: Getty Images.
HELPING OUR FEATHERED FRIENDS
As the study suggests, birds help humans in numerous ways. With that in mind, it's important to note that bird populations are in decline around the world, Aly Hyder Ali, an urban nature organizer at Nature Canada told The Weather Network.
"We have lost 3 billion birds in the last 50 years in North America alone and we need to act now to reverse these trends," Ali says.
"We must work together, with actions and policies guided by proper planning and good science. One of the best actions we can take to help conserve declining bird populations is protecting important bird habitat."
That involves effort at every level -- municipal, provincial, and federal -- to ensure returning birds have access to the habitats they need to thrive.
VIDEO: THAT'S A LOT OF HUMMINGBIRDS
HERE'S HOW YOU CAN HELP
Here are some tips on how you can help birds, courtesy of the Cornell Lab of Ornithology:
Make windows safer. An estimated 599 million die each year from window collisions in the U.S. alone, and the help of homeowners can reduce this number drastically. Turn lights out at night or close the blinds, so migrating birds aren't attracted to the light source. You can also invest in window tape or specialized "zen curtains" which keep birds away.
Keep your cats indoors. Cats are responsible for 2.6 billion bird deaths each year in Canada and the U.S., according to the Cornell lab.
Grow native plants and flowers. Ditch decorative plants and consider filling your garden with native foliage for birds to dine on. Experts also recommends adding a water source for birds to drink and bathe in.