Wednesday, July 6th 2022, 3:20 pm - The lily can hold a weight of up to 81 kilograms.
Experts have found a new, giant water lily species for the first time since 1837 - living among other plants at the Royal Botanic Gardens, Kew in London, England.
They had mistaken the water lily for another, previously-documented variety - Victoria amazonica, named after Queen Victoria of England.
The discovery - named Victoria boliviana - is the largest known water lily in the world.
Measuring the water lily. Courtesy: RBG Kew.
---
SEE ALSO: What makes giant hogweed so dangerous
---
Its leaves can grow to around 3 metres wide and are able to support a weight of nearly 81 kilograms. The largest known specimen resides in La Rinconada Gardens in Bolivia, with leaves measuring 3.2 metres.
The lily produces several flowers a year, opening one at a time and only for two nights, Kew says in a press release.
They turn from white to pink and are covered in sharp prickles.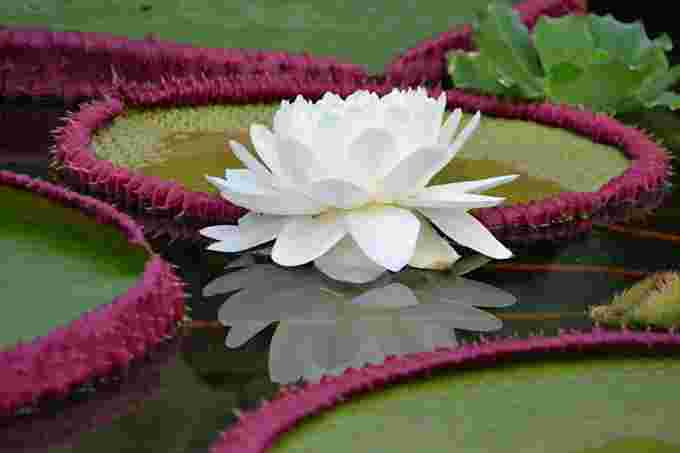 The first night flower. Courtesy: Lucy Smith.
The underside of the plant "is also a sight to behold," Kew says, "resembling a cross between a suspension bridge and the roof of an old cathedral."
Lucy Smith and Carlos Magdalena examine the underside of the lily. Courtesy: RBG Kew.
---
DON'T MISS: Are your peonies covered in ants? Experts say that's great news
---
Experts at Kew teamed up with researchers from Bolivia to analyze the suspected new species. In 2016, Bolivian institutions Santa Cruz de La Sierra Botanic Garden and La Rinconada Gardens donated seeds to the Kew and as they grew, water lily expert and senior horticulturist Carlos Magdalena could tell the species was different, the garden says.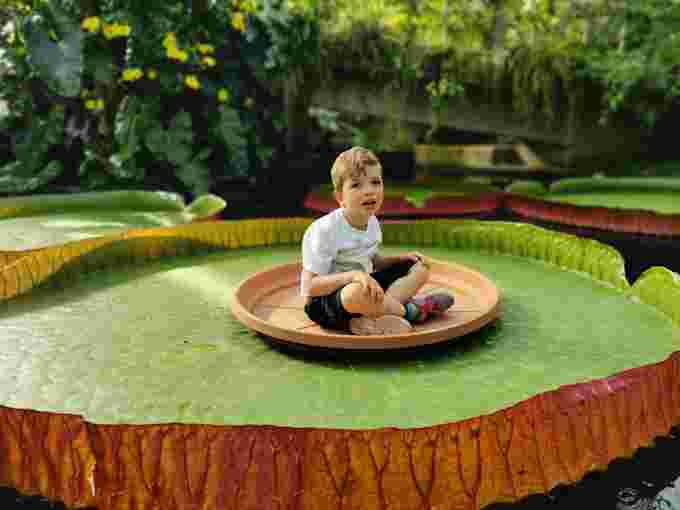 Carlos Magdalena's son sits on V. boliviana. Courtesy: RBG Kew.
DNA testing confirmed the suspicion, as they showed V. boliviana was genetically different from V. amazonica and V. cruziana, another known giant water lily species.
A new paper in the journal Frontiers in Plant Science further details the findings.
---
WATCH BELOW: NEWLY DISCOVERED B.C. TREE IS AS BIG AS A BOEING 747