Tuesday, March 5th 2019, 8:44 pm - The ceiba tree is a symbol of Puerto Rico, which was devastated by hurricanes Irma and Maria in 2017.
For awhile, it seemed like the massive, beloved and centuries-old ceiba tree in a park in Puerto Rico was another casualty of the intense and devastating hurricane season of 2017.
First, Hurricane Irma in September of that year, a Category 5 storm at its peak, only passed close by the island, but lashed it with intense winds triggering storm surge. Then came the far harder hit of Hurricane Maria, another Category 5 storm at its strongest. Though it had weakened to Category 4 when it made landfall on September 20, its winds were still terrifyingly strong at 250 km/h, accompanied by pounding, torrential rains.
The storm took its toll. Almost 3,000 people were reported killed, and material cost will be staggering as well -- in December, two competing estimates put the economic hit from $43 billion to as high as $153 billion, and life for many on the island is still difficult.
Against that devastation, the fate of a single tree on the island of Vieques, a little east of Puerto Rico's main island, might not seem like much. But at more than 300 years old, it's one of Vieques' most popular tourist attractions but the sight of new flowers blooming on something so ancient, first reported by the Huffington Post, is a symbol of hope for many still reeling from Maria's devastation.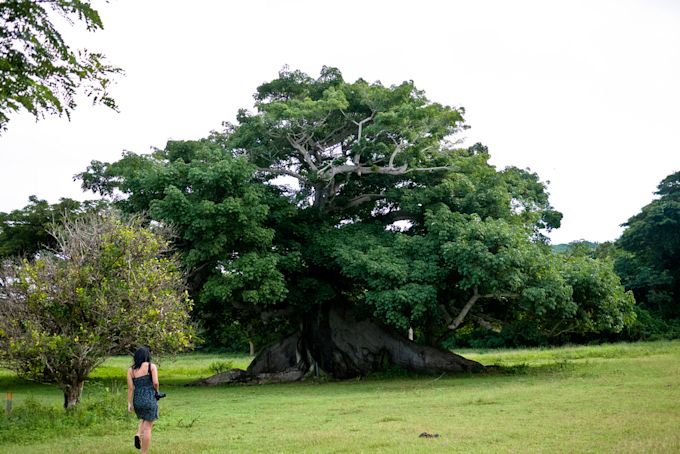 Image: Matt/Flickr
According to the Post, the storm left the ceiba tree "leafless and badly damaged, with knobby limbs laying broken around its thick trunk" (you can see a before-and-after comparison here). It wouldn't have seemed unrealistic to imagine the hurricanes' blow had hurt it beyond recovery, until the pink flowers reappeared more than a year later.
"That this tree is blooming now tells me is it was able to bud leaves after Maria and still get enough energy, and probably had some stored from before," Fabián Michelangeli, a curator at the New York Botanical Garden's Institute of Systematic Botany, told the post. "But that means it's healthy enough to go for more blooming."
Ceiba trees can be found in South and Central America and parts of West Africa. Also known as the kapok tree, the enormous plants, which can tower more than 50 metres, are pillars of their ecosystems. According to puertorico.com:
"Perhaps the main thing that makes the Kapok tree so special is the fact that its massive branches provide housing for so many creatures. Animals are born and raised in the branches only to live their entire lives in its tree tops. Birds nest here and mammals even use the branches to hide in. Small pools of water often collect in the bromeliads and these are frequently used by frogs as a breeding ground. Truly, the tree is a fitting symbol of life and variety. The tree also has beautiful flowers which appear in small clusters on new branches. The flowers have five petals and may be pale pink or creamy white in color. These flowers do not have a particularly pleasant smell but they are attractive to look at."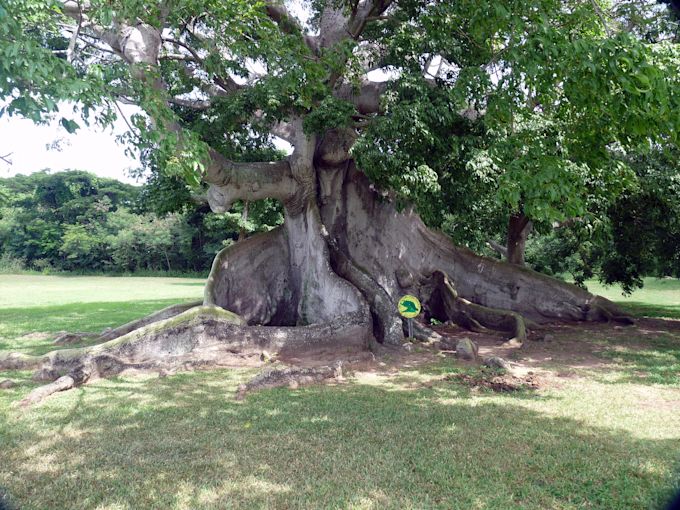 Image: Karl Noring/Flickr
Aside from their niche in nature, the indigenous Taino peoples of the island used the ceiba's bark for their canoes. They are held in such high regard that the one on Vieques has "become sort of a sacred site for locals and one that tourists have come to enjoy today" (according to vieques.com), while one in the city of Ponce on the main island, which is even older at 500 years, became a matter of national concern when its trunk was damaged.
The ceiba is considered a symbol of Puerto Rico, which is why for many weary of the ongoing challenges after 2017's terrible hurricane season, the recent blooms are a good auspice.
WATCH BELOW: 'IT'S LIKE A BOMB WENT OFF': DRIVING THROUGH MARIA DESTRUCTION