Saturday, April 4th 2020, 5:59 pm - The Juno spacecraft sent back the image in February, and it was released by NASA last week.
We're betting you've never seen Jupiter like this before.
NASA's Juno spacecraft snapped a picture of high-altitude haze in the northern hemisphere of the solar system's largest gas giant in February, and the agency released it publicly last week.
Up close, the image makes the planet look for all the world like a large precious stone, swirling with strata: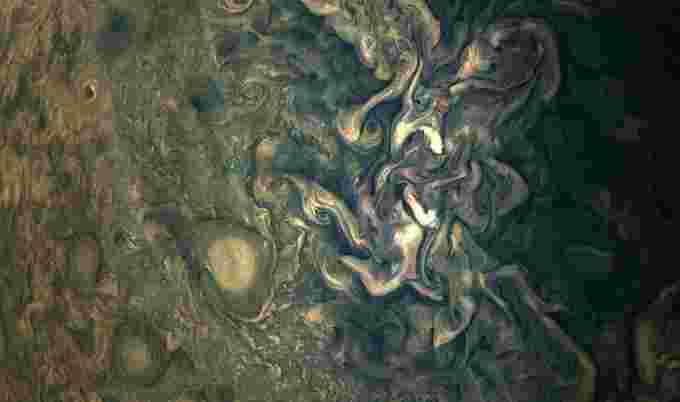 Image detail: NASA/JPL/SwRI/MSSS. Image processing by Gerald Eichstädt.
Here's a link to the full image.
The photo was shot 25,120 km above the cloudtops. NASA says the streaks are "layers of haze particles that float above the underlying cloud features," though they are not sure what the hazes are made up of or how they are formed.
"Two jet streams in Jupiter's atmosphere flank either side of the region where the narrow bands of haze typically appear, and some researchers speculate those jet streams may influence the formation of the high hazes," the agency said in a news release.
The Juno spacecraft arrived in the Jupiter system in July 2016 to study the planet's atmosphere, magnetosphere and gravity fields, and has been sending back numerous new shots of the planet, which NASA provides to the public in raw form.