Friday, May 20th 2022, 10:42 am - Your long weekend plans in southern Quebec will need to include keeping a close eye on the forecast, with the threat for severe thunderstorms that could bring torrential rain or even rotation.
A multi-day thunderstorm threat spans southern Quebec as heat and humidity build in for the May long weekend. For some areas, this will be the highest humidity felt this year, even after the May heatwave experienced a week ago. While the chance for thunderstorms covers off most of the weekend, the heat and humidity will quickly clear for the holiday Monday, with seasonably cool conditions aligned with high pressure and sun and cloud. More on the timing of the storm threats, below.
SATURDAY:
A widespread storm threat will target much of southern Quebec, along the St. Lawrence and into the Eastern Townships Saturday afternoon, with the greater severe storm dynamics forecast across the Eastern Townships.
"Clusters of thunderstorms are forecast with even the potential for some isolated supercell development with favourable wind shear present," Sonnenburg warns. "We will need to keep an eye on rotation if stronger supercells do develop."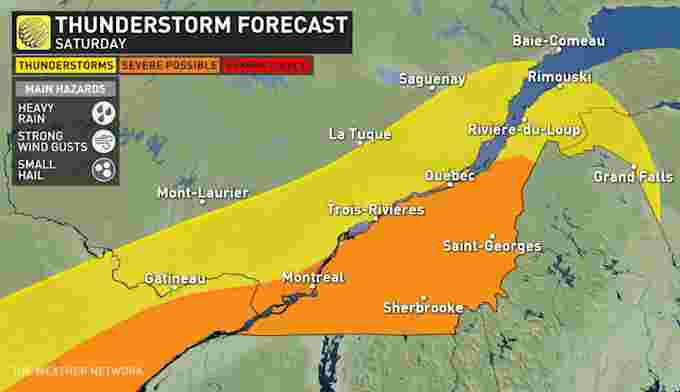 Large hail, strong winds and heavy to torrential rain are all likely as there will be ample moisture available in the atmosphere, which also contributes to the high humidex values.
Humidex values in the mid to upper 30s are forecast for Saturday.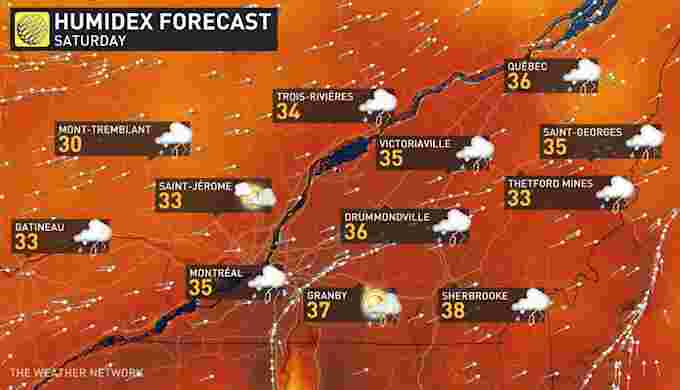 SUNDAY:
As a secondary system tracks into the province on Sunday, the thunderstorm threat will return for a third and final day with the risk for strong storms once again along the St. Lawrence and into the Eastern Townships.
Atmospheric moisture will also be high as well, so torrential rain at times will be likely.
Check back as we gather more forecast details on the severe storm set-up for Sunday.
MONDAY:
As the thunderstorm risk finally eases, the heat and humidity will also be wiped clean, with dry and seasonably cool conditions left in the wake of the multi-day thunderstorm threat.
Be sure to check back as we continue to fine tune the long weekend storm risks across southern Quebec.