Wednesday, June 15th 2022, 5:22 pm - Severe thunderstorms are possible on Thursday as a cold front pushes through southern Ontario. Refreshing air will follow close behind for the weekend.
We're looking forward to a refreshing weekend across the southern half of Ontario, but the sweet relief from the heat will come at a stormy price on Thursday. A cold front pushing into the warm and unstable air will spark a risk for severe storms on Thursday from Toronto to Montreal. Beyond, falling temperatures will lead to a beautiful Father's Day weekend. More on what to expect in the days ahead, below.
---
Visit our Complete Guide to Summer 2022 for an in-depth look at the Summer Forecast, tips to plan for it and much more!
---
WEDNESDAY EVENING: SEVERE STORMS EXPECTED FOR NORTHERN ONTARIO
A round of thunderstorms will move into northern Ontario during the overnight hours late Wednesday into Thursday morning.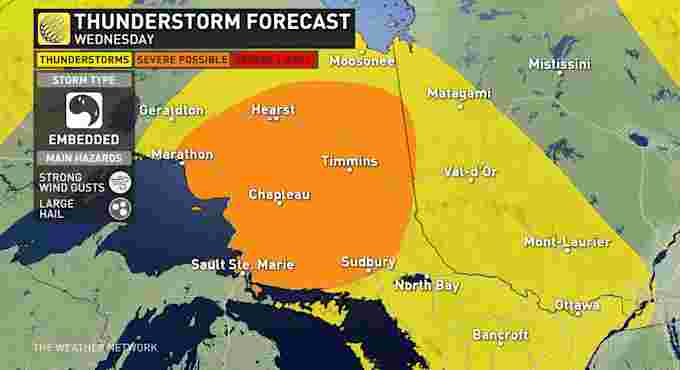 MUST SEE: Why nocturnal thunderstorms can be particularly dangerous
These storms, leftovers from a regional severe weather outbreak south of the border, will likely move through portions of northern Ontario around or after midnight. The strongest among them could produce strong wind gusts and large hail.
THURSDAY AND BEYOND: SEVERE STORMS POSSIBLE THURSDAY, 'SUNSATIONAL' FATHER'S DAY WEEKEND
A cold front pushing into southern and eastern Ontario will lead to a risk for strong to severe thunderstorms across the region during the day on Thursday.
Depending on the timing of the front, with peak daytime heating and atmospheric instability, eastern Ontario would see the threat for the strongest thunderstorms to bubble up.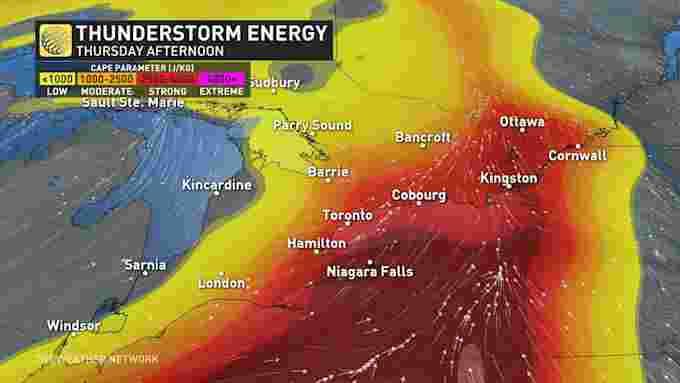 ---
DON'T MISS: The top digital and analog thermometers for your own backyard
---
One or more broken lines of thunderstorms are likely to develop along the cold front as the boundary plows into the warm and unstable air parked over the region. Storms are most likely during the mid- to late-afternoon hours. Some rotating thunderstorms are also possible.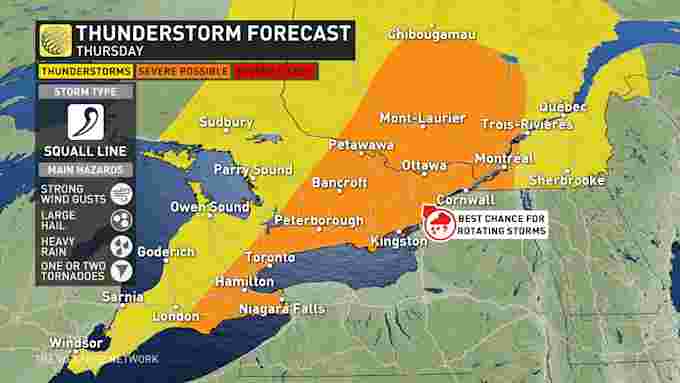 The strongest storms that pop up on Thursday could produce large hail, strong wind gusts, and heavy rain. One or two tornadoes can't be ruled out, especially in eastern Ontario where there's a risk for rotating thunderstorms.
Before the storms and the cold front show up, though, we're going to have to sweat out another hot day on Thursday.
Daytime high temperatures will clock in even hotter than they were on Wednesday, with high temperatures ranging from the upper 20s to the lower 30s. Humidex values will sit in the upper 30s to lower 40s. The timing of the storms will have a significant impact on high temperatures.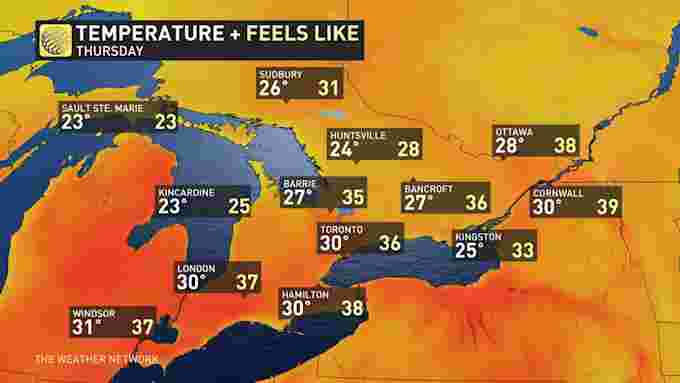 Friday is shaping up to be a lovely day behind the cold front. Temperatures will fall to around seasonal for the day, with a chance for showers and thunderstorms cropping up across eastern sections of the province.
We're looking forward to a "sunsational" weekend across Ontario as this cooler pattern temporarily settles in for a few days. Abundant sunshine, lower humidity, and pleasant—albeit slightly below seasonal—temperatures will prevail. It's going to be a fantastic Father's Day for any outdoor plans.
Beyond, a warming trend is anticipated for early and mid-next week as the heat wave over the U.S. Midwest attempts to spread into the region. There is uncertainty as to where the boundary will be between the tropical heat and humidity versus the more comfortable conditions.
Southwestern Ontario will likely have a couple days of excessive heat with a humidex into the 40s. This pattern favours a couple of MCSs (mesoscale convective systems) near the warm front. Cooler weather is expected to return late week and weekend.
WATCH BELOW: LA NIÑA TO BLAME FOR 20+ CM OF SNOW IN THIS PART OF CANADA
Stay tuned to The Weather Network for all the latest on conditions across Ontario.