Friday, August 19th 2022, 8:47 pm - If you've got outdoor plans this weekend, stay weather aware as the thunderstorm risk intensifies
Heat warnings blanket Alberta as hot temperatures promise to linger over the province through the weekend. The heat will fuel multiple opportunities for thunderstorms on Saturday and Sunday, some of which could turn severe. More on the timing and impacts, below.
---
MUST SEE: 'Heat lightning' is summer's peaceful and misunderstood secret
---
This weekend: Multi-day thunderstorm threat spans Alberta amid high heat
Friday saw plenty of rumbling across Alberta as storms bloomed in the heat across the province. The ingredients are in place for another round of vigorous thunderstorms to pop up across the province as the heat of the day builds Saturday.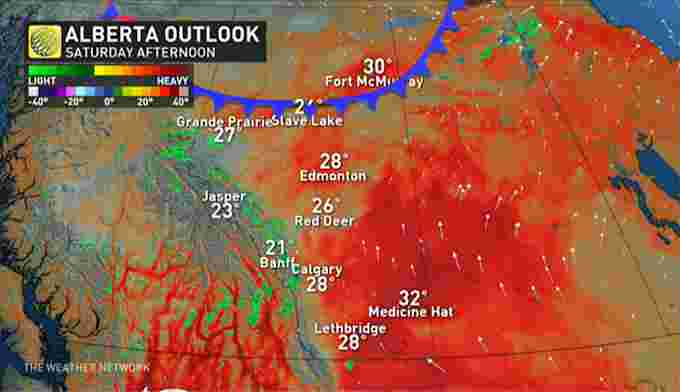 A cold front pushing south across northern Alberta will serve as the focus for Saturday's strongest thunderstorms. Strong wind gusts and large hail would be the main risk with the most powerful storms that form through the day.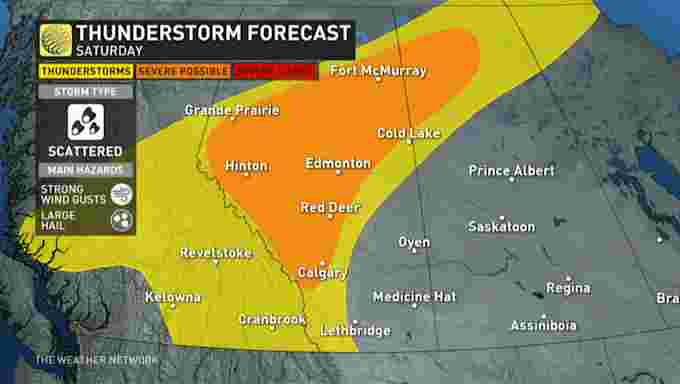 Farther south, scattered severe thunderstorms are also possible along the foothills, with the risk for hail extending into the Calgary metro area.
The risk for thunderstorms will build across Alberta heading into Sunday, as well.
"Not everyone may see a thunderstorm due to the sporadic nature, but if one develops in your area, heavy downpours, strong winds and large hail may batter your weekend plans," warns Rachel Modestino, a meteorologist at The Weather Network. "Keep an eye to the sky and stay updated with weather alerts all weekend long."
---
SEE ALSO: PHOTOS: Menacing shelf clouds darken Manitoba skies during severe storms
---
Heat warnings remain in effect
Meanwhile, heat warnings remain locked in over Alberta, where they were issued early on in the week. Parts of southern Saskatchewan were also added to the warnings as the heat spread east through the week.
Here are some recommendations from Environment and Climate Change Canada (ECCC) to stay safe during this period of abnormally warm temperatures:
Consider rescheduling outdoor activities to cooler hours of the day.
Take frequent breaks from the heat, spending time in cooled indoor spaces where possible.
Drink plenty of water and other non-alcoholic, non-caffeinated beverages to stay hydrated.
Check for your children or pets before you exit your vehicle. Do not leave any person or pet inside a closed vehicle, for any length of time.
The very hot and dry pattern across southern Alberta and southwestern Saskatchewan will relax somewhat on Sunday and more so later next week, though still warmer than seasonal most days.
Be sure to check back for the latest weather updates across the Prairies.