Tuesday, June 15th 2021, 5:49 am - It's the season of fun and adventure! Ontario is home to some amazing trails featuring the perfect elevation for mountain biking.
If an exhilarating day in the sunshine is calling your name, mountain biking could be the perfect fit for you. If you are a first timer our in house biking expert, Mark Robinson, suggests:
"Take it easy! Trail riding is very different from riding on the pavement of roads and sidewalks. You're going to encounter unexpected turns, rocks in the trail, hills and dips, roots and branches. Even if you ride the same trail all the time, it can change from day to day, so always expect the unexpected. While biking is easy on the knees and joints compared to running, injuries happen fast and can be brutal if you crash at speed. So take it slow until you get used to what trail riding is like."
Some of Mark's favourite trails are found in Guelph, Ontario.
"I have two favourite trails right now. The Guelph Outdoor Recreation Biking Association trails at Guelph Lake and parts of the Speed River Trail near my home. They are great for biking at all levels."
Mark also mentioned that either Canadian coast seems like a dream for his next biking adventure! But if you are looking to stay in Ontario, you can also let loose on the trails in the north of the province. The Sudbury region is home to Lake Laurentian Conservation Area. You will be amazed to see all the exposed bedrock through the multi trail system used by bikers and hikers.
Another northern region gem is near Thunder Bay. Sleeping Giant Provincial Park is home to some of the province's most scenic trails showcasing the gorgeous blue waters of Lake Superior.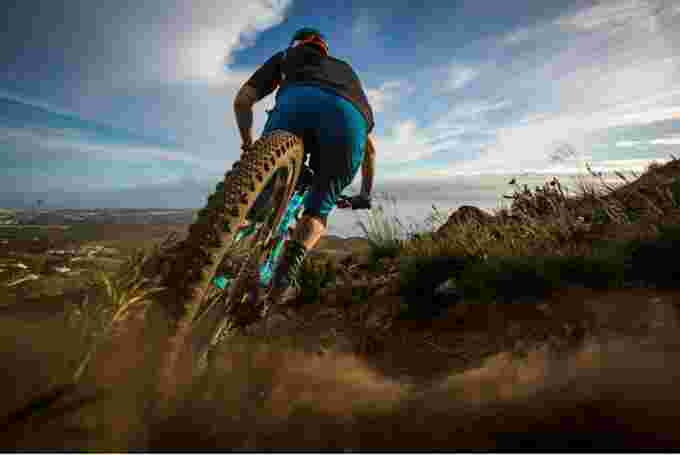 (Getty Images)
Many of these trails host hikers and bikers so be aware of those travelling at a slower pace as you race down the slopes.
Also remember that this time of year is not just popular for the bikers but also the mosquitoes! Grab some repellent for the road and reapply through the day for optimal protection. Products like OFF! Deep Woods® are available in both DEET or Picaridin options. These are ideal for managing mosquitoes as you bike through the woods.
Mark also added a couple other things you should pack:
Water, lots of it!
First aid kit
Basic tools: small adjustable wrench, screwdriver and allen keys
Inner tube patch kit - you'll want to be able to fix a flat when out on a trail
Cell phone with mapping apps
Summer is the season of endless memories and adventure. Make the most out of this season by getting outdoors and trying a new adventure.