Wednesday, November 23rd 2022, 10:00 am - Canada was a global hotspot last month once again, which could spell trouble when the rare triple La Niña eventually ends.
Thanks in part to a stubborn La Niña, last month ranked as the fourth warmest October on record for the globe. However, over northern hemisphere landmasses, where roughly 90 per cent of the human population of Earth lives, this was the hottest October in the record books.
One year ago, Canada was one of the global hot-spots for the month of October. This year, it happened again. Canada experienced record heat from coast to coast during the month. Edmonton, Alta. saw the most extreme heat, with an average monthly temperature of 9.6°C, compared to a normal of just 5.1°C.
According to Europe's Copernicus Climate Change Service, this trend extended to much of the northern hemisphere, as well, with extreme heat felt in Greenland, Europe, and northern Russia. "In western Europe a warm spell brought record daily temperatures and it was a record-warm October for Austria, Switzerland, and France, as well as for large parts of Italy and Spain," their report states.
Globally, Copernicus ranked last month as the fourth hottest October in their records.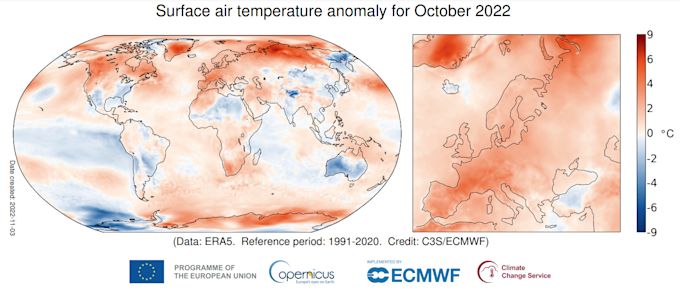 Global surface temperature anomalies for October 2022 reveal those regions of the world that experienced extreme heat or cold during the month. (Copernicus Climate Change Service)
NOAA agreed, as their records also place October 2022 as the fourth warmest October since 1880. However, across the entire northern hemisphere, NOAA ranked it as second warmest.
Taking just the areas on land in the northern hemisphere, where nine out of every 10 people alive today live, around 7.2 billion people experienced the hottest October of the past 143 years.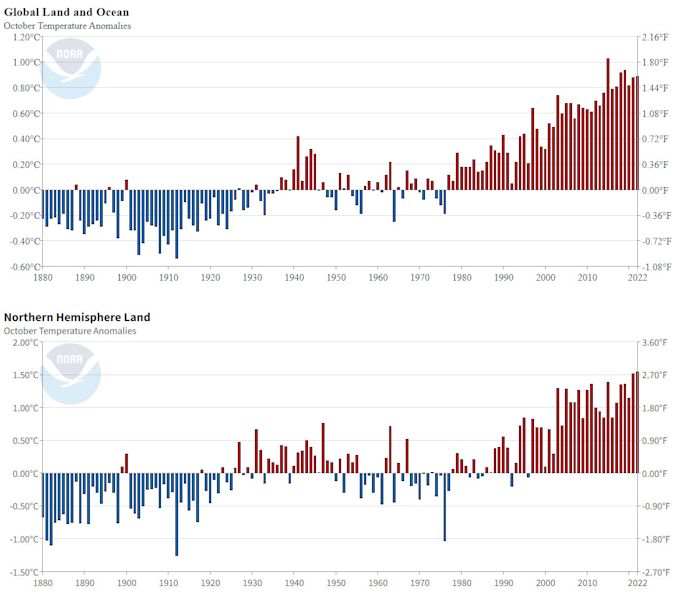 These timelines track global temperature anomalies (top) and northern hemisphere land temperature anomalies (bottom), from October 1880 to the present. While October 2022 was behind 2015, 2019, and 2018, for the globe, it ranked as the warmest month of October across northern hemisphere land, beating out the previous record from 2021. (NOAA NCEI)
From NASA's records, October 2022 is the fifth warmest month of October, after 2015, 2018, 2019, and 2021. According to the Japanese Meteorological Agency (JMA), it was the third warmest October, after 2015, 2019, and tied with 2021.
As 2023 draws near, NOAA scientists give 2022 a greater than 95 per cent chance that it will end in sixth place on the list of warmest years on record. 2016, with its record El Niño, remains at the top of the list for now.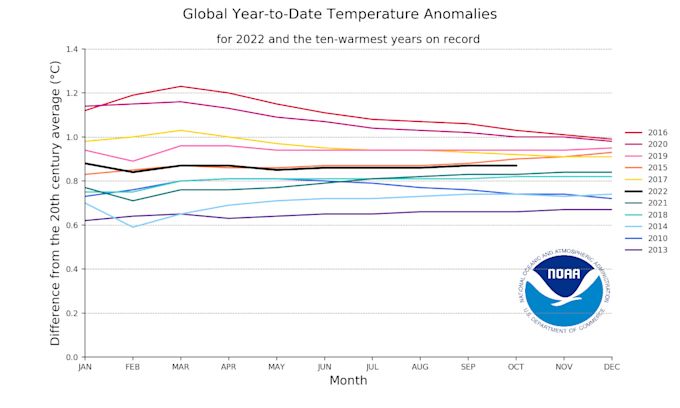 This 'horserace' graph shows the year-to-date temperature rankings for the hottest year on record so far. Even with two months left in the year, 2022 (black line) has likely secured its position as sixth warmest. (NOAA NCEI)
The temperature trends revealed so far this year make something very clear, though. Once the rare triple La Niña ends, it's very likely that a new hottest year on record will soon follow.
(Thumbnail image courtesy of NASA GISS)