Wednesday, October 5th 2022, 10:30 am - Snow is in the forecast for more than half of Canada! See if your region is included.
As we head further into the fall season, snow is creeping into more and more upcoming forecasts, and over the next seven days in particular, there is the potential for 10 of Canada's 13 provinces and territories to see some flakes fly by early next week.
When does snow start falling historically?
While there are known instances where unusually early and impressive snowfall events happen in September -- a more notable one being Calgary's September 8, 2014 snowfall of 12 cm -- typically snow starts to arrive for more Canadian communities by mid to late October.
MUST SEE: Recalling the record-breaking September when a snowstorm buried Calgary
Below are a few select cities with earliest snowfalls (1+ cm) in the last 20 years:
Vancouver - November 18, 2011 - 1 cm
Calgary - September 8, 2014 - 12 cm
Winnipeg - October 5, 2002 - 4 cm
Toronto - October 27, 2018 - 2 cm
Montreal - October 17, 2015 - 1 cm
Halifax - October 28, 2011 - 1.8 cm
St. John's - October 14, 2009 - 5 cm
Yellowknife - September 16, 2010 - 1 cm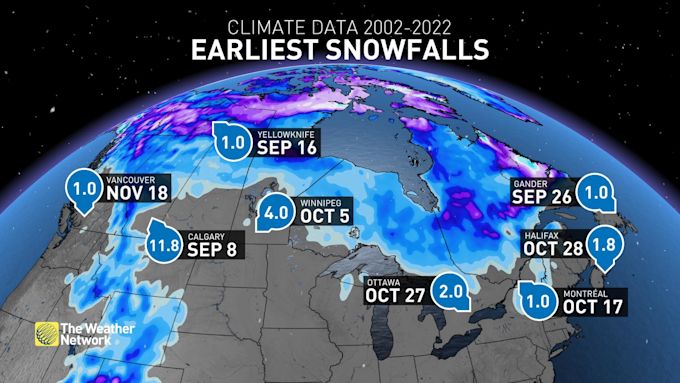 The snow forecast we're watching over the next week:
A boundary sliding across eastern Canada as we head towards the end of the week and the Thanksgiving long weekend will be accompanied by a shot of modified Arctic air.
Temperatures for some in northern Ontario, Quebec and into Labrador will be cool enough to see rain showers transition to mixing and wet flurries.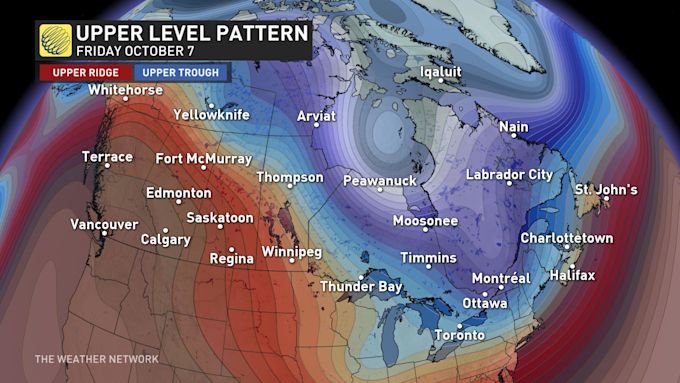 Snowfall amounts will be very limited for most, and in combination with the warm ground, will prevent most snow from sticking to the ground. An exception will be through the Laurentian mountains where a combination of elevation and higher forecast totals may allow some snow to temporarily accumulate.
RELATED: How to restore and protect your lawn through winter after a drought
WATCH: The best time for you to switch to winter tires
So far, most of western Canada has failed to feel the reality of fall, with summer 2.0 basically dominating the weather pattern for much of September and into early October.
It is not completely unheard of to see surprise snowfalls in September for parts of the west, with Calgary being one city to have experienced a few September snowfalls in the past. But not this September. By looking at the monthly average daytime highs, this past September was the warmest in a decade. The average daytime high for this past September in Calgary was a balmy 22.4°C!
By early next week, a trough is forecast to plunge south pushing parts of western Canada into a temporary pattern change, ushering in much cooler temperatures. With this, will come an elongated boundary of snow.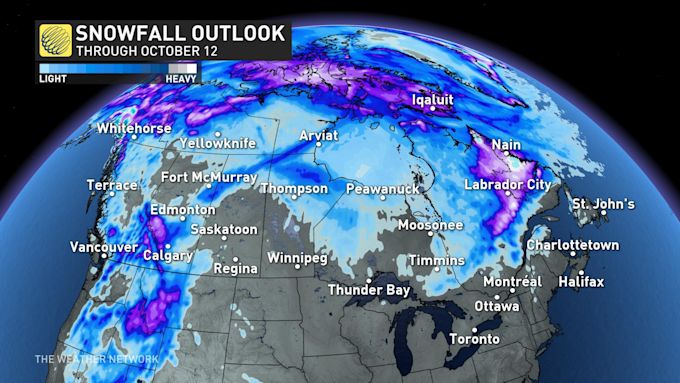 Parts of the territories, B.C. and the western Prairies will likely all see some snow briefly track through early next week, with the higher elevations being the most likely location. We also can't rule out some communities in lower elevations however, especially as temperatures near the freezing mark and below through the overnight hours.
Be sure to check back for the next snow sightings across Canada.