Wednesday, October 30th 2019, 5:00 pm - Snow in the north, torrential rains in the south and widespread, potentially damaging winds are all in the hopper for Halloween.
The timing of this next potent system in Ontario couldn't get any worse for trick-or-treaters as heavy rain, strong winds and even snow threaten to make for an especially spooky Halloween night. Rain already began Wednesday and though some may experience a break or two, Thursday will be a widespread soaker for many in the south, while the north will see significant snow. More on the timing of this system and how parts of the north will be trading umbrellas for snow shovels, below.
---
WEATHER HIGHLIGHTS
Classic fall storm takes aim for Halloween, soaking rain in the south and heavy snow in the north
Strong cold front with damaging wind gusts expected on Friday
Chilly weekend weather and bands of lake-effect snow north of the GTA into Sunday
Stay up-to-date on the ALERTS in your area
---
WATCH BELOW: TRACKING THE NEXT SYSTEM THAT THREATENS HALLOWEEN
Trick-or-treaters hoping for a mild and dry Halloween night are largely out of luck, with the first raindrops already falling for some Wednesday night, with more widespread showers on Thursday.
A moisture-laden system gradually entering the region from the Mississippi Valley is the culprit, and its impacts are expected to last right through to Friday.
"The rain will be heavy at times with rumbles of thunder possible during Thursday afternoon and early evening as totals reach 30 to 60 mm across our region," says Weather Network meteorologist Dr. Doug Gillham.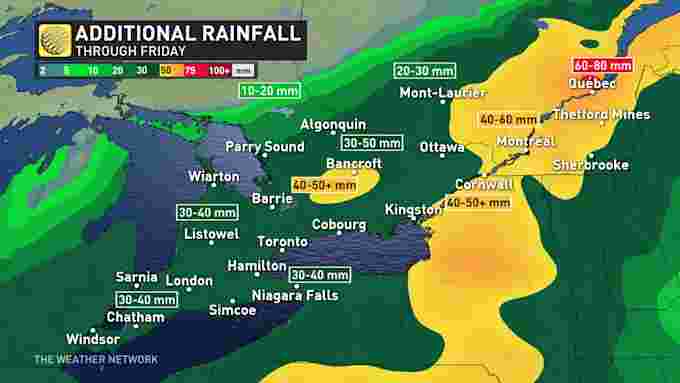 While a break from the rain is expected later Thursday evening, at this point it looks like the break will come after trick-or-treat times. Temperatures will be a bit on the chilly side as well.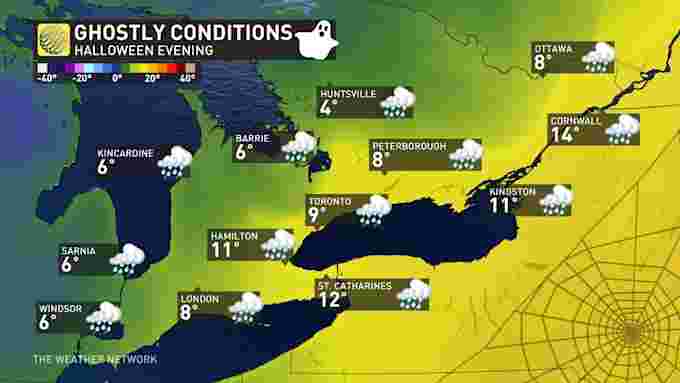 With the ground still moist from last weekend's heavy flooding rain, this latest soggy blast could result in more localized flooding. Lake levels are also much higher than normal for this time of year with strong winds and high waves threatening shoreline flooding in some local communities.
As the bulk of the rain winds down through early Friday, some wrap around showers are possible, along with a wet snow. Little no accumulation is expected across much of the south, except for areas north and west of the GTA, along with the Dundalk Highlands and the Georgian Bay shores.
It will be a very different story in more northern areas, where more intense snowfall is expected for Halloween.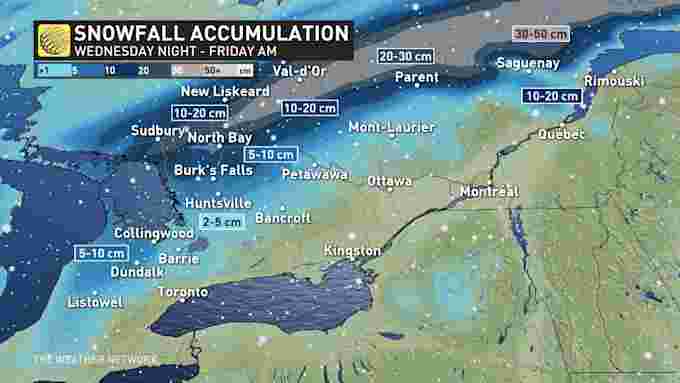 "Major impacts on travel are likely along the Trans-Canada Highway with snow totals of 10-20 cm likely combined with extensive blowing and drifting snow," Gillham warns.
Environment Canada has issued snowfall warnings across the Sudbury and North Bay regions, urging drivers to consider postponing non-essential travel as the storm blows through.
SEE ALSO: Canada's got some freaky fall frost stats
TAKE DOWN THE HALLOWEEN DECOR BEFORE FRIDAY'S BIG WINDS
As the rain and snow gradually taper through Friday, wind gusts between 60-90 km/h are possible as a strong cold front cuts through southern Ontario.
The strongest winds are expected late Thursday and into Friday with gusts possibly reaching as high as 100 km/h for the Niagara region and shoreline areas in eastern parts of the province including Prince Edward County by Friday afternoon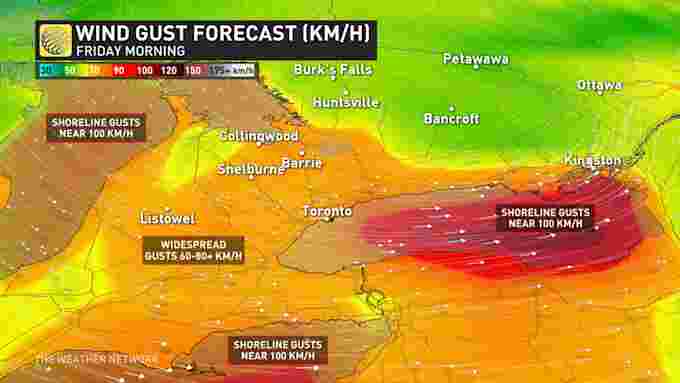 Colder than average temperatures will lock in for at least the first week of November, with a threat for more lake-effect snow once again in the traditional snowbelts.
GREAT LAKES: FIVE METRE WAVES COMING