Tuesday, January 12th 2021, 9:15 pm - A nationwide pattern reversal sees Ontario trending closer to 'normal' for the end of January.
With signs of a pattern reversal and more "typical" winter conditions now on the horizon, there's still no sustained cold weather in sight for much of Ontario as January wears on. There will be periods of cooler air and light doses of ice and snow this week, but it's unlikely that there will be more than a few days of frigid or below seasonal temperatures through the end of the month. More on the incoming system late week, plus a closer look at how the second half of January plays out, below.
---
WEATHER HIGHLIGHTS:
Freezing drizzle to make for slippery road conditions, tricky travel into Wednesday morning
Temperatures well above seasonal on Wednesday and Thursday as some sunshine mixes in
Active pattern picks up for the weekend, with rain, snow and gusty winds developing
---
INTO WEDNESDAY: PERIODS OF FREEZING DRIZZLE, LIGHT SNOW THREATEN SLICK TRAVEL
With an already miserably cloudy start to 2021, much of this week will leave Ontarians feeling sun-starved once again.
Periods of patchy freezing drizzle will continue through the overnight hours and diminish Wednesday morning. The drizzle may possibly be mixed with light snow at times.
"Surfaces such as highways, roads, walkways and parking lots may become icy and slippery. Freezing drizzle can produce thin, hard-to-detect layers of ice. Take extra care when walking or driving in affected areas," Environment Canada says in the advisory, noting it has received multiple reports of icy roads and sidewalks.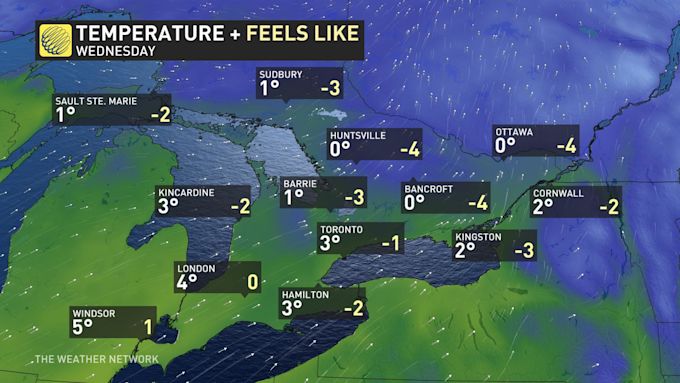 Snowfall accumulations will remain relatively light across the region through Wednesday, as a residual trough will bring 5-10 cm to cottage country along the northern shores of Georgian Bay. A general 2-5 cm is expected for areas along Lake Huron and Niagara region, extending along the Lake Erie shorelines.
Temperatures will remain several degrees above seasonal right through Thursday, with daytime highs sitting around 5°C for parts of the south for the end of the work week.
FRIDAY INTO THE WEEKEND: QUICK SHOT OF LIGHT RAIN AND SNOW
A late-week system will deliver the next chance for widespread precipitation by Friday, with rain showers developing earlier in the day, and then possibly changing to snow showers as arctic air sinks south.
Strong, gusty winds on Friday will also make things feel a little more wintry as the flakes begin to fly.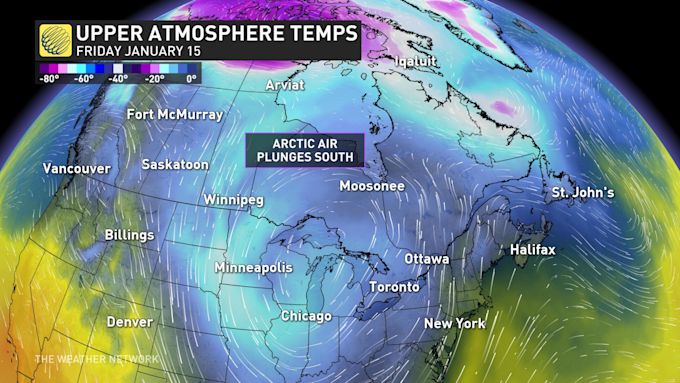 "Occasional flurries with a gusty wind are likely on Saturday, but temperatures will continue to be on the mild side of seasonal," says Weather Network meteorologist Dr. Doug Gillham, adding that accumulations will be minimal as a result.
Snow flurries will continue into Sunday, with temperatures hovering closer to the freezing mark.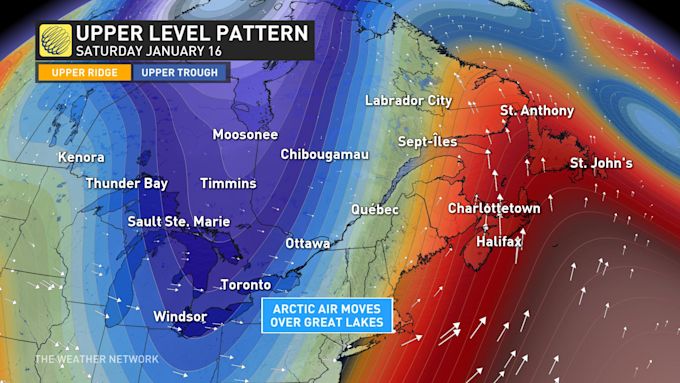 LATE-WEEK SYSTEM THREATENS RAIN AND SNOW AS ARCTIC AIR SINKS SOUTH IN ONTARIO
SECOND HALF OF JANUARY SHOWS POTENTIAL FOR MESSY WINTER STORMS
More active weather is expected for the final 10 days of January as a colder pattern develops across central Canada, and a very mild pattern develops across the southeastern and eastern U.S., attempting to push north into the region.
"This region will become the battle zone, but it is too early to know if this will bring an abundance of snow or more of a messy mix of snow, ice and rain with each system," says Gillham.
According to Gillham, however, there is still no sustained cold weather in sight, just a trend back closer to seasonal values.
Thumbnail courtesy of Mark Robinson.
Be sure to check back for the latest updates on the pattern changes in Ontario.