Sunday, September 25th 2022, 9:28 am - Autumnal conditions will continue in southern Ontario this week, bringing a chance of showers, thunderstorms, frost and waterspouts.
Fall certainly wasted no time in getting started in southern Ontario, with conditions reflective of the season right from the get-go. That chilly trend will continue for the first half of this week, peppered with rain and the risk for thunderstorms, waterspouts on the Great Lakes and even frost for some areas. Temperatures will feel more like mid-October for the final week of September but a milder trend will return. For details, read below.
---
Visit our Complete Guide to Fall 2022 for an in-depth look at the Fall Forecast, tips to plan for it and much more!
---
This week: Fall temperatures stick around with waterspout and storm risk
An upper-level, low-pressure system will continue to track over the warm Great Lake waters, sparking a waterspout risk through early this week.
The threat will be in place for Sunday and Monday, along with scattered showers and isolated thunderstorms.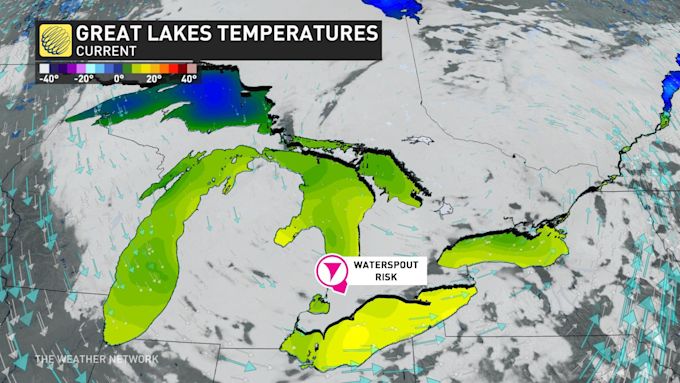 For Sunday, mainly cloudy skies and scattered showers are expected for the region to end off the weekend. Come Monday, there will be a more widespread chance of scattered, non-severe thunderstorms, extending into parts of southern Quebec, too. The main hazards will be strong wind gusts and heavy rainfall.
Gusty winds of 40-70 km/h will be wrapping around the low as it passes over southern Ontario. Winds will be stronger along lakes Ontario and Erie by Monday afternoon.
Temperatures will be fall-like this week, feeling more like mid-October with daytime highs in the mid-teens. A few showers will linger into Wednesday, but drier conditions will begin to build back in.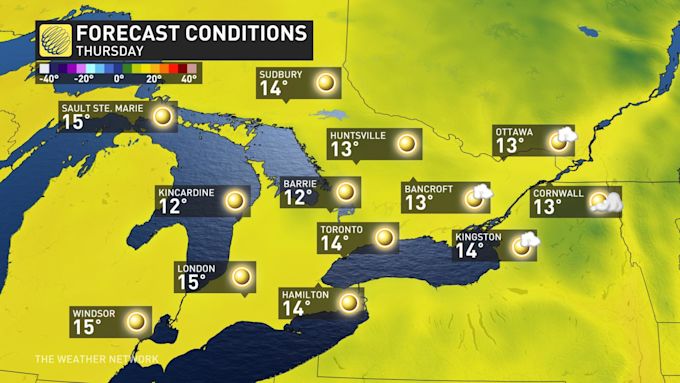 Once the sky clears later in the week, we will have a risk of frost/freeze conditions again, primarily outside of urban areas, though.
However, we are not in a downward trend into winter. A milder pattern is expected to return during early and mid-October.
WATCH: Impressive formation of several waterspouts over Lake Huron
Check back for the latest on conditions across Ontario.