Thursday, February 25th 2021, 5:50 pm - The warmest temperatures since December are on tap to close out the upcoming weekend in parts of southern Ontario.
Don't let this late-week slip in temperatures fool you: Spring is a scant few weeks away, and temperatures will recover this weekend, with some communities eyeing double-digit highs for the first time since December. The downside will be an incoming system Friday night that will bring a dash of snow for areas north of the 401 corridor into Saturday, though rain for areas south of that line. Beyond, there'll be some cooler days intermixed with slightly above-seasonal warmth, with the potential for some late-week unsettled weather. For a closer look, see below.
---
WEATHER HIGHLIGHTS
Unsettled system brings messy weather Friday overnight through Saturday
Temperatures mild once again on the weekend, though slightly cooler than expected Sunday
Cooldown once again early next week, though not excessive
---
WEEKEND SET-UP: ABUNDANT SUNSHINE TO KICK OFF THE WEEKEND ON FRIDAY, MESSY SYSTEM INTERRUPTS EARLY SPRING WEATHER
High pressure has settled in nicely over much of southern Ontario, keeping skies clear for the latter half of the week, with more sunshine ahead for Friday – though paired with daytime highs falling a little back to earth, to around the freezing mark.
The chill will be followed by a relatively weak system arriving Friday overnight for southern Ontario, with its effects likely reaching the GTA by dawn and eastern Ontario by the mid-morning.
Though snow will be relatively widespread, amounts will be on the moderate side. Areas north of the 401 will begin as wet snow, though changing to rain before ending, while areas south of that line will be largely rain with perhaps some snow mixed in.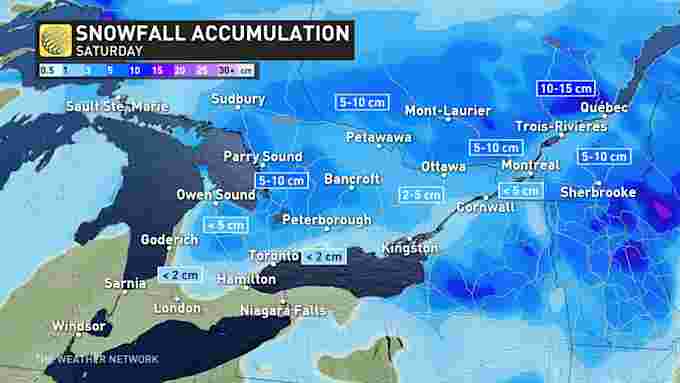 The skies are set to clear through the afternoon, however, with partly sunny and mild conditions evoking an early spring with mid-to-upper single-digit highs.
That warmth will try to repeat itself on Sunday, but an east wind near the west end of Lake Ontario, cloudy conditions and an earlier than expected chance of showers will suppress daytime highs slightly.
Nevertheless, it will still be somewhat above-seasonal, and there's still a chance of cracking the double-digit mark for the southwest, though the GTA may not feel properly warm until the end of the day, when the wind shifts to the southwest.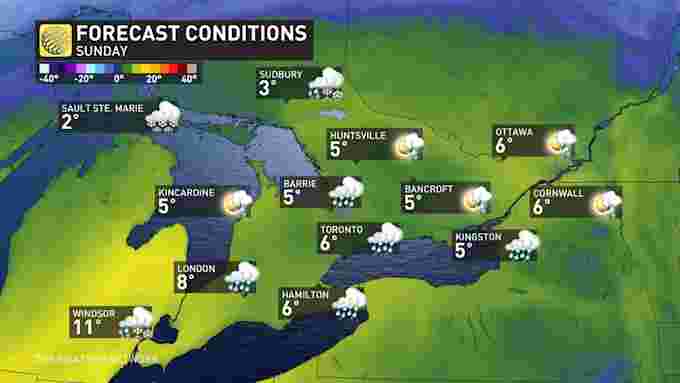 BEYOND: UP-AND-DOWN TEMPERATURES, SOME UNSETTLED CONDITIONS
Temperatures will slide back down once again to start the week, feeling around seasonal for the southwest and GTA and a touch below for eastern Ontario.
By midweek, temperatures turn milder once again, but the late week holds some potential for the return of unsettled conditions, as well as another slip in daytime highs for the first weekend of March.
Be sure to check back for the latest weather updates across Ontario.